Figaro Gets a Divorce, Welsh National Opera |

reviews, news & interviews
Figaro Gets a Divorce, Welsh National Opera
Figaro Gets a Divorce, Welsh National Opera
New opera a worthy if very different successor to Mozart and Rossini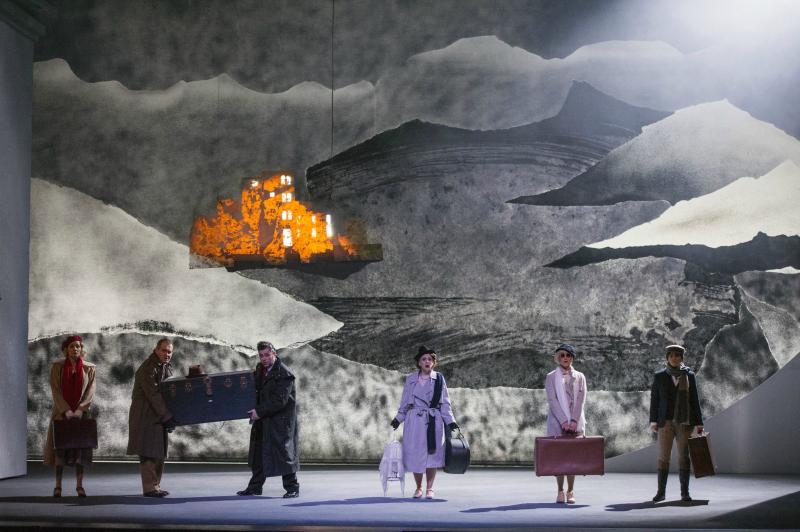 The Almaviva entourage, fleeing from the castle and the revolution
The third of Beaumarchais's Figaro plays, La Mère coupable, is a very different affair from the other two, in that it records actual adultery and its disastrous consequences (including Cherubino's death in battle), as opposed to the largely comic innuendos and mistaken identities of The Barber and The Marriage.
David Pountney's libretto for Elena Langer's new opera for WNO,
Figaro Gets a Divorce
, fuses this idea with elements from Horváth's
play of that name, which has the Almaviva entourage exiled by revolution, the Countess dying in poverty and the Count imprisoned for crooked business dealings. Even with some moderation of these sordidities it's a pretty grim scenario, and it says a lot for Langer's brilliance of musical ear and invention and the smooth excellence of Pountney's staging that the work nevertheless achieves lift-off and escape velocity.
The crucial borrowing from Beaumarchais is the pair of love-children, Angelica (the Count's daughter by Barbarina) and Serafin (the Countess's son by Cherubino), themselves in love but thought unable to marry because of a consanguinity that, in the end, is disproved. Along the way, Susanna goes off with a sleazy nightclub owner who turns out to be Cherubino back from a faked death, Figaro returns to barbering, and the whole entourage are manipulated by a sinister Major who is in effect Don Basilio turned double agent.
The orchestra responds to the action, reflects the characters and shares their music
The dreary and unsurprising political message, that forced exile is a nasty and dehumanizing business, is softened by a certain human depth of characterisation, drawing on aspects, especially, of Mozart; but this would cut no ice if Langer had failed to rise to a musical expression of these profundities. She hasn't.
Hers is in no sense music in the Mozartian mould, nor is it, for the most part, epic in the Brecht sense, though there are moments of artifice picked out in the naturalist gloom. Susanna and Cherubino have a dirty cabaret number, the Major sings a "Racketeering Song" while being shaved by Figaro. But these are mere incidents in a score that ranges astonishingly, yet coherently, through a battery of styles and techniques, from the fragmented glitter of the opening, through passages of a searching lyricism and dark intensity, dance, popular song, and a good deal else besides.
The orchestration, with bright pitched percussion, sonorous and melodious writing for cellos and basses, athletic, scurrying wind, and fierce tutti chordings, is simply spectacular. But more important is that the orchestra responds to the action, reflects the characters and shares their music. From scene to scene (there are many), the score carries one along. Wagner called music drama the art of transition. He would have approved Elena Langer's handling of this tricky skill
Pountney's production is an affair of suitcases and overcoats, endless checkings in and out, the past displaced in a hostile present. Naturally there is a hotel bar, the one squalid consolation in this transitory life. In the distance is Castle Almaviva, the past in another form but, when you finally get there, a mental institution. We seem to have been here many times before; but then (you might say) we're all exiles now.
Ralph Koltai's swivelling panels ease the journey and discreetly define the destinations: the mountain pass, the spa hotel, the rooming house, the cabaret, the barber's saloon. Sue Blane's costumes are, of course, modern, completing the sense of departure from that lovably artificial world of wigs and stays that gave birth to these characters and their tribulations.
The singers, nevertheless, provide a link. Elizabeth Watts is still the Countess, and beautifully she sings, particularly at the opera's high point, where she powerfully anathematises the Major's inhumanity. Alan Oke (pictured right), Basilio in Mozart, is superbly repellent as the Major, ending up as yet another gender exile, a nurse in the mental home. David Stout is again Figaro, deprived here of his fix-it genius, sadder but wiser, though he does pull the trigger – perhaps unintentionally – on Cherubino (a countertenor, naturally: the admirably seedy Andrew Watts), who has been bedding his wife.
Marie Arnet is new and excellent as Susanna, her wit swallowed up by frustrated motherhood; Mark Stone is again the Count, now a broken figure with a stick and no money. Most interestingly, the Mozart Cherubino (Naomi O'Connell) and Barbarina (Rhian Lois) are reincarnated as their illegitimate children, with a pretty love duet, beautifully sung, of which Mozart himself would surely have been proud, though he might have regretted its lack of irony.
Justin Brown conducts what seems a brilliant account of this impressive score, whose one fault is an occasional tendency to overpower. Elena Langer, a Muscovite by birth, is no particular advocate of multum in parvo. With Prokofiev and Shostakovich sometimes audibly behind her, minimalism is hardly her thing. And by the way there is no divorce. Susanna, pregnant by Cherubino, goes back to Figaro, and off they go to bring up a child not theirs, a new gloss on Mozart's mistaken identities and damaged class structures.