Faust, Royal Opera |

reviews, news & interviews
Faust, Royal Opera
Faust, Royal Opera
Simple but stunning McVicar production matched by a near unbeatable cast
Monday, 19 September 2011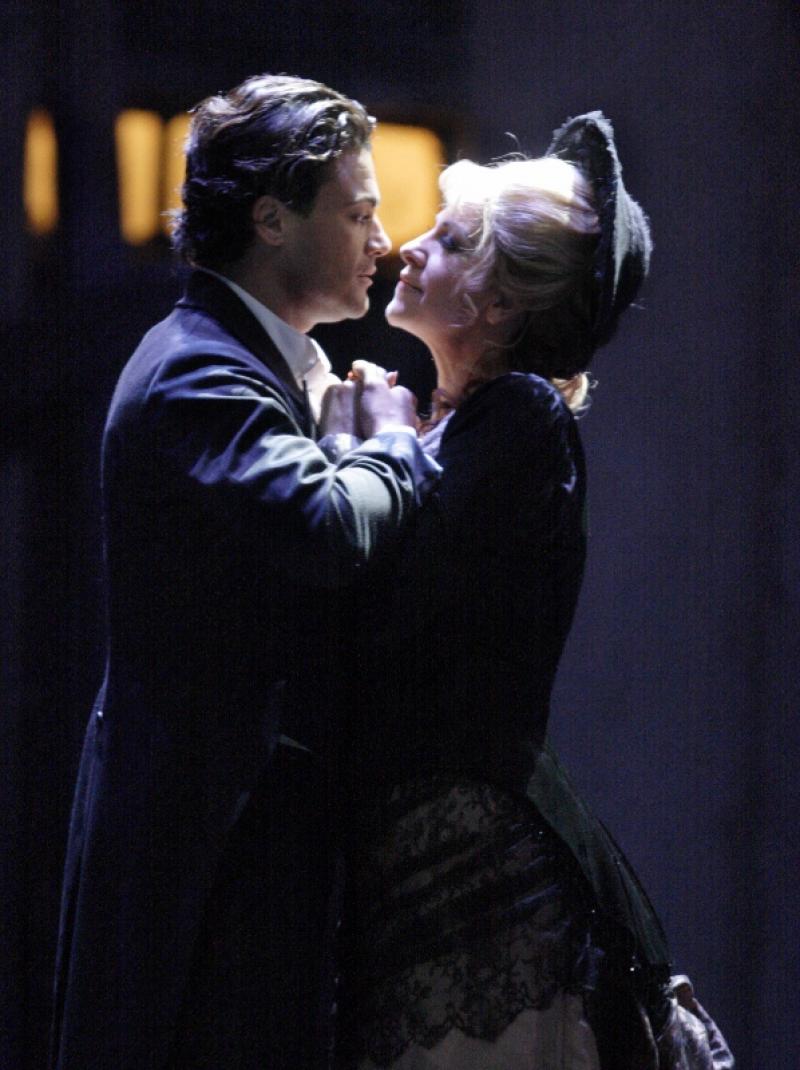 Faust (Vittorio Grigolo) gets his girl, Marguerite (Angela Gheorghiu)
That Faust - Gounod's curdled Victorian dessert of an opera, an overwhipped melange of melodrama and misogyny, topped with grand 19th-century dollops of religiosity - achieves a level of profundity that at one stage nearly had me in tears is an absolute miracle.
The miracle workers?
David McVicar
, whose revival production is unlikely to be bettered, and a clutch of leads that you'd normally need a pact with the devil - or at least a very amenable bank manager - to bring together.
You don't have to update to pack a punch. That's what McVicar's straight-up French Second Empire setting proved immediately. René Pape's Mephistopheles (pictured below) appeared brandishing pen, paper and the eager ear of a 19th-century spiritual shopper before an aging Faust (Vittorio Grigolo), amid hoary clouds of dry ice, a sweeping curtain, Gothic vaults (for the churchy moments to come) and theatre arches (for the future iniquity). Simple, traditional theatricality at its best.
It allowed conductor Evelino Pidò to high-kick us into Moulin Rouge-type bawdy cabaret (the Cabaret L'Enfer in this instance, with a cameo from the Eiffel Tower) in Act II. It gave free rein to a dark retelling of the Giselle parody of Act IV - pristine swan-shaped ballet dancers degenerating into cawing vultures before a drug-addled Faust. It also gave the singers a clear and believable motivational thread that they all followed with singular actorly professionalism.
Grigolo's transformation from bitter, blind old man to bounding puppy (think Andrex) was fantastic. The thrill he felt to be unshackled of his tired old limbs, wrinkles and hunched back was only surpassed by our own exhilaration to be suddenly exposed to his full, fiery voice, which had up to that point been squeezed because of him being forced to old-man up. But this rush of excitement wasn't confined to Grigolo's appearances alone.
An intoxicating quality came from all three male leads, whose power-play dominates the scenarios of the first two acts. In Grigolo we drank from the rapacious cup of youth. In Pape's Mephistopheles we imbibed a sound that was as darkly coloured as it was devious. In Dmitri Hvorostovsky's eminently eligible Valentin (pictured below),we got some of the most gloriously silken sounds of the night. His passionate rendition of "O sainte medaille" was rapturously received and had us wondering whether Mephistopheles and Faust hadn't perhaps met their match in this dashing Christian soldier.
In any other company, one would have been more than grateful for Angela Gheorghiu's bold and pitch-perfect ability to clutch at the many high notes that appear in Marguerite's final scene. But in all the rich loveliness of tone, consonants were swallowed, the French accentation swamped and much of Pidò's pulse ignored, her vowelly voice lapping at the beats sloppily. The character of Marguerite too - a pretty unsympathetically vain creature whom we must learn to love somehow - needed more carefully expressed commitment for us to care for her all too melodramatic deterioration.
Without the caustically choreographed Fourth Act ballet, in which an idyll and ideal is cleverly and violently dismantled, and Pape's amazingly alluring appearance in a dress (don't ask), we would have been sorely lacking a female angle. The smaller roles were a mixed bag, Carole Wilson delivering a classy turn as Marthe Schwertlein, but Michèle Losier was too pigeon-toed and not warbler-voiced enough as Siebel.
As the opera progressed and a mirror image of the Royal Opera House auditorium was unveiled for Mephistopheles's lair, it became clearer what sort of Satan we are dealing with: the sexually ambiguous, hedonistic-chasing demon of the stage. And while he and his lascivious attendants (dancing a classic McVicar dance) undeniably lead things into hellish chaos, it is not clear that the flag-waving (and, boy, what a handsome Second Empire tricolor they were able to wave), religious and military crowds (delivered by a chorus on great form) are a happier alternative in the long run.
But then that's why this Faust is so good. An opera whose ideas I've always thought weren't really worthy of a Channel 5 soap is made into something almost thought-provoking. A credit to McVicar and the cast.
Faust continues at the Royal Opera House until 10 October
Grigolo's transformation from bitter, blind old man to bounding puppy (think Andrex) was fantastic
Explore topics
Share this article