Farinelli and the King, Sam Wanamaker Playhouse |

reviews, news & interviews
Farinelli and the King, Sam Wanamaker Playhouse
Farinelli and the King, Sam Wanamaker Playhouse
A witty and moving new play is a timely reminder of just why art matters
Saturday, 21 February 2015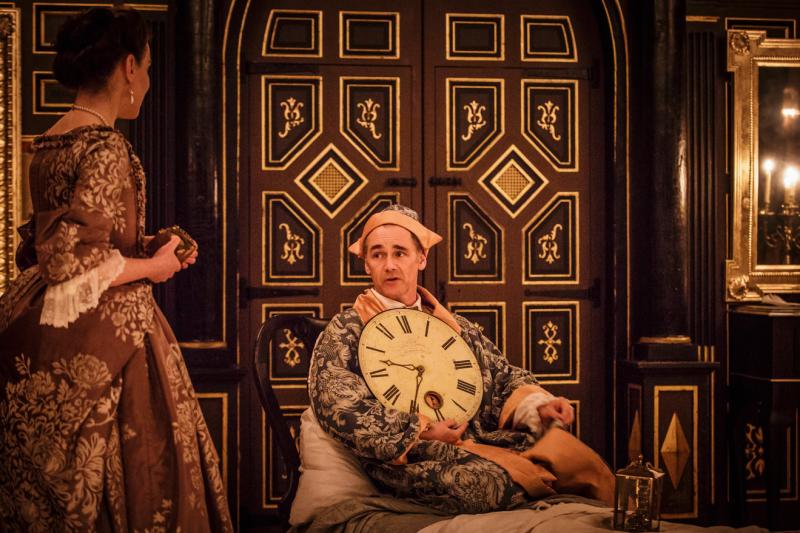 Le Roi S'Amuse: Mark Rylance finds both despair and comedy in his turn as the ailing King Philip V
Farinelli and The King is pretty much a perfect piece of theatre. More importantly, though, it's perfectly timed. In a month when English National Opera's troubles have made the front page, when op-eds are all about why Simon Rattle's dreams of a new concert hall for London are fruitless, this paean to music – to its serious, healing, transformative power – is not only resonant, but necessary.
This is Claire van Kampen's first play, but far from her first encounter with the Globe. A former Associate Artistic Director of the company, van Kampen (who also happens to be Mrs Mark Rylance) has composed music for over 35 productions in the theatre, including several at the new Sam Wanamaker Playhouse. Now she adds words to music – bringing one of the greats of baroque music to new and irreverent life.
It's unclear whether Rylance is Philip V or Philip V is Rylance
The story goes that King Philip V of Spain, suffering from severe mental and emotional instabilities, was introduced by his doctor to castrato-extraordinaire Farinelli – then the toast of Europe – as an early form of music therapy. So successful was the encounter, so calming the influence of Farinelli and his singing, that he remained at the Spanish court until the end of the king's life and beyond.
This is a historical drama, framed in the historical authenticity of the Sam Wanamaker Playhouse, but there's nothing prim or fusty about it. Van Kampen's language is contemporary, sparking comedy in the friction between period setting and linguistic anachronisms; everyone says "fuck" a lot, and – in the best English tradition of obscenity – it's very funny.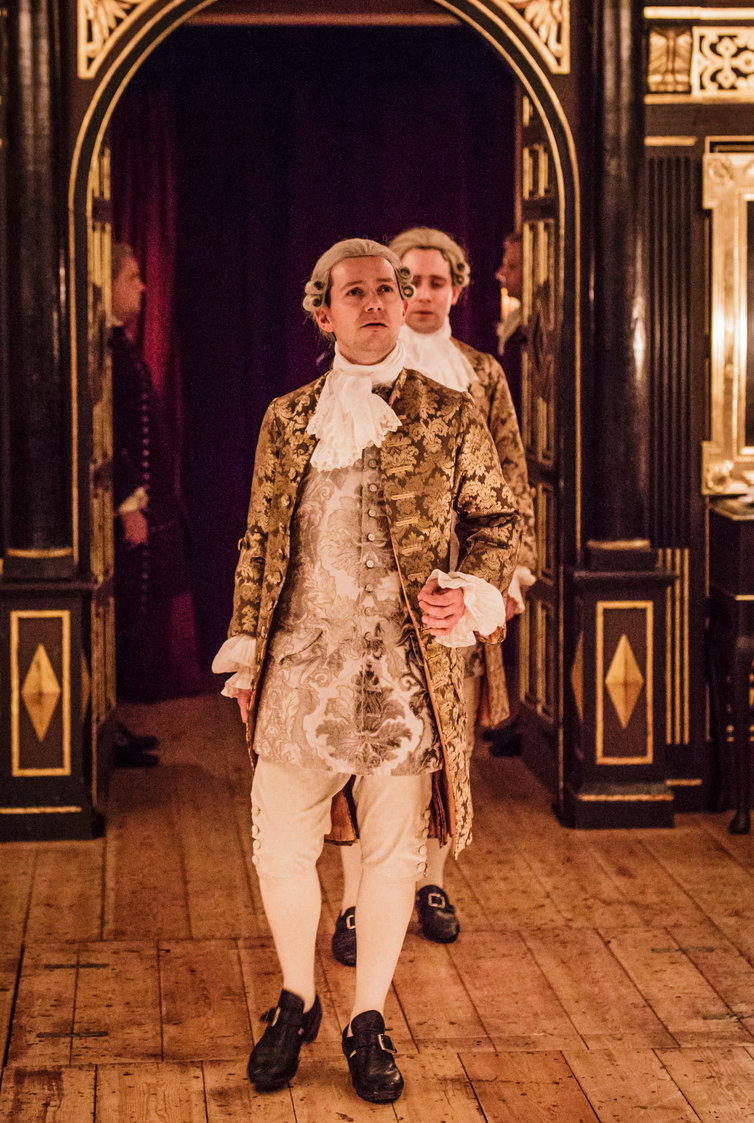 It helps, of course, when you have Mark Rylance delivering your lines. It's unclear whether Rylance is Philip V or Philip V is Rylance; either way it's a performance that glories in a quick-witted script written with the actor's distinctive cadence in mind. Discovered in the opening scene, silk-trimmed brocade nightcap askew, fishing in a goldfish bowl while stretched out on a chaise-longue, Rylance seems in danger of tipping over into self-parody. But just when we've settled down to a beautifully costumed romp, the script turns on its heel, taking us into darker and more disturbing territory, wit and whimsy barely concealing the king's terror.
The play pivots on Philip V's relationship with Farinelli, the singer who swaps crowds for an audience of just one troubled man. The role is a dual one, making a virtue of the split-selves of any performer. Farinelli the man is played by actor Sam Crane (pictured above, behind Iestyn Davies) – awkward, timid, wise – while Farinelli the singer is British countertenor Iestyn Davies (William Purefoy in the later shows in the run), suddenly assured and completely captivating. In John Dove's direction, the two shadow one other, taking it in turns to move into the foreground. It's a visual sleight-of-hand that's much more than a musical convenience.
Only Queen Isabella (Melody Grove, pictured left) seems at odds in van Kampen's handling, too often reduced to playing the straight (wo)man to Rylance's historical sitcom, denied much by way of inner life until almost the end. Even then it's only as the central party in the inevitable love-triangle. It's a small quibble in so accomplished and attractive a piece of theatre, however.
Though the music itself (arias by Porpora, Hasse and Handel) can and does make its case alone in Davies' performances, it is aided by Jonathan Fensom's gorgeous designs and by the interiors of the Wanamaker itself – its gilded panelling and candle-lit loveliness the perfect foil to this glittering miniature of a show. Robert Howarth and his team of period musicians make the space ring, but when Farinelli delivers his final aria – "Lascia ch'io pianga", a poignant cry for freedom and release – it completes the illusion, finally discovering that sustained stillness we've been searching for throughout the evening.
At core Farinelli and the King is a play about the clamour of contemporary life, and the search for peace amongst it. It's a tender and timely reminder that music keeps us sane in a world with too much noise and not enough song
MARK RYLANCE'S BIGGEST HITS ON STAGE AND SCREEN
Bridge of Spies. Spielberg's warm-hearted Cold War thriller is lit up by Tom Hanks and Mark Rylance
Endgame. In Complicite's homage to Beckett, Rylance's Hamm is an animated, self-lacerating lout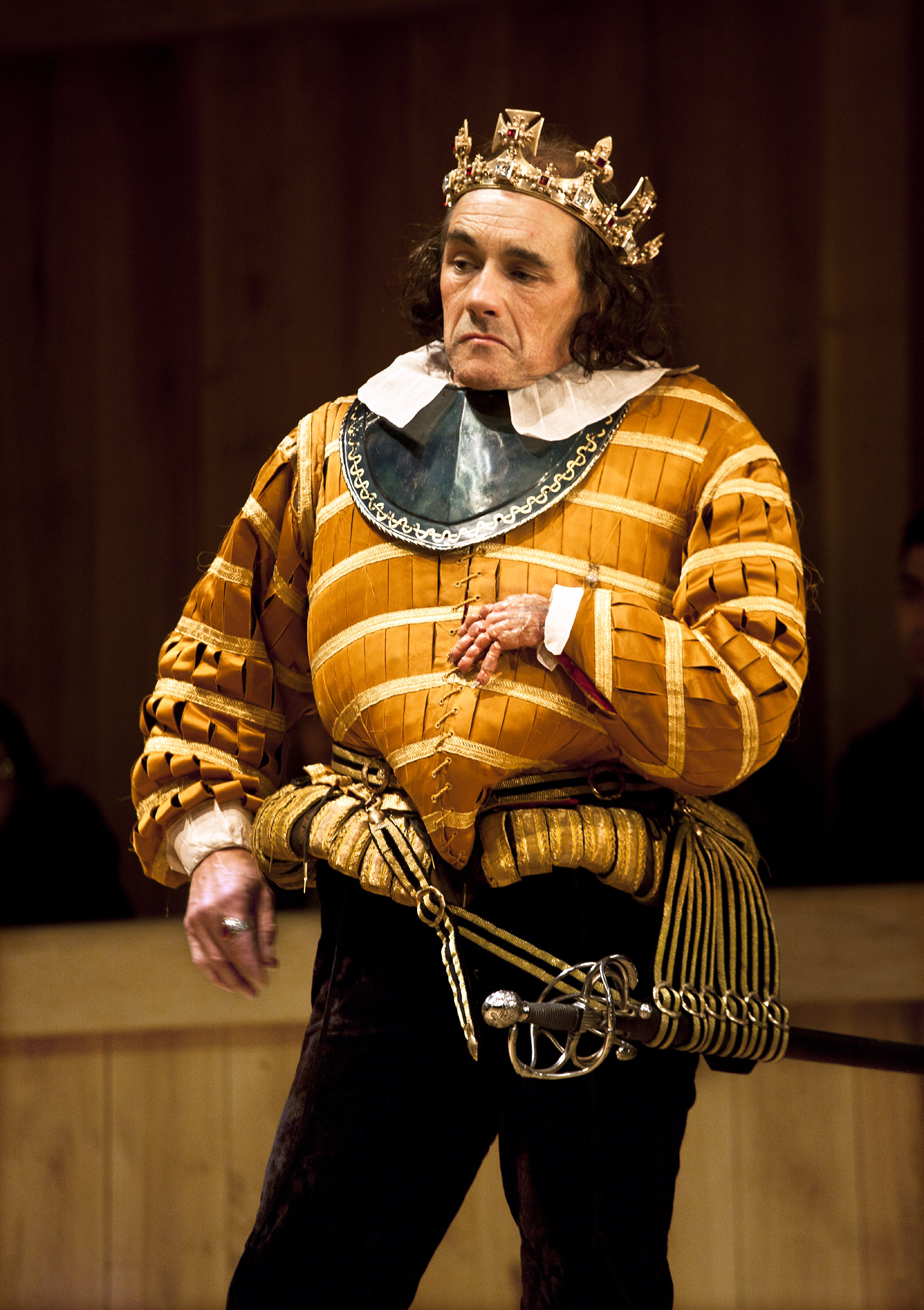 Farinelli and the King. A witty and moving new play is a timely reminder of just why art matters
Jerusalem. Rylance is unforgettable as Johnny Rooster Byron in Jez Butterworth's smash Royal Court hit
The BFG. Rylance lends moments of the sublime to standard issue Spielberg
La Bête. Rylance dazzles in astonishing opening monologue, but this callow play coasts on the performances
Nice Fish. Rylance is waiting for cod-ot in this absurdist West End trifle
Twelfth Night/Richard III. Rylance doubles up as Olivia and the hunchbacked king for Shakespeare's Globe
Wolf Hall. Rylance works rare marvels as Hilary Mantel's scheming Tudor fixer

PLUS ONE TURKEY
Much Ado About Nothing. Rylance's Old Vic staging of Shakespeare's romantic comedy with elderly leads gets lost in translation
The Wanamaker's gilded panelling and candle-lit loveliness are the perfect foil to this glittering miniature of a show
rating
Explore topics
Share this article