theartsdesk Q&A: Countertenor Iestyn Davies |

reviews, news & interviews
theartsdesk Q&A: Countertenor Iestyn Davies
theartsdesk Q&A: Countertenor Iestyn Davies
Britain's finest baroque export on Britten, Benjamin, and his musical beginnings
Iestyn Davies: "the incomparable countertenor" of his generation
Recently hailed by The Observer as "today's most exciting British countertenor", Iestyn Davies is on a roll. Indeed, many critics would – and have – gone further, seeing this young British singer as the natural heir to David Daniels and Andreas Scholl, the pre-eminent countertenor of his generation.
Since winning the Royal Philharmonic Society's fiercely contested Young Artist of the Year award in 2010, Davies's career has gathered serious momentum and shows no sign of slowing yet.
While castrati were the rockstars of their day, enjoying the adoration of women and the admiration of men across Europe, today's countertenors occupy a rather quieter place in the worlds of opera and classical music. The high male voice had all but died out until the mid-20th century, when Alfred Deller single-handedly pioneered a revival and return of countertenors to stage and concert hall. So unfamiliar and exotic were they to audiences that the story goes that Deller was once accosted after a concert by a woman: "Mr Deller, you are a eunuch?" To which the response came back: "Madam, I think you mean 'unique'".
I hate this idea that all countertenors have something to prove
Audiences have come a long way since then, in large part thanks to the work of singers such as Scholl and Daniels, who have transformed a merely exotic sound into a lovely one, paving the way for the new generation of voices, for Philippe Jaroussky and Davies himself.
Within the last 12 months Davies has made successful debuts at New York's Metropolitan Opera (where he will return again both this year and in 2013), at La Scala, Chicago's Lyric Opera, and in concert at Carnegie Hall, as well as starring as Oberon in Britten's A Midsummer Night's Dream at English National Opera. This season sees him back in England, curating a mini-season of concerts at Wigmore Hall and with a new disk of Handel, Hasse and Glück – Arias for Guadagni – released in June.
But despite his increasingly starry status, Davies insists that his interests go a long way beyond just "singing fast and high". He talks to theartsdesk about wanting to be Aled Jones, the artists that draw him to the concert hall, and why being a countertenor is so hard.
ALEXANDRA COGHLAN: You very recently made your debut at the Metropolitan Opera as Unulfo in Handel's Rodelinda…
IESTYN DAVIES: Yes, I was feeling a bit daunted by it all before I went. The production was a revival so we only had 16 days' rehearsal. It was just one of those experiences where you turn up and everything fits together at a tremendous pace and with tremendous professionalism. Two weeks of complete immersion is actually great preparation, especially for the HD cinema broadcast in which you know you'll be singing for maybe 4,000 people. The broadcast was scheduled halfway through the run which was ideal, but there was still that split-second just before I went on stage when I realised how surreal it was that so many people were in cinemas back home watching me. It was also great to be working with Andreas Scholl who was a bit of a hero of mine when I was younger – I grew up listening to all his recordings.
And you'll be returning to the Met later this year?
I'll be back for Tom Adès's The Tempest as Trinculo the jester, which is a rather smaller role. It's actually a part I asked for; I saw that the opera was coming up in the schedule and as it's such an unimportant role comparatively – it's not like casting Simon Keenlyside, which is a no-brainer – I let it be known that I certainly wouldn't turn it down if they offered it to me. I've always wanted to sing with Simon Keenlyside and that was never going to happen in Handel, and The Tempest is just an amazing piece. I remember going to see it while I was at music college, and being struck immediately at how familiar the music felt, even at a first hearing when it was completely new. This is the first time the work has been performed at the Met, so it should be an exciting event.
It must be a welcome change from singing baroque repertoire, or Britten.
I think as a counter-tenor it's really important to keep your hand in with all repertoire and not to turn stuff down – especially contemporary works like that (Davies pictured above with Anna Christy in ENO's A Midsummer Night's Dream). George Benjamin has written a new opera Written on Skin that is being premiered at Aix-en-Provence this year and is coming to Covent Garden. It's going to tour internationally for a few years so I'll be joining the case for performances in Vienna and Munich. The main roles are for baritone and countertenor and it's great that there is a new piece for our repertoire. The whole opera actually finishes with an aria for the countertenor – what could be better!
Contemporary opera is one thing, but what do you make of countertenors increasingly exploring 19th and 20th century song repertoire?
Some singers say that it's their goal to change the perception of the countertenor; I think there's nothing wrong with the perception that we mainly sing baroque music. We do that well. In a Wigmore Hall recital last year I sang a Mahler song because it fitted the theme I'd chosen for the concert, but that doesn't mean that I'm now going to suddenly programme the Rückert-Lieder. I'd be completely dead by the end and I wouldn't want to put myself through that. Maybe now I'd try another Mahler song, but never one with orchestra – it just wouldn't happen. I would absolutely record a disk of 20th-century English song, but I'd have to have a good reason to sing that repertoire. I hate this idea that all countertenors have something to prove.
Your Wigmore concert next week seems to make a virtue of combining old and new repertoire.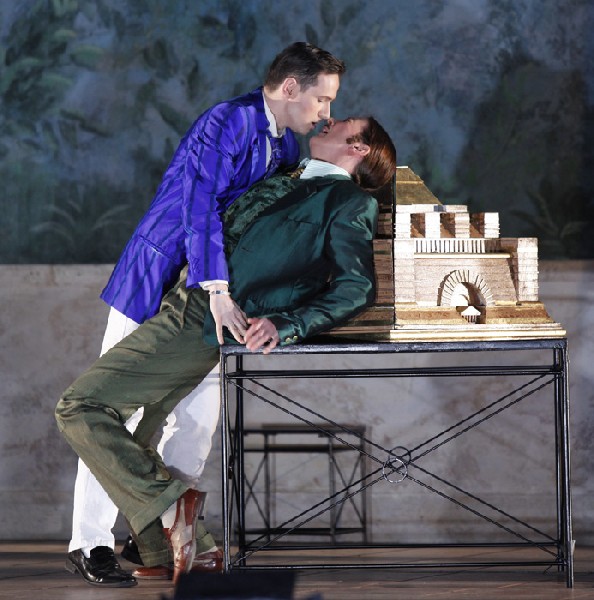 Yes, it's a programme called History Repeating – a recital of arrangements and musical quotations. It's sort of a "pop will eat itself" idea. It starts with the Britten arrangements of Purcell songs, which got me thinking about other repertoire that has been reworked or rewritten. Britten also did some harmonisations of Bach, the Spiritual Songs, which are quite restrained compared to the others. Then there's some Brahms that quotes a Scarlatti keyboard sonata, and some self-referential Schubert. Nico Muhly has also arranged four folksongs for me which he discovered in some old recordings of Alfred Deller. They are very much in the spirit of Britten and work very well. The concert will be the first time I've ever worked with Malcolm Martineau which I'm very happy to finally be doing as I've always loved his playing.
And you'll be returning quite regularly to the Wigmore this year, won't you?
My residency starts in November, so I'll be back for three concerts. It's basically all baroque or renaissance music – no scary song recital here! The first concert is a programme of arias for Handel's altos. So many people say that countertenors shouldn't even sing Handel (Davies pictured above with Stephanize Houtzeel in New York City Opera's production of Partenope) because the music was written for castrati, but there is this repertoire that was actually written for countertenors – roles in Jeptha, Semele, Saul primarily – and I'll be performing those with Jean-Christophe Spinosi and Ensemble Matheus. The next concert will be music of the Restoration – Blow, Purcell, Pelham Humphrey – with the Academy of Ancient Music and Richard Egarr. The last one will be a lute song recital – my very first. I've always avoided it as being such an exposed form of performance, but I think I'm now ready for it. I'm performing with an amazing young performer called Tom Dunford who has been playing the lute since he was five and is extraordinary.
I was in a band at school and totally into pop music. We nearly got a record deal but thank God that didn't happen
Programming seems to be something that interests you particularly…
It can be too easy just to programme music for the sake of it, especially as a countertenor, when people either don't want you to sing any songs and stick only to baroque music, or they attack you for not singing song and expanding the repertoire. Now I generally try and pick a theme to build the concert around, so if anybody objects to my singing particular music I at least have some justification for programming it. Otherwise it can feel as though you're perpetually in the Kathleen Ferrier Awards singing a bunch of songs that you just happen to like.
There seems to be more pressure now on young artists to think and research as well as just perform. Is that something you've experienced?
I think in the baroque world, and especially as a countertenor, there is a very particular pressure – you can't just go on doing the same repertoire for the rest of your life. While other singers tend to be judged on their interpretation, as a countertenor it's all about ticking off certain roles and works – have you done a Julius Caesar? Have you done a Xerxes? I don't do the research because I have to, I do it because I enjoy it. Though I do wonder how often someone like Cecilia Bartoli actually goes into the library. I had a lot of help with my latest recording project – a disk of arias for Guadagni – from Patricia Howard his biographer. It's nice and romantic to say that you went to the dusty libraries, but nowadays thankfully there's so much on the internet.
You've stressed that being a countertenor is rather different to being any other kind of classical singer. Where did this very niche ambition come from?
Like all children from musical families I was forced into music when I was about four years old. I remember I was watching Spot on television one day and the doorbell rang and it was the piano teacher. So my mother made me turn it off, and of course I was in tears and had to have my first piano lesson in that state. It was the experience of being a chorister that really persuaded me to do what I do. I think it's the best musical education you can have. When I was six I just wanted to be Aled Jones – I used to sit through long car journeys listening to his tapes, and I even learned "How Beautiful Are the Feet" for my audition for St John's Cambridge. Later I sang bass in the school choir but wasn't having singing lessons or anything. One day I was messing around and found that I could sing the alto line, and the countertenor thing just developed from there.
I gather though your career might easily have taken a rather different turn?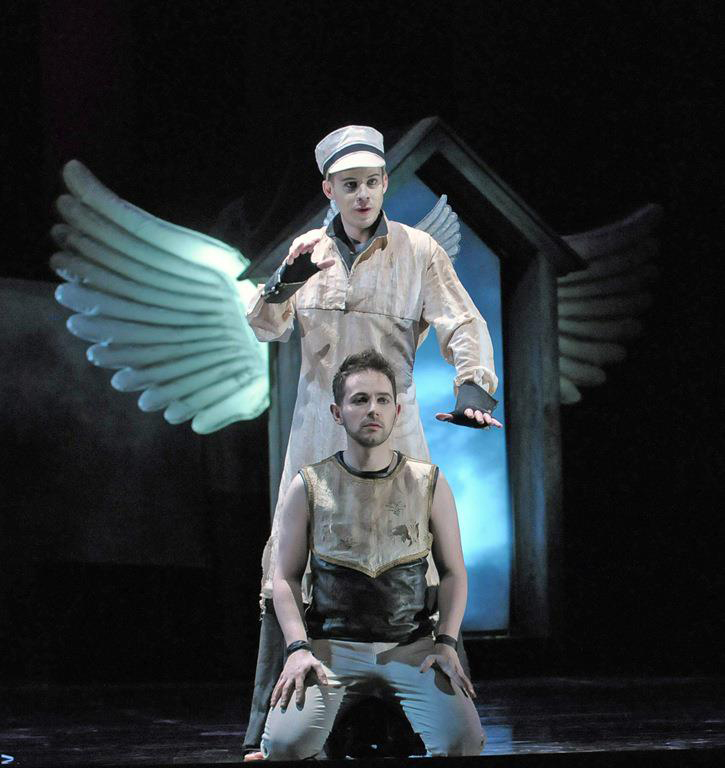 I was in a band at school and totally into pop music, and that was going to be my thing. We nearly got a record deal but thank God that didn't happen. It would have been a disaster. (Davies pictured left as Eustazio in Chicago Lyric Opera's Rinaldo) We'd never done a live concert when Sony wanted to sign us. We were basically a bit like Blur – we certainly liked them a lot. We were trying so hard to be cool, and we just weren't. They wanted us to become this manufactured product.
You've had a lot of success while still very young in the world of opera. Did it come easily?
When I told my singing teacher I wanted to go to music college he wasn't actively dismissive, but he was very, very cautious. I sort of knew all along that I would be able to do it, but I took my time didn't to talk about it or draw attention to the fact as I didn't want people to judge me. At 18 I was rubbish – I'd only just started singing countertenor and to be a good countertenor that age is rare. My best friend was a brilliant countertenor at 18; he got all the solos in the choir, but he's a lawyer now, doesn't miss singing and certainly wouldn't want to be doing what I do. It's really hard to sing countertenor, and no one ever really tells you that. Singing in falsetto is a bitch because if you're the slightest bit tired, or have had any alcohol, your falsetto is the first thing to go. Take for example A Midsummer Night's Dream [the recent English National Opera production in which Davies was unable to sing at opening night owing to illness] – Allan Clayton also had a terrible cold and a temperature but he could still sing, whereas I couldn't make any noise at all.
You've mentioned your new recording project. Why do a disc based around the castrato Guadagni?
He appealed to me because, unlike Farinelli and Senesino, he was someone people hadn't really explored, and there was a lot still to be found out. It started off as a little project, not a plan for an album at all, but once I began the research I found it rather addictive. But the most interesting thing about Guadagni is that his arrival in England and his repertoire span the later generation of castrati – the end of opera seria moving into Glück and the reform operas.
It's good just to sit in an audience, because it reminds you of just how undaunting it really is
We're so used to this idea of castrati as divas, with little to offer beyond the voice, but actually Guadagni is different. A lot of the music isn't that showy repertoire, it's much more in the early classical style. The more I sing this music the more I realise that composers didn't give him too much fiery stuff, and certainly nothing that's as technically challenging as the music Handel wrote for Senesino. Guadagni's was a much more lyrical voice, and he was really instrumental in the formation of this idea of the opera singer as not only musician but actor. Even today people still go on about "park and bark", and it's interesting that 300 years ago there was somebody already caring about what he was singing and what it meant. That is very appealing and very endearing.
As well as music by Handel, Hasse and Glück, there's an aria by Guadagni himself on the disc. Does it stand out from the rest?
Guadagni wrote a few pieces – not many, and often as additions operas he often sang – and this is the best of those few. This aria dates from 1770 which is really late in his career, just before Guadagni retired. It's almost bel canto in its ornamentation, more like Haydn or Mozart than the Handel with which we open. He wrote it for himself, so he knows exactly how his voice works, It's very charming, and very easy to sing compared to some of the other repertoire, which probably says quite a lot about his priorities in composing it.
The work we most associate with Guadagni is Glück's Orfeo…
When he retired Guadagni was so obsessed with Orfeo, and everyone else was obsessed with him singing this role, that he set up a marionette theatre in his house in which he would stage performances of the whole opera, singing all the roles himself well into his dotage. There was probably a small orchestra as well as people working the puppets, and people would come and watch – Charles Burney mentions it in his diaries.
The Guadagni project is your second recording collaboration with Jonny Cohen and his ensemble Arcangelo. What particular appeals to you about this group?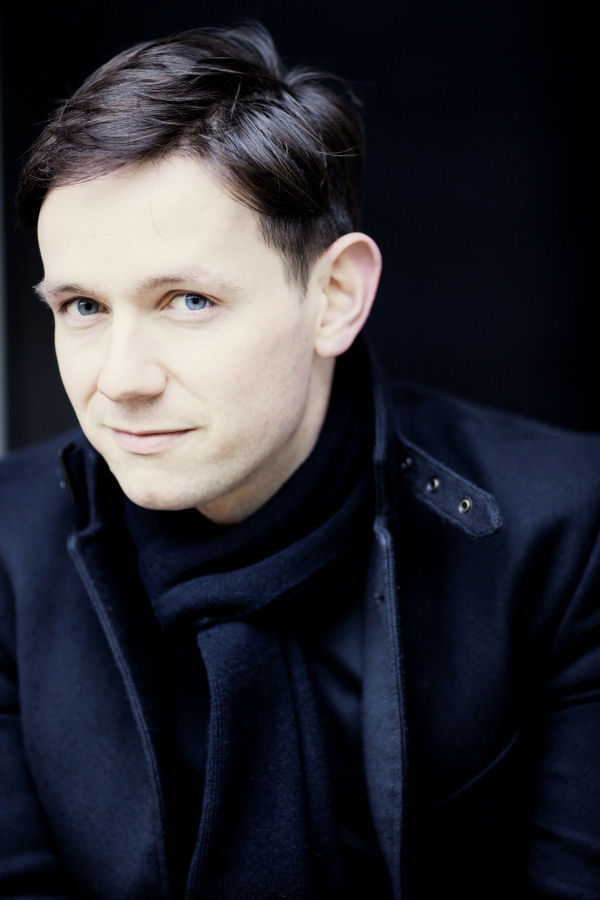 The orchestra is filled with leaders, not second-desk players, many of whom are soloists in their own right. For this project Jonny also got in a lot of people who weren't necessarily baroque specialists. The music that we were playing spans the shift into the early classical repertoire, so we had players who spend most of their time playing modern repertoire. This isn't the kind of group to approach historical repertoire from the point of view of academics who are just going to obey all the rule and give the most accurate performance. I think there's been a turning point over the past few years in relation to this idea of authenticity, and a return to approaching repertoire primarily from an instinctively musical rather than historical point of view.
The authenticity argument was one stirred by your previous recording of Porpora Cantatas with Arcangelo, wasn't it?
People get upset about adding other instruments to continuo or using an organ in an opera house. And while I agree up to a point, on the other hand I'm not a castrato, I don't wear 18th-century clothes, and we don't record or perform by candlelight. There are so many variables and it's too easy just to pick on something like that for the sake of it
Countertenors like Guadagni, Senesino and Farinelli were absolutely worshipped and revered by audiences. Today listeners seem rather more sceptical about the voice type. Do you think it's a gender issue or a musical one?
There are still definitely some people who are confused by countertenors, but it has improved a great deal. That being said, one guy once said to me after a concert: "I thought you were a tenor and you cracked, and stayed cracked for the whole evening". This was in a concert called The Three Countertenors!
Now that so much of your life is performing, can you still listen to music for pleasure? Do you ever go to concerts?
I go to lots of concerts, and there are certain performers – Ensemble Matheus, Sonia Prina, John-Mark Ainsley – who I'd go out of my way to see. Sometimes it's really good just to go and sit in an audience, because it reminds you of just how undaunting it really is. As a performer the thought of going on stage can be terrifying, even if once you're on it's fine. But when you're sitting in the auditorium you realise that no one is sitting there waiting for you to fail.
Arias for Guadagni is released in June
It's really hard to sing countertenor, and no one ever really tells you that
Share this article