Prom 74, Theodora, Arcangelo, Cohen review - coherent and compelling Handel |

reviews, news & interviews
Prom 74, Theodora, Arcangelo, Cohen review - coherent and compelling Handel
Prom 74, Theodora, Arcangelo, Cohen review - coherent and compelling Handel
Handel's oratorio given a dramatic account, unconstrained by the Baroque scale
Saturday, 08 September 2018
Louise Alder and Iestyn Davies
This was the first complete performance of Theodora at the Proms, one of a series of Handel oratorios initiated with William Christie's Israel in Egypt last year. Theodora is more often performed today as a staged opera, most famously in the Peter Sellars production at Glyndebourne in the 1990s.
But this performance demonstrated that it is just as effective in its original guise, the narrative related in brief recitatives, the better to allow the arias and choruses to shine.
Theodora is a moralistic tale of Christians persecuted and martyred in Roman Antioch. (Fun fact: the novel on which it is based was by Robert Boyle, he of Boyle's Law of gas expansion). Theodora (Louise Alder) is a noble Christian woman who, when she rejects an order to praise the Roman's pagan gods by the governor, Valens (Tareq Nazmi), is initially condemned to prostitution (the libretto dwells on her "boasted chastity"), and later imprisoned. Didymus (Iestyn Davies) is a Roman officer, in love with Theodora and secretly a Christian too. The narrative, slim as it is, concerns their efforts to save each other, which prove futile, as both are finally sentenced to death. The cast is rounded out with Didymus' soldier companion, Septimus (Benjamin Hulett), and a Christian acquaintance of Theodora, Irene (the part famously sung by Lorraine Hunt Lieberson at Glyndebourne, and here by Ann Hallenberg).
Despite the gloomy subject, Handel offers impressively varied and attractive music, and the long evening flew by. Credit for that must go to Jonathan Cohen (pictured above) and his Arcangelo orchestra and chorus. The orchestra worked within fairly strict period practices, yet brought an impressive range of moods and textures. Cohen writes in a programme interview that Handel was "a master of characterisation in sound", and that was exactly the impression the orchestra gave. Each number had its own colour and mood, always finely honed and based on impressively precise ensemble and tuning. The continuo, a keyboard player alternating harpsichord and organ, and a theorbo were always discreet, yet always apparent. The string sound, while even and vibratoless, never sounded plain, with a slight edge to the sound giving all the accompaniments character. The chorus, who alternate between representing the heathens and the Christians, are a similarly well-disciplined group, and well-balanced with the orchestra. The alto section is made up of countertenors, for extra, if slightly spurious, Baroque flavour, but the overall impression was of dramatic and engaged singing, unconstrained by the period performance scale.
Cohen really conducts. He sat at the harpsichord, but rarely played it, only occasionally adding some figured bass beneath arias when it seemed to suit him. Instead, he spent most of the performance directing the ensemble, standing for the choral numbers but otherwise seated. His engagement with the proceedings was everywhere apparent, especially in the way that the orchestra immediately engaged with the mood and tone of each number, and in the dramatic arc of each of the choruses.
The small cast was strong, almost uniformly so. Iestyn Davies is greeted with glowing notices everywhere he goes, and this one is no exception: His sweet but effortlessly projecting countertenor is everything that Handel could wish for in his lead role. Particularly impressive was the lightness of his ornamentation and fast runs – a real virtuoso performance. Louise Alder displayed similar qualities, and the pairing of their voices was close to ideal for the final duet. There was a slight husky covering to her tone, but it didn't detract, and a few of the high notes taxed her (as they did the chorus sopranos). But Theodora gets the most memorable numbers, and Alder made the most of them. It was an inspired decision by Cohen to place the interval mid-way through Act II, ending the first half on her incomparable "Oh, that I on wings could rise".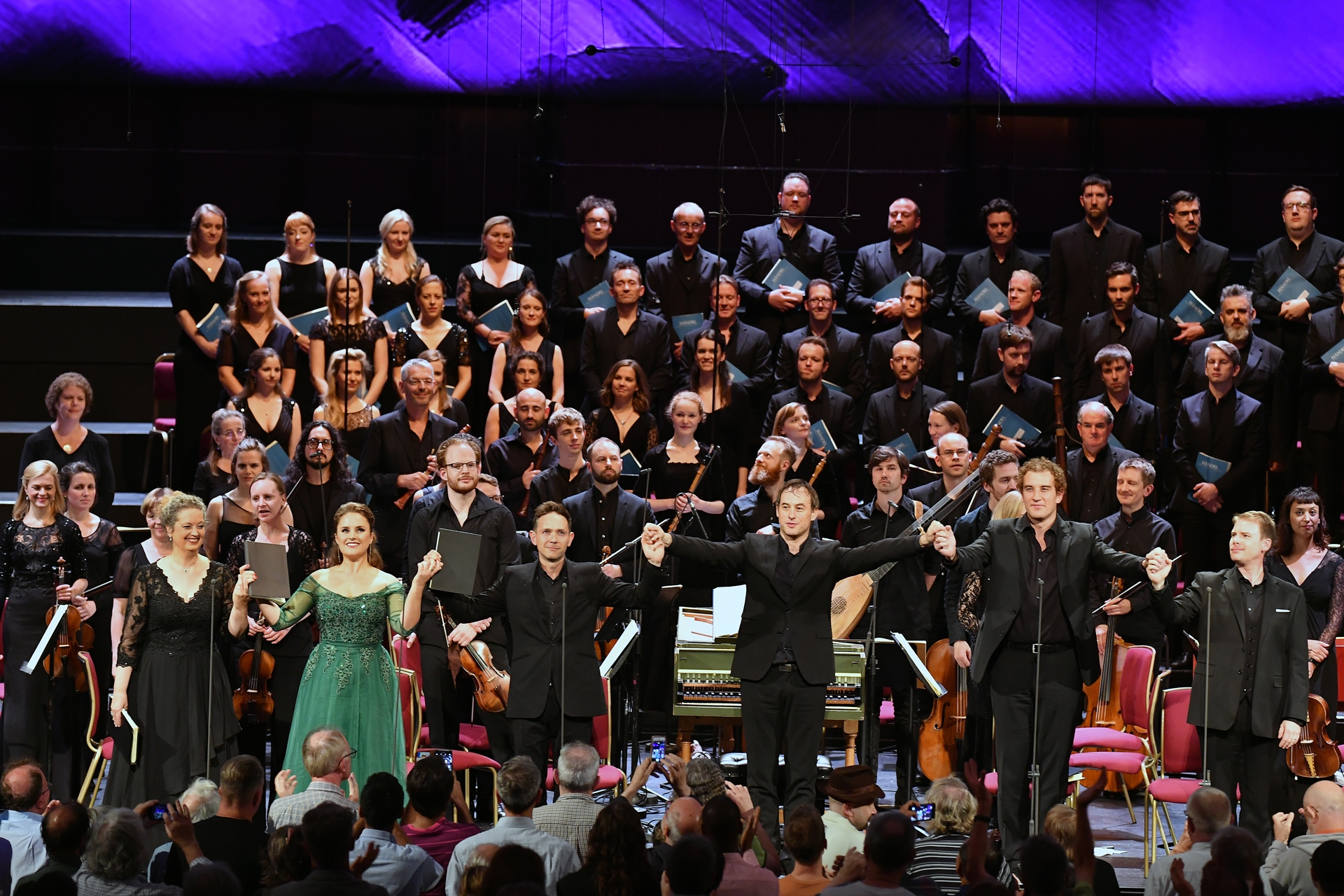 Ann Hallenberg took a more comprimario approach to Irene, less florid and more conversational. She had some tuning problems early on, but rose to the occasion for each of her later arias. Excellent diction from the whole cast made the printed libretto superfluous, and Hallenberg's was particularly fine. As the governor, Tareq Nazmi brought a suitably light Baroque-sounding bass. The period pitch conventions did him no favours in the lower register, but otherwise his voice sounded ideal. In the first of his two arias, he tended to labour the appoggiatura effects at cadences, but not to the point of sounding like a comedy villain.
Jonathan Cohen only founded his orchestra and choir in 2010, but they have already established a leading position in the Baroque music world. Part of that must come from his close association with leading singers, and both Davies and Alder are Arcangelo regulars. But whatever his secret, it all adds up, the result here an impressively coherent and dramatically compelling Proms debut for this Handel rarity.
Iestyn Davies' sweet but effortlessly projecting countertenor is everything Handel could wish for
rating
Explore topics
Share this article