Eugene Onegin, Royal Opera |

reviews, news & interviews
Eugene Onegin, Royal Opera
Eugene Onegin, Royal Opera
Nicole Car lights up the stage as Tchaikovsky's Tatyana in a variable revival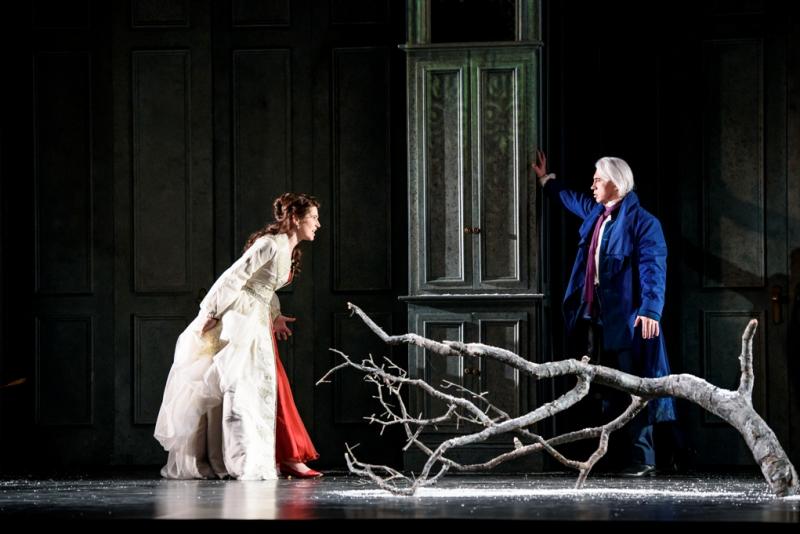 Happiness eluded: Nicole Car as Tatyana and Dmitri Hvorostovsky as Onegin
Searing emotional truth has to be at the core of any attempt to stage Tchaikovsky's "lyrical scenes after Pushkin". I was among the minority who thought Kasper Holten got it right, with deep knowledge of the original verse-novel, in his first production as Covent Garden's Director of Opera back in February 2013.
Then he had total commitment from Simon Keenlyside and Krasimira Stoyanova as an Onegin and Tatyana looking back in anguish on their youthful selves, and Pavol Breslik to the manner born as doomed, callow poet Lensky. This time only one of the three principals is about much more than the voice – and all are top-notch – but she makes it worth revisiting this tightened-up show.
Australian soprano Nicole Car sang Tatyana when this production arrived in Sydney, and reports were ecstatic. As, indeed, is she in the early stages as the young girl whose infatuation with an enigmatic young dandy drives her to screeds of letter-writing passion before despair kicks in. Tchaikovsky's Act One belongs to Tatyana, and thanks to the meaning and intensity with which Car (pictured below) manages to fill every phrase, the "meeting" of older if no wiser Tatyana with her teenage self (Emily Ranford) I find no less moving than before – vindicated, certainly, by the still centre of the Letter Scene as the woman who knows her fate holds the girl so full of bewilderment in a still embrace. Lucky those who could catch the facial expressions at closer quarters than the second row of the Balcony.
Car, unusually, has the vocal heft and range as well as the looks to embrace Tatyana as impulsive girl and – in this production – desperate married woman. In the driven final scene, her darkish vocal timbre and dramatic skills remind me of Elisabeth Söderström in her prime. She rages convincingly against the Onegin who couldn't make up his mind, who arrives too late at the realisation that he loves the girl he confusedly rejected. But it has to be an equal match, and dramatically it isn't. Dmitri Hvorostovky came to personable life in Robert Carsen's Met production but here he's back to stiff persona and on-transmit vocals. The temperatures drop with each of his rejoinders towards the end. It's still a fine, smoothish baritone sound, but no longer the Guarnerius cello phrasing the arioso of Onegin's rejection so beautifully on the recording conducted by Semyon Bychkov over 23 years ago.
Bychkov, as ever, is more about dark, earthy, doomy phrasing than the lightness and air which need to penetrate the melancholy of the drama's early stages (and did, on this production's first airing, under Robin Ticciati). He's willing to support, which is ever so slightly to over-indulge, tenor Michael Fabiano (pictured below with Hvorostovsky), who initially fails to convince us of Lensky's ardour and doesn't pull out all the raging stops when the poet finds his friend flirting with his girl Olga (Oksana Volkova, perfect) at Tatyana's name-day party: this confrontation can blaze, and – top note apart – it didn't last night.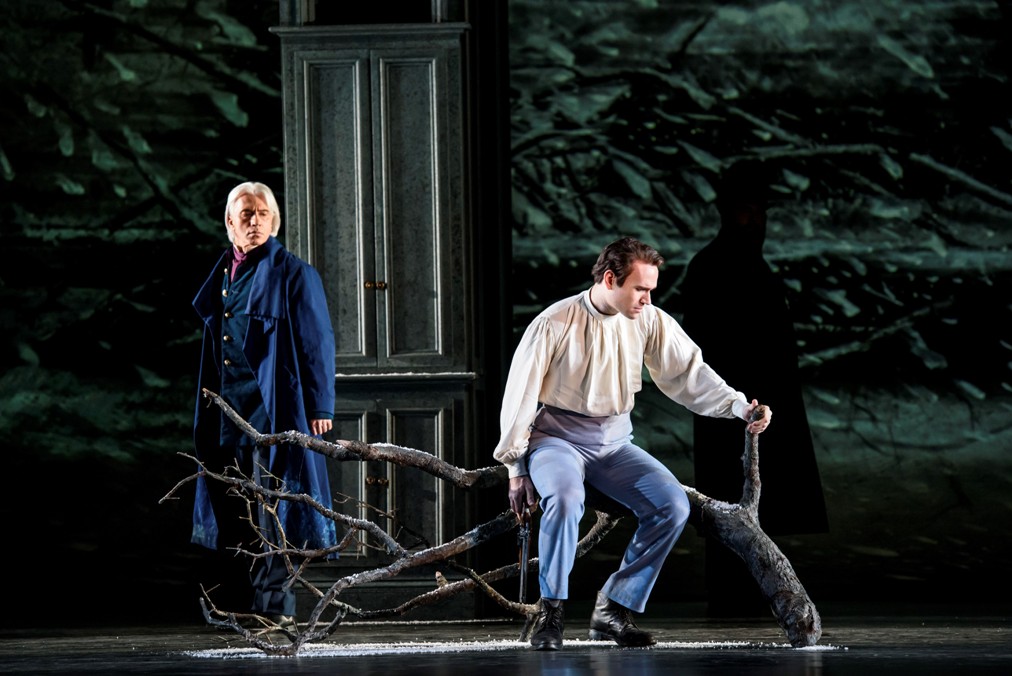 In purely vocal terms, though, the aria before the fatal duel is technical perfection and would win all accolades in concert performance. The sorrowing clarinet responses have all the air they need, and Bychkov makes the descending bass lines towards the end sound like the end of Tchaikovsky's "Pathétique" Symphony – many years in the future at the time of Onegin's composition – and projects the baleful trombones as tragedy looms very impressively.
Ferruccio Furlanetto has licence to dramatise the presence of Tatyana's general husband Prince Gremin, but the keenly-anticipated aria is disappointing: rough and flat. Not even basses keep their vocal sheen for ever, it seems. There are reliable cameos from Diana Montague's elegant mother, Catherine Wyn-Rogers' surprisingly authentic Nyanya, James Platt's unusually authoritative Zaretsky – could he be a future Gremin? – and Jean-Paul Fouchécourt, not allowed to make too much of Monsieur Triquet's name-day homage. The chorus sounds appropriately full-bodied, though in this production, they don't move much, threatening black-and-white figures of convention against Onegin's deep blue and Tatyana's red (pictured below, strong input from Mia Stensgaard's set, Katrina Lindsay's costumes and Wolfgang Göbbel's lighting in the first scene).
Holten has tweaked the production: I think I'm right in saying that the more mannered dance element of the younger Onegin and Tatyana is minimised, and our heroine no longer stands in a cupboard to hide from the party catastrophe. For all its passing flaws, though, first time round was best – and you can catch it on a DVD which provides further focus. Watch it and if you like what you see go this time for Car, Lensky's last aria and some of the orchestral detail. It might also be worth waiting for impressive young Polish baritone Artur Rucinski, who takes over the role of Onegin for the last two performances.
Car has the vocal heft and range as well as the looks to embrace Tatyana as impulsive girl and desperate married woman
rating
Explore topics
Share this article