Eugene Onegin, Royal Opera |

reviews, news & interviews
Eugene Onegin, Royal Opera
Eugene Onegin, Royal Opera
Heartbreaking emotional intelligence in Kasper Holten's approach to Tchaikovsky's lyrical scenes
Tuesday, 05 February 2013
Krassimira Stoyanova, flaming red as an impassioned Tatyana
Studying Russian for three years to read Pushkin's verse-novel Eugene Onegin in the original doesn't guarantee the finest interpretation of Tchaikovsky's equally great lyric homage. Yet it certainly seems to have focused the imagination of Covent Garden's new Director of Opera, Kasper Holten, and allows him to inflect every move his characters make with the right emotion.
His basic premise begins at the end: with the older, more dislocated Onegin and Tatyana aching their way back to that time in a mid-19th century adolescence when happiness was so close. That makes it clear at the start that the approach is going to be nearly as non-realistic as veteran Peter Konwitschny's ENO Traviata. The difference here is that the unforced articulation of every feeling goes straight to the truthfulness at the heart of Tchaikovsky's masterpiece. Holten's team of singing actors is equal to the challenge; Robin Ticciati's conducting and Wolfgang Göbbel's lighting of Mia Stensgaard's clever, singer-helpful set follow the fluctuations with painstaking sensitivity.
Dividing the opera into fluid scenes rather than acts, Holten shows us how quickly all this youthful charm and impulsiveness can go wrong
The "doors of memory" idea isn't quite new: Stefan Herheim explored it in his production for the Netherlands Opera. While the paths these two directors then take are very much their own, it helps in both cases with the Tatyana, Krassimira Stoyanova. So many Onegins are unbalanced by a soprano who has the lirico spinto backbone for the final scene but sounds and/or looks a little mature for the impressionable teenager. That's true of Stoyanova, but in this context her unhoneyed but extremely malleable voice, the expected Bulgarian grasp of perfect diction for the Russian text and arrow-to-the-heart gestures all work well.
Her younger self is a dancer, Vigdis Hentze Olsen: inevitably a little stylized for Pushkin's and Tchaikovsky's candid 17 year old. Her observation by the singer in the opera's most famous scene, Tatyana's penning of an impulsive love-letter to the attractive visitor who's made such an impression, takes some getting used to. Yet this Tatyana for once is able to write when Tchaikovsky says she should, and the plangent moment at the core of the opera when Tatyana helplessly wonders whether Eugene is angel or philanderer, is simple and affecting, the woman holding the girl in a tender embrace. Ticciati, who's kept the pastoral opening scene delicately on the move, gives the oboe solo and its sequel all the space and flexibility they need: crucially great conducting at this point.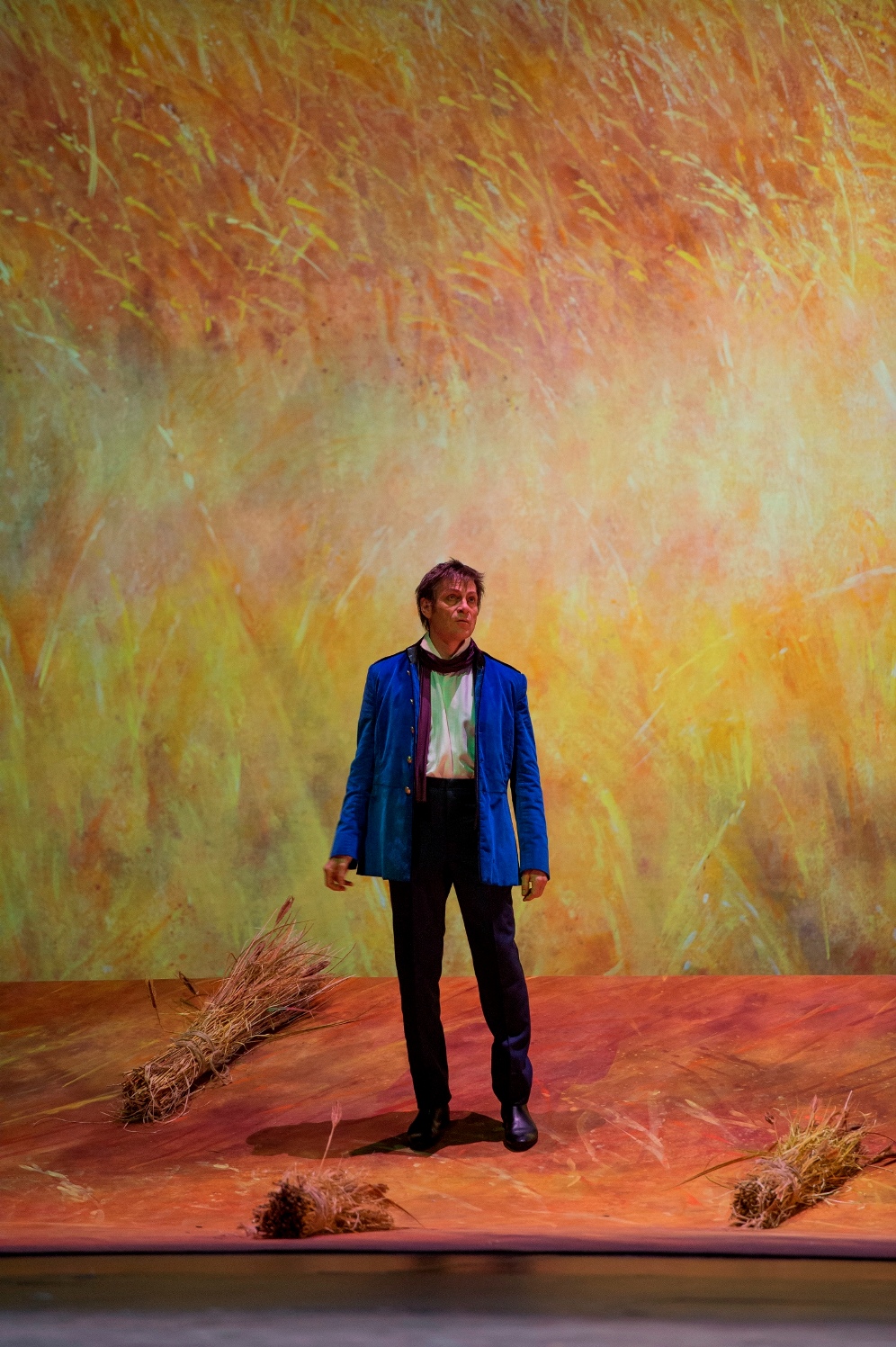 Not that the first act belongs entirely to Tatyana, as it so often does. Simon Keenlyside's Onegin (pictured right) is very much present from the start thanks to Holten's central conceit: then his young man is puppyish on arrival at the Larin country estate, not the usual aloof dandy, clearly attracted to Tatyana rather than her sister Olga. Is he role-playing, still unsure of himself, when he hands her back the letter? The production leaves it vague, but at least makes us feel for him.
Clearly this pair is well suited, as Katrina Lindsay's costuming makes clear: Tatyana's flaming, impassioned red, setting the wood outside her window ablaze, stands out alongside Onegin's bright blue. Every number for the black-clad chorus underlines the conformity from which these two are exempted, though Holten makes sure we're never too aware of set pieces: the little ditty sung by Olga (Elena Maximova, with the right Russian contralto colouring), dressed in more pastel shades like her suitor and Onegin's friend Lensky (Pavol Breslik), reveals that she's too unstable to sustain the role of all-singing, all-dancing sister to the bookish Tatyana. Breslik, handsome of figure and clarion of voice, starts out by reading his declaration of love to her very much in front of Tatyana and Onegin, but sets the script aside as the Russian impersonal second-person switches to the intimate "you".
By dividing the opera into fluid scenes rather than acts, and having the calamitous name-day party before the interval, Holten shows us how quickly all this youthful charm and impulsiveness can go wrong. With the choral guests in block dance formations, the anguished youngsters are always in view: dancer Tatyana crouched in a cupboard, the singer very much to the front of the stage.
Breslik's lightish tenor is pushed to the limits when Lensky explodes at Onegin's outrageous flirting with his girlfriend, but the spat has shocking immediacy and the poet's farewell aria (Breslik pictured left) could hardly be more nuanced. A snowstorm rages beyond the windows, courtesy of 59 Productions' Lawrence Watson, for their duel. Keenlyside's anguished presence as young Onegin presses ahead with the senseless ritual makes the tension almost unbearable. He holds his young friend in desperation as his former self could not, mirroring the two Tatyanas' embrace in the letter scene. That awesome let's-stop-this-foolishness duet of asides has never worked more powerfully than with old Onegin and young Lensky side by side.
Lensky's corpse remains onstage for the last two scenes. Onegin now truly takes over the reins both in a Polonaise of discarded, heartbroken lovers and a monologue in which Ticciati works with Keenlyside on more detail and colour than we've ever been allowed to hear before in what is usually a cursory summing-up of what's happened over the intervening years. Lights up on a Petersburg ball, heavy black crinolines as expected. Maybe the "fat general" Tatyana has married is a human being, too: the light blue sash to Onegin's now darker shade colour-codes as much. Peter Rose (pictured below with Stoyanova, Keenlyside and Breslik) unsettles us with the mixture of barely-restrained violence towards the wanderer and tenderness to his wife: the great aria brings the most magisterial singing of the evening, absolutely regal with inspired phrasing of the "ray of sunshine" that Tatyana has brought to Gremin's life.
He's present, too, for the last third of the desperate final encounter, explaining why Tatyana turns from submission to Onegin's pleas to a declaration of her intention to honour her marriage vows. It's almost a step too far for Keenlyside's beefed-up baritone, but he pulls it off and – yes, we feel deeply for him at the end.
Every minor character is real and pointed, from Diana Montague's now-familiar Madame Larina and Kathleen Wilkinson's authentic nyanya to Christopher Mortagne's elegant French birthday versifier and Jihoon Kim's duel-seconder Zaretsky, Ticciati bringing out the military strain in his little solo as I've never heard it before. They all create a world for the lost lovers to inhabit, which is something you could never say of the ENO Traviata. Holten, unlike Konwitschny, wants to move us, to tears if necessary, and that he does with emotional chapter and verse in a palpitating manifesto for the new Royal Opera era.
Keenlyside's Onegin is puppyish on arrival at the Larin country estate, not the usual aloof dandy
rating
Explore topics
Share this article