Don Giovanni / Pia de' Tolomei, English Touring Opera |

reviews, news & interviews
Don Giovanni / Pia de' Tolomei, English Touring Opera
Don Giovanni / Pia de' Tolomei, English Touring Opera
Mozart meets Schnitzler, and a Donizetti premiere strikes gold
Highway to Hell: Don Giovanni (George von Bergen) makes his final exit
The curtain is up for the overture to English Touring Opera's new production of Don Giovanni, but no-one is on stage. Instead, we gaze at Anna Fleischle's set: a creation in two layers. On the top, elegant Klimt panels glint with gold. Below, and joined to the opulence above by a rickety looking metal fire escape, is a Piranesi-like underworld of drab brick, archways and mysteriously curving passages – perfect for lurking or throwing sinister shadows.
It's charged with potential: Ego and Id; the elegant surface of fin-de-siècle Vienna, and its troubled sexual subculture. By moving the action into the world of Freud and Schnitzler, director Lloyd Wood has done that very ETO thing of taking a necessary limitation of touring – the need for a single, adaptable set – and opening up all sorts of imaginative possibilities. As Michael Rosewell propelled the ETO orchestra through a taut, headlong overture and lighting designer Guy Hoare's spotlights slowly wandered this theatre of the unconscious, probing its corners, you prepared yourself for a Don Giovanni that asked some unsettling questions.

It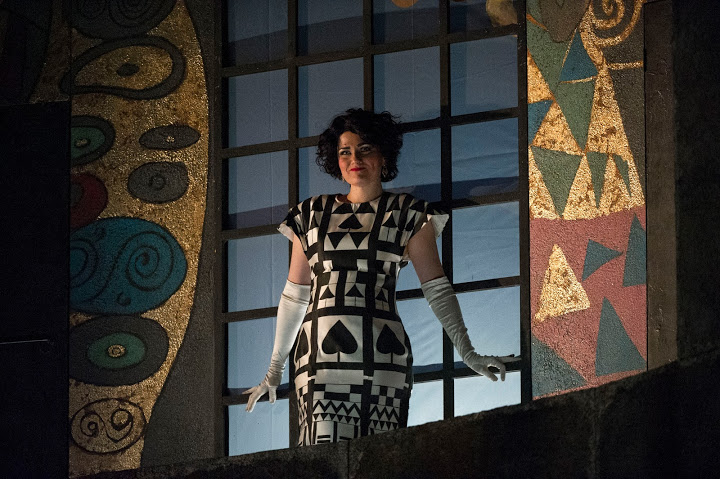 didn't quite work out like that. It's hard to imagine how Mozart's astonishing opening scene couldn't work, yet as the Commendatore (Piotr Lempa) sauntered casually down the stairway to confront Don Giovanni, the tension just drained away. There didn't feel like much danger in the air here, for all the Don's (George von Bergen) swashbuckling entrance and Johnny Depp sex appeal: masked, with shirt open to the waist. Well, things can sometimes wobble on tour (we'll chalk the over-loud electronic harpsichord up to that, too). The evening rapidly pulled into focus, though the person doing a lot of the pulling was Matthew Stiff's genial, put-upon Leporello. This was a likeably comic reading of the role, and with the entrance of Masetto (Bradley Travis) and Lucy Hall's bright, coquettish Zerlina, Woods's whole production tilted in that direction: pacey and entertaining, a dramma giocoso with the emphasis very much on the giocoso.

There's lots to be said for that approach. ETO's remit is to reach venues that opera doesn't usually reach, and a production that tells the story relatively straight can still have a powerful effect – as the reactions of this capacity crowd at Buxton Opera House proved. In fact, with the visual clutter of Kaspar Holten's recent Royal Opera House production still in mind, the clarity of the storytelling was positively refreshing. Fleischle's costumes and the Viennese setting helped there, stylishly indicating the social class and ambitions of the three principal ladies – Camilla Roberts's Donna Anna a model of bourgeois respectability, Zerlina every inch the susses mädel-on-the-make, and Elvira (Ania Jeruc, pictured above right) glamorous in a fishtail gown as a sort of Adele Bloch-Bauer socialite.
Alongside Hall's minxy squeals and sunny, light opera tone, Jenuc's vocal performance was particularly fascinating: Roberts and Robin Lyn Evans (Don Ottavio), both fine singers, seemed to be having an off night. Jenuc has a warm voice, with a soft but plangent edge which gave her Elvira a poignancy that made her final humiliation by Giovanni – pelting her with food at his Act Two banquet – all the more upsetting. But Bergen's confident, commanding Giovanni had easily the most charismatic voice on stage, and this sat uncomfortably with his flashes of genuinely unpleasant violence. Wrenching Anna's and Zerlina's arms behind their backs, there was no question that this was a Giovanni who made his conquests by force rather than persuasion.
Still, at the end he went down with enormous style, and a Wagnerian surge of sound. The return of the Commendatore was one of the most effective – and excitingly staged – that I've seen. But those moments of naked brutality jarred with the overall tone, even if they're wholly justified by character and subtext. A Don Giovanni that doesn't disturb probably isn't (and shouldn't be) possible today. There's a darker, nastier, more consistent production lurking inside this one: future revivals will be worth watching.
An utterly convincing characterisation that managed to be both bring-the-house-down brilliant and profoundly touching
The setting for James Conway's UK premiere production of Donizetti's 1837 opera seria Pia de' Tolomei looked for all the world like a segment of the Don Giovanni set, reversed. More ETO resourcefulness? Loren Elstein's designs put the chorus in generic black, the cast in generic medieval(ish), and left the whole thing to play out amidst what looked like a rehearsal space hastily cleared in a gloomy backstage area. It seemed a pity: ETO is rightly proud of this production, the latest in a series of Donizetti rediscoveries that's thrown up duds (The Siege of Calais) as well as real finds (The Wild Man of the West Indies). Pia de' Tolomei, the Dante-inspired tragedy of a wife falsely accused of infidelity by a spurned would-be lover, is unquestionably a find. More than that, it's hugely impressive: an impassioned, storm tossed score which – once you get past Donizetti's habit of setting bloodcurdling choruses at a jaunty major key jog-trot – develops its characters with considerable depth and nuance. I'm not asking for the full Zeffirelli: but as a premiere production, some flavour (even just a touch) of place and period would surely have helped the opera make even more of an impact.
Perhaps that's unfair. In the context it's hard to imagine how these performances could have been bettered. Every major role was impressively sung, from the spectacular vocal range and impetuous moodswings of tenor Luciano Botelho as the jealous Ghino to the curious trouser role of Rodrigo (Catherine Carby – lit by a single spotlight for her dungeon scene and by turns sombre and spirited). At the centre of it all, though, were two performances that were superb by any standard.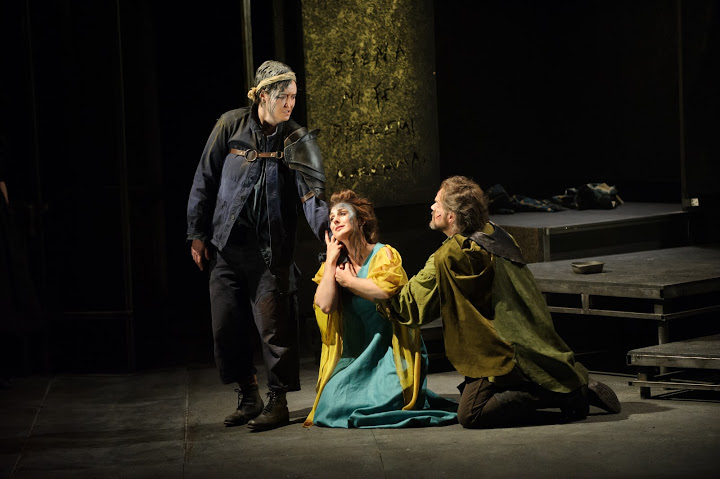 Grant Doyle (pictured left, with Catherine Carby [left] and Elena Xanthoudakis [centre]) was the heroine's husband Nello, a dignified man broken by his own lack of trust. Doyle's sonorous, majestic baritone served a characterisation that moved from affronted arrogance to desperate pain without varnishing one or blunting the other. And against him, vulnerable and defiant, proud and tender, was Elena Xanthoudakis as Pia herself: an utterly convincing performance that managed to be both bring-the-house down brilliant and profoundly touching. Xanthoudakis's voice danced over Donizetti's fiendish coloratura with liquid grace; blazing thrillingly at the top and, in quieter passages, capable of anything from a wounded snarl to melting sweetness. Who says you need to be at a major opera house to hear singing of this quality?

John Andrews, conducting, swept the whole thing forwards in big, powerful paragraphs, relishing Donizetti's sombre colours and releasing a raw power that I hadn't realised the ETO Chorus possessed. Michael Tanner recently summarised Donizetti's legacy as "two works of comic genius, and several that are at least the equal of Verdi's works up until his middle period." It's intended as a deep compliment when I say that Pia de' Tolomei can be categorized as one of the latter. This production is a magnificent vindication of ETO artistic director James Conway's commitment to Donizetti. If you love bel canto, you should definitely see it. If you don't, the same applies.
Who says you need to be at a major opera house to hear singing of this quality?
rating
Explore topics
Share this article