The Marriage of Figaro, English Touring Opera review - vanilla Mozart still tastes sweet |

reviews, news & interviews
The Marriage of Figaro, English Touring Opera review - vanilla Mozart still tastes sweet
The Marriage of Figaro, English Touring Opera review - vanilla Mozart still tastes sweet
Strong ensemble and basic staging help Mozart and Da Ponte succeed without tricks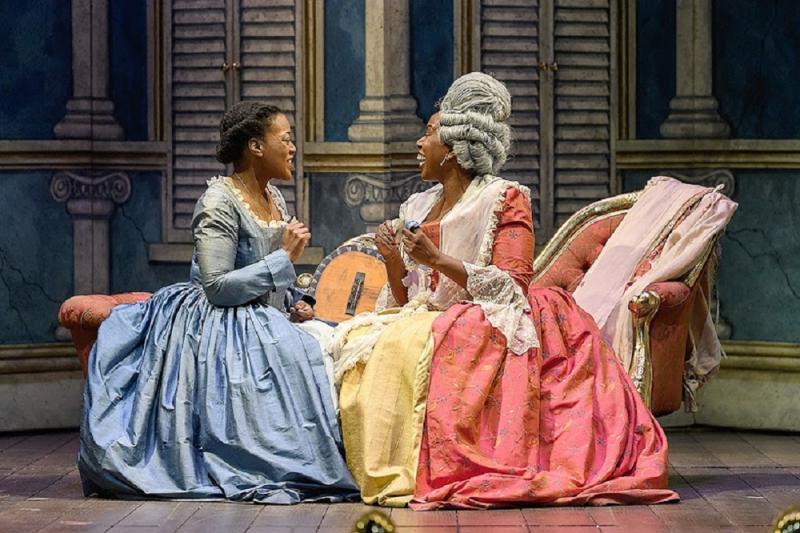 Wigs and giggles: ETO's The Marriage of Figaro
The Fates did not want theartsdesk to review English Touring Opera's new production of The Marriage of Figaro.
The Beast from the East intervened to prevent a colleague from covering it at the Hackney Empire at the start of its tour in February: now, eight weeks and eight venues further on, altogether more mundane problems (for Midlands based readers, 'M42' will be sufficient explanation) meant that by the time I took my seat at the Cheltenham Everyman, we were already well into Act 1 and Ross Ramgobin's Figaro was breaking out some martial arts moves to the closing bars of
"
Se vuol ballare".
Does that matter? It needs to be asked, because Mozart and Da Ponte's comic opera is so perfectly weighted, so lightly and exquisitely sprung, that every note counts. It's often possible to tell whether a performance of The Marriage of Figaro is going to fly or flop before the end of the overture, and the way Figaro and Susanna respond to each other in the first minutes after the curtain goes up can seal the deal. And yet these characters are so engaging and the world Mozart and Da Ponte create is so real that however late you arrive, as a rule you're just glad to be there. All opinions that follow, however, come with the qualification that one piece of the jigsaw might be missing.

And of course, it wasn't strictly speaking Se vuol ballare that I interrupted – the production was sung in English, in Jeremy Sams's boisterous rhyming couplets. That's usually a sound decision in a comedy, and with the cast projecting clearly and audibly (judging from seats in the back and front stalls, anyway), the jokes landed and the cast was able to play off the laughter of a capacity audience. Which is just as well, because – without doing anything that would startle traditionalists – director Blanche McIntyre plays the piece principally for laughs. Costumes are standard issue 1780s, with just the merest hint of the surreal. Count Almaviva's outsize peruke suggests a coxcomb in more ways than one, while Neil Irish's flat, folding interior set designs have the air, if not of a cartoon exactly, then certainly of illustrations in a children's book.


That makes an appropriate setting for a cast that's been chosen for stage presence and ensemble rapport rather than megawatt voices. This was Figaro as a chamber piece, without a chorus but with a full orchestra which, under Christopher Stark, played with style and warmth at tempos that made the drama glow rather than fizz. McIntyre's direction, too, was leisurely. In Acts One and Two we saw rather a lot of characters standing about and metaphorically twiddling their thumbs (the Countess - played by Nadine Benjamin, pictured above - simply positioned herself behind her chaise longue and delivered "Porgi amor" straight at the audience), though things seemed to pull more sharply into focus after the interval.

Which is not to say that there wasn't some deft characterisation throughout. Ramgobin (pictured below, left) demonstrated his comic chops in entertainingly louche style in last season's Patience: his Figaro was a cheerful, up-for-it Jack the Lad, whose knowing shrugs and raised eyebrows drolly filled out the persona sketched by his pleasant light baritone. He delivered his recitatives with delicious comic timing, over some sparky continuo playing, and hit the deck and started doing push-ups during "Non piu andrai". As Susanna, Rachel Redmond stopped just short of running away (as Susannas sometimes can) with the whole show. Her sunny, chiming coloratura and graceful phrasing complemented an affectionate performance.
And as with all the best Figaro ensembles, the central pair illuminated and reflected the characters around them. Dawid Kimberg's (pictured below, right) ramrod straight Count (his roaming hands were the only uncontrolled thing about him) seemed even more unbending and vocally chilly besides this Figaro, while next to Redmond's lightly worn vocal poise, Benjamin's creamy tone acquired a noticeably fraught edge at moments of emotional pressure. It was a nice touch to have a Cherubino (Katherine Aitken, pictured above) who was every bit as gangly and cocksure as his master, and practically luxury casting to have Gaynor Keeble as a determinedly youthful and flirtatious Marcellina – one whose voice blended so sweetly with Redmond's that the notion that both women might be serious contenders for Figaro's hand seemed, for once, almost plausible.
That's essentially it. There were no tricks; the alarums and excursions in Act Four's nocturnal garden played out clearly and amusingly; the character roles – most notably Devon Harrison's bluff cockney Antonio (pictured above, left), and Abigail Kelly as a Barbarina who was nobody's wide eyed innocent – were sharply drawn. And at that sublime moment in Act Four where the Countess steps forward to forgive and Mozart's score brims over with compassion, I felt that all-important pricking behind the eyes: the unfailing indicator that a Figaro has hit its mark. There are bigger, starrier and more complex stagings out there: productions that are faster, sassier and considerably darker. But it's useful to be reminded that a straightforward vanilla Marriage of Figaro, performed with wit and a good heart, is still pretty much the best night out you could possibly hope for.
A straightforward vanilla Marriage of Figaro is still pretty much the best night out you could hope for
rating
Explore topics
Share this article