Die Meistersinger von Nürnberg, Royal Opera |

reviews, news & interviews
Die Meistersinger von Nürnberg, Royal Opera
Die Meistersinger von Nürnberg, Royal Opera
Sunny, unseasonal festivities, but a strong revival doesn't plumb all Wagner's depths
Tuesday, 20 December 2011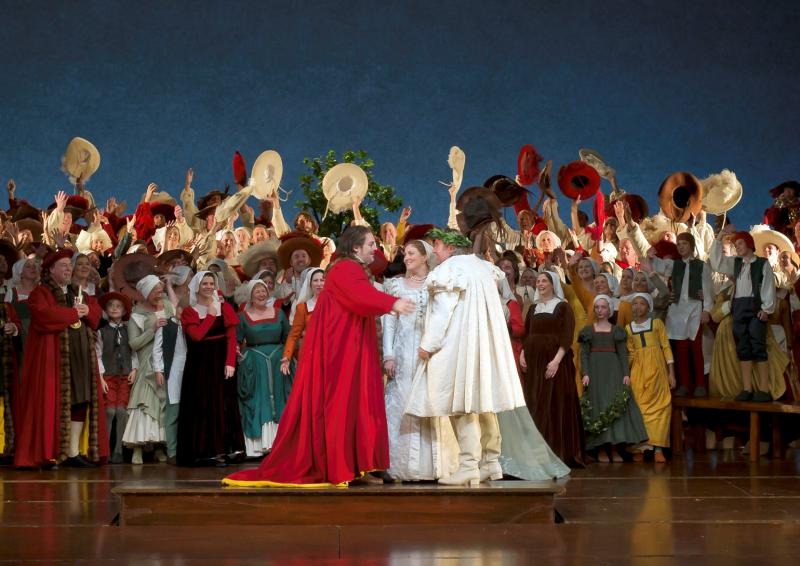 Wolfgang Koch's Hans Sachs wins Walther (Simon O'Neill) round to society as well as his beloved Eva (Emma Bell)
A young chap from Elsewhere woos an alderman's daughter: not Dick Whittington in panto London, but Wagner's Walther von Stolzing in an unseasonal Nuremberg.
No one is going to mind the solstitial disjunction - celebrating midsummer revels in the dead of winter - when this great saga of art and society is buoyed up by Antonio Pappano's lovingly prepared conducting, a good cast, lusty chorus and colourful costumes. Yet only folk determined on seasonal jollity to the exclusion of all else might not feel a certain want of the darker side to the human predicament which ought to pave the way to comic reconciliation.
I'm not suggesting for a moment any yanking-forward in Germany's troubled history, least of all to any time since this plea for great national art was penned. There was a bit of earlier, cheerful anachronism about David McVicar's Biedermeier vision at Glyndebourne as well as in Richard Jones's Welsh National Opera production, the most detailed, perceptive and, alas, short-lived we've seen in recent years; still, both ended in irony-free harmony. Graham Vick's long-serving Royal Opera show is a cosy, almost cartoonish vision of Dürer's golden age with prominent roles for codpieces, model city landmarks and mullets.
It works especially well in the lively finales, the first two of which Pappano springs into miraculously co-ordinated life. Outsider Walther's rocking of the established mastersingers' tight ship is exuberantly served as Simon O'Neill's bright, stalwart if sometimes under-ballasted tenor takes wing with his rhapsody - it can't be stressed too much how supportive the conducting is of the singers' need to move forward and survive the evening - and Act II ends with meticulously choreographed and voiced civic brawling. Vick's production as restaged by Elaine Kidd and Richard Hudson's designs still pull out the stops out here (pictured below) and there's even a hint of a more realistic wanton destruction as a yob sets about smashing up one of the toy houses.
The problem for me rests with the tirelessly well sung Hans Sachs of Wolfgang Koch. Sachs is the philosopher-cobbler with whose emerging predicament - a balance between the love he clearly feels for young Eva Pogner and a desire that inspired musical-poetic youth in the form of her more youthfully suitable match Walther should win the contest - the public should increasingly engage. We've been spoiled to a certain extent by Gerald Finley's surprise success in the part at Glyndebourne - he doesn't have the line that the more baritonal Koch can spin through the bigger phrases, but by Act III most of the audience was rooting for him - and still more by Bryn Terfel, Sachs to the life. No doubt Terfel, when he takes over the role in a one-off Royal Opera concert performance in Birmingham, will bring something of the deeper despair out of which Jones's Sachs had to rouse himself. But he might have had a harder time in the context of this revival, which rather sells short the uncommon cobbler's shock at everyday folly.
Koch's Sachs does snap, rather impressively but too late; and though good at the geniality, he's one of several characters who need more help with movement (the backward walk looks awkward). Two who don't are Toby Spence's thoroughly likeable apprentice David - evidently a Walter in waiting - and Emma Bell's Eva, a model of well-pointed diction and a soprano at last up to the sudden demands of the grateful apostrophe to Sachs as friend and guide. She also gives us the best opening lines in the Quintet (pictured left to right: Koch, O'Neill, Bell, Heather Shipp's Magdalene, Spence) since Felicity Lott. Peter Coleman-Wright is a safe, cleanly sung, not terribly funny but never overdone Beckmesser; the fine line between realism and humour really needs a stronger directorial viewpoint.
Never mind; the Quintet's happy sunshine is what we need to stay out for the colourful St John's Day revels down in the meadows: the Covent Garden stage has far more space to play with than Glyndebourne in the too up-front McVicar staging, and the guild processions, including bespectacled tailors and floury bakers, still look good. Collectors of Meistersinger performances - and they are even more legion than the fair number of productions the masterpiece has notched up over recent decades - will relish a strong last meeting (pictured below) between the Sachs of today (Koch) and of the recent past (John Tomlinson, now in authoritative if rather loud voice as father Pogner).
Most impressive is how much of this multi-faceted score Pappano already has under his belt. The interpretation can only get stronger, and may hit a yet more eloquent, profound stride in the crucial confrontations of the morning before the song-contest, but there's no sense either of slack or rush. This has really been quite the year for the ongoing great work of the Royal Opera's Music Director, and it should be recognised as such by the wider telly-watching public who rightly warmed to his Opera Italia series when he introduces his own performance of Tosca at length on Christmas Eve. A skilled practitioner who can really put across the meaning and value of his subject on TV rather than a celebrity presenter: now that's something we need much more of during 2012 - assuming BBC Four is still around to deliver it.