The Cunning Peasant, Guildhall School |

reviews, news & interviews
The Cunning Peasant, Guildhall School
The Cunning Peasant, Guildhall School
Students deliver Dvořák's folky songs and dances with appropriate youthful zest
Thursday, 06 November 2014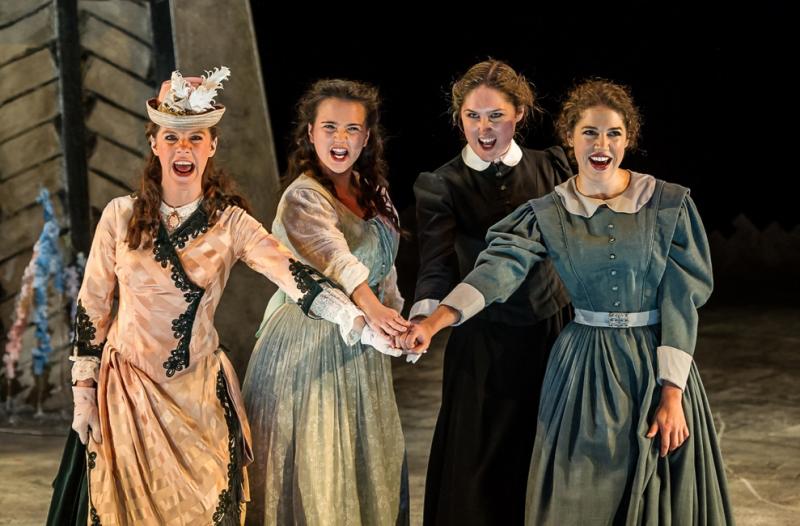 Merry women of Wessex: Alison Langer, Laura Ruhi Vidal, Emma Kerr and Anna Gillingham
Dvořák's rustic operetta sits, swinging its legs rather diffidently, historically somewhere between the neverland Bohemia of Smetana's The Bartered Bride and the lacerating reality of village life in Janáček''s Jenůfa. The Cunning Peasant's charms lie in its string of sophisticated songs and dances, more through-composed than Smetana's, and in the abundance of not over-taxing roles, as well as chorus numbers, it offers to students.
That the Guildhall School embraces these so cheerfully has much to do with the way that fine, underrated conductor Dominic Wheeler effortlessly drives the tractor, slipping from one delicious metre into another, from polka to country waltz, with real panache. The ensemble May Day celebrations go with a rough edged swing; the choreography, by Richard Jones's right-hand woman Sarah Fahie, makes it look spontaneous, with plenty of merry noises from the participants, but weaves beguiling patterns in the seeming mayhem.
Director Stephen Medcalf has a harder job maintaining interest in a non-plot over two hours, and sometimes over-eggs the lecherous pudding, not least when a randy Prince/Duke makes none too subtle gestures with a phallic delphinium, but he keeps it on the move. The names have been changed from Dvořák's Czechia to Hardy's Wessex – heroine Bétuška becomes Bathsheba, her father Martin, the not-so-cunning peasant, Gabriel, and so on – but they forgot to tell designer Francis O'Connor, whose skewed houses remain distinctly Mittel-European, or rather perhaps a country version of Wagner's Nuremberg (ensemble scene pictured below).
What happens, then? Our pretty peasant girl is pursued by four men: one who wants to marry her but has no money, three others who need tripping up: a rich suitor she doesn't want – characterized here as a local Jew, plausible in Bohemia but less so in Wessex – a philandering Duke and his comic valet. As the plot introduces the aristocracy and makes a nod to The Marriage of Figaro, Medcalf tries to make the Duke more of a shit than Dvořák's music paints him, and sees a threat in the all-too-happily restored status quo at the end, but the score can't take it. The problem is that there's none of the deeper shades which make a great comedy. Even Smetana injected pathos in The Bartered Bride's great last-act quintet and soprano aria; Dvořák has sentiment but no depth, and nor do any of the characters.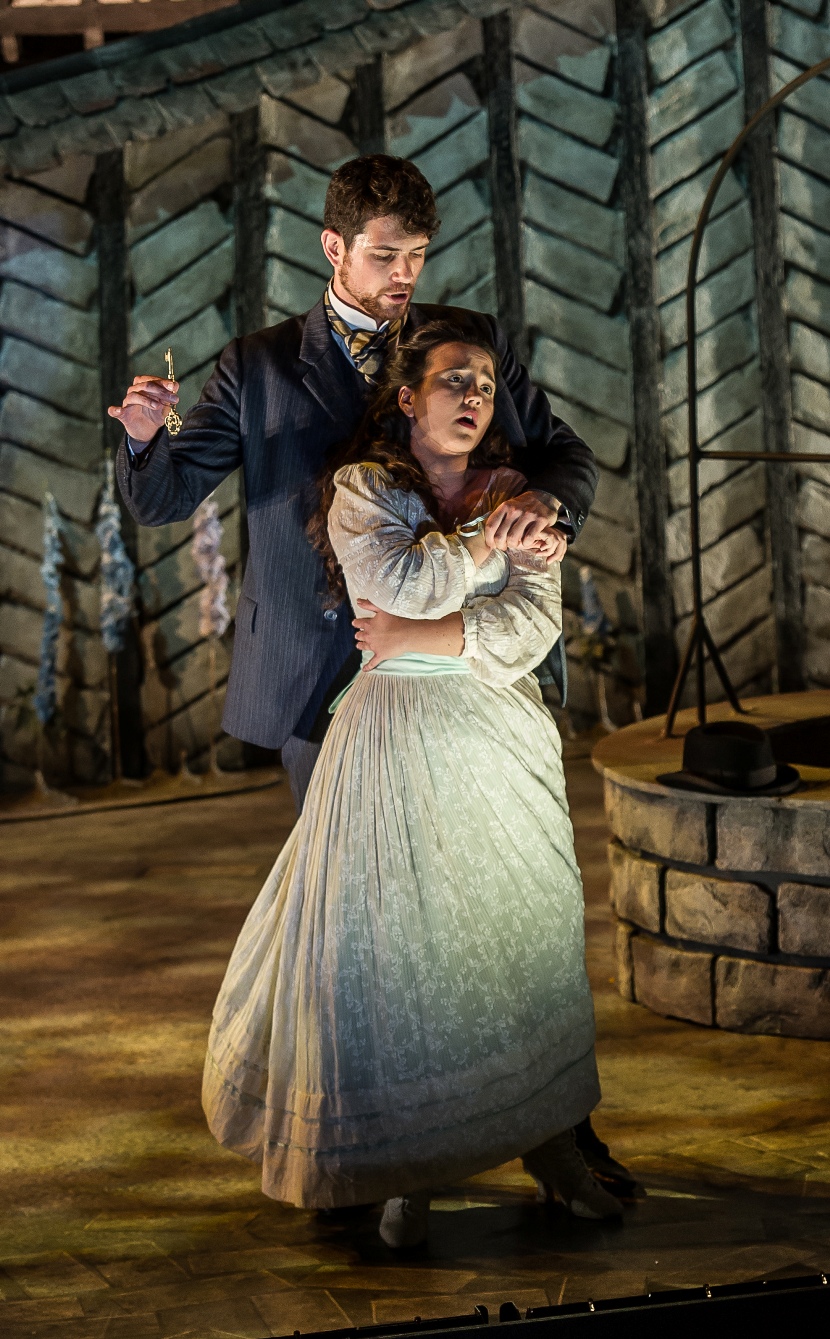 The girls do best. The second-cast Bathsheba, Laura Ruhi-Vidal, has effortless stage presence and glows by the time of the second-act duet – this sounds like a Strauss Sophie in the making – but her tenor love, the Joseph of Lawrence Thackeray, has only two modes, loud and falsetto; it's a promising voice, but it needs a core. So, more seriously, does Martin Hässler's as the Duke (pictured right with Ruhi-Vidal): handsome on stage but lacking solid support, without which most notes were out of true last night. There's work worth doing here, but it seems irresponsible of the Guildhall to give him a Schubert Winterreise before the public at this stage. No such caveats apply to his zesty "wife", Alison Langer, Emma Kerr's housekeeper or Anna Gillingham's maid: with Ruhi-Vidal, they bring down the Act One curtain with a delightful "Merry Women of Wessex" quartet.
Two more tenors show promise, Robin Bailey as the suitor and John Findon, stepping in as valet John: less would be more in terms of the mugging, and the accent is no more successful than Langer's in a kind of Countess-impersonates-Susanna deception scene – since Ruhi-Vidal doesn't adopt one in the first place, the point is lost – but some amazing sounds pop out at times. A bit more polish is needed from David Shipley's harsh dad, too, though the raw material is certainly there. The ladies of the chorus sound superb, while not all the men know their words (nothing new there). There's much simple pleasure to be had here, but next time let's have a real Dvořák corker like the later Devil and Kate.
rating
Explore topics
Share this article