Billy Budd, English National Opera |

reviews, news & interviews
Billy Budd, English National Opera
Billy Budd, English National Opera
How to make Britten's great opera a bloodless bore: junk the context and get the cast wrong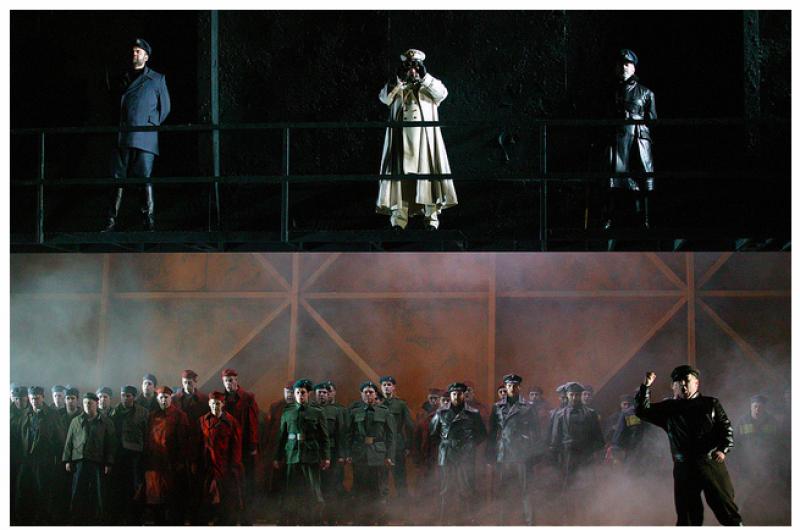 A bland Soviet-style factory space with not a whiff of salt
It should be hard to make Britten's Billy Budd a bloodless, passionless, contextless bore, shouldn't it? This is after all a lacerating story about men behaving badly on a fighting ship in the 1797 wars between Britain and Revolutionary France, a story where a man of great viciousness meets a man of much havering and a decent, possibly extraordinary lad loses his life.
And yet it's what David Alden and English National Opera have achieved with this new production. Re-uniting the team who produced a hotly argued-about Peter Grimes in 2009, this has even more the sense of a disconnection between pit and stage, with an electric orchestral performance under Edward Gardner that's negated again and again by a production that actually manages to make Billy Budd a bore.
The one unmitigated good thing is the conductor, driving Britten's great score like a master and commander on his ship - indeed, like the Vere we should be seeing on stage. But the setting built by Paul Steinberg refutes any sense of forward motion or 18th-century history, channelling a different, over-familiar revolution with a blank Soviet-looking factory space furnished with two industrial walls that winch up and down, and no need for sea legs. The crew of the Indomitable are garbed like garage mechanics in grey overalls and caps, and Captain Vere is a tubby inaction man in a tinpot dictator's white suit, only some braid on the cuffs hinting at naval uniform. His office is a stark white planked tube, and the entire place is conventionally anonymous, empty, not just devoid of humanity, devoid of signs of human usage or purpose.
Now, were this devised to summon up the claustrophobia of a submarine or a space-ship, I'd happily project my imagination into it, but its laziness, its arrogance, its lack of relish for the material, interferes. There is no suggestion of sea or momentum, no elemental instability or ephemeral morality, not even much obvious work for the men to do apart from haul a few very clean ropes. Why should we have to work harder to imagine the story's setting than the designer and director have?
Within this soulless place, it hardly seems likely that Billy Budd, the new pressganged recruit, would be allowed to flourish his curly, uncut locks without a cap, unlike all the other crew. Nor does it add anything helpful that clear stage directions in the libretto are often and obviously negated: Billy is told by another man to shush and not wake his mates - yet there's nobody else there. The court martial agrees to "rise" when the officers are already striding about the room. Claggart insists on a beaten man crawling to him, but then himself wanders up to him so he doesn't need to move.
The effect of silly contradictions like this is constantly to dissipate any invocation of the tight, menacing atmosphere of the Indomitable, the rough magic of being at sea, and the pressure-cooker war conditions that mould its characters and their common tragedy.
Claggart, the master-at-arms, is vile because he has utter contempt for his life, and he hates anything that reminds him there are alternatives - hence his loathing of good, easy-going Billy Budd. Praise be for Matthew Rose, the pasty-faced nasty who was last night the saving grace of the leading roles, a big bullying closet gay who clutched Billy's red neckerchief to his groin as he growled his confession to the night, "Handsomely done..." Rose is a perceptive actor with a richly expressive bass voice, and conveyed his malignant character (a Iago, if you like) with a still concentration in his body and sudden, arresting contortions of his mouth. The performance of the night.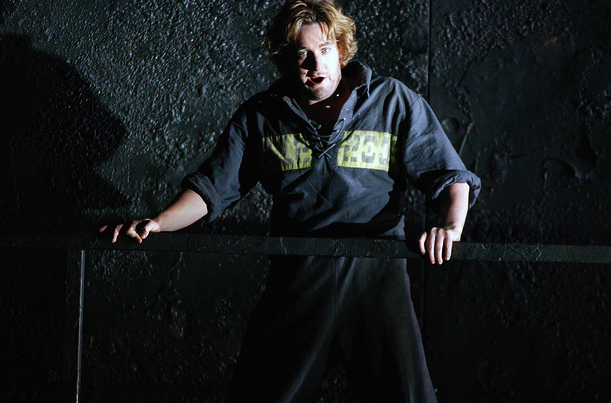 Frustratingly, no such interest in either Kim Begley's Captain Vere or Benedict Nelson's Billy. Begley replaced the originally intended Toby Spence (currently battling illness), and I wondered whether it was he or Alden who determined that Vere should come across as a minor civic dignitary rather than any kind of action hero. What on earth is there in this doughy, passive bureaucrat that makes men on a warship throw up their hats and cry "Starry Vere!" With such a narrow tenor timbre and a stolid lack of identification with what Vere actually says, Begley seemed to me at sea in a role that's wrong for him.
Surely Billy needs to be a person who helplessly attracts others' resentment or desire
Nelson too (pictured above) delivered a generic Billy without much edge, ordinary, pacific and impossible to dislike. The stutter wasn't believable, from his reading, as a symptom of some unpredictable inner strain, and his lash at Claggart wouldn't have felled a chicken. Surely Billy needs to be a young Adonis, or a Jesus Christ, or a Lennie Small - a person who helplessly attracts others' resentment or desire. Between them, Begley and Nelson made little of the pivotal emotional stand-off where Vere shamefully sanctions Billy's execution.
Much of this gutlessness has to be put down to Alden's static, slow-motion directing of a stageful of well-fed men few of whom act as if capable of strenuous physical exertion. Their symbolic dragging of ropes or bundles is awkwardly braked, with no weight in the movement; their slo-mo marching exposes that most of them have no idea why they're doing it (the body cannot lie).
Good work from Nicky Spence as the Novice (but again poor directing - so easy a recovery after his flogging?), Gwynne Howell's resonant Dansker, and Jonathan Summers' authoritative, upright Redburn. But how to understand what common cause Gardner and Alden agreed in this broken-backed and unrewarding production?
The conductor drives Britten's great score like a master and commander on his ship - indeed, like the Vere we should be seeing on stage
rating
Explore topics
Share this article