2011: Unlovely Love Stories and Unerotic Erotic Tales |

reviews, news & interviews
2011: Unlovely Love Stories and Unerotic Erotic Tales
2011: Unlovely Love Stories and Unerotic Erotic Tales
Highlights of the year include Two Boys, Egon Schiele and Fake or Fortune?
Wednesday, 28 December 2011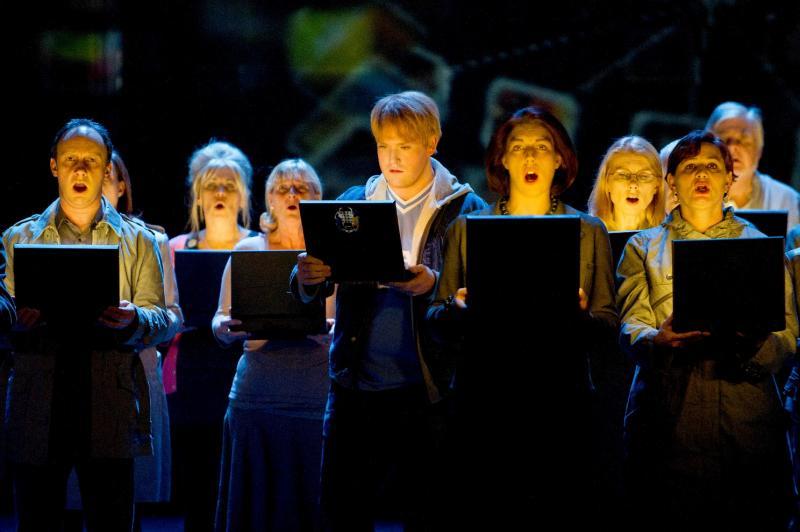 The chorus from Two Boys singing a chorus over their laptops
While I'm still learning to disentangle my mezzo from my Meistersinger, I enjoyed a lot of the opera on offer in London this year, especially at English National Opera. Parsifal was perfect and Rameau's Castor and Pollux, while probably a little too Germanic in direction with its dancing amputated legs and unerotic nudity, was wonderfully sung.
I especially enjoyed the premiere of Nico Muhly's
Two Boys
, whose internet-era set design suited its perverse modern "love" story. The first chorus, which built up comprehensible layers into a modem's hum, was genius.
On the art front, Egon Schiele's drawings at Richard Nagy made a low-key but winning show. His naked subjects, all the colours of bruises and drawn with as much violence, are sometimes vulnerable, sometimes feisty, but always rejections of the pure Classical nude. They as much as anything evoke Central European desperation before and during World War One. Speaking of desperation, George Condo's Jesus at the Hayward Gallery was pitiful and imploring, the only really moving picture in the whole show.
It was a good year for controversial art on TV. My review of Graffiti Wars, about the tit-for-tat war between street artist Banksy and graffiti tagger King Robbo, ran up dozens of comments, most of which were delightfully scathing. But the biggest stir was caused by Fiona Bruce and Philip Mould's Fake or Fortune?, which followed some potentially very valuable paintings: a possible Monet, a rediscovered Winslow Homer. If anything gave an insight into the methods and madness of the art market, and its frequent cruelties, it was this show.
2011 Highlight: Discovering Wagner properly with the ENO's perfect Parsifal. In a space-age yet Holocaust-suggestive set, the most tender music emerged from the pit, led by Mark Wigglesworth, and John Tomlinson's Gurnemanz made me cry.
2011 Letdown: Frank Stella is revered as an academic artist - What is an image? How can we depict depth and space in a painting? - but his retrospective at Haunch of Venison was ultimately depressing for its lack of interest in the human.
Watch a short clip of Two Boys:
If anything gave an insight into the methods and madness of the art market, and its frequent cruelties, it was this show
Share this article