Die Meistersinger at the Proms, BBC Four |

reviews, news & interviews
Die Meistersinger at the Proms, BBC Four
Die Meistersinger at the Proms, BBC Four
Could it be as good as the original Welsh National Opera staging? Yes, it could
Bryn Terfel's Hans Sachs plagued by Christopher Purves's Beckmesser, with a cobbler's apron and a mandolin for company at the Proms
Two birthday parties kept me away from the Albert Hall yesterday (though I'll confess that in the end I treacherously skipped the second and stayed glued to the TV's delayed relay). That, and a slight fear that the concert performance of Wagner's Die Meistersinger von Nürnberg from the BBC Proms couldn't match up to the original Welsh National Opera production of the decade.
In fact, from what I saw, it did wonderful things in quite a different way, even if when left to their own devices the singers became a tad more conventional in their very exposed acting-out, for all the eloquent hand gestures which were mostly a legacy of Richard Jones's meticulous staging. At least it was an integrated, meaningful ensemble in the way that the eight singers of the previous Prom's Mahler Eight certainly hadn't been, nor ever would be even given more rehearsal time.

So how did BBC Four handle it? Pretty well, from my partial view, though glimpses of the first act suggested that the cameras weren't always where they were supposed to be, and that the television mikes were never turned on downstage left (that remained a problem, critically, until the last). Stephen Fry is possibly the only telly personality apart from Antonio Pappano who could get away with saying plenty of probing and intelligent things about the nature of drama. I was utterly convinced - until he let slip a blunder about the crucial positioning of the chorus's paean to Sachs, "Wach auf!", in Act Three, a moment when, as one reviewer put it, the whole of Wales seems to salute its hero Bryn Terfel. And I wouldn't blame Fry for discombobulation at the end, when he sounded as if he'd been crying - don't worry, Stephen, I was too - and started gushing in some very strange places (how on earth would anyone be able to tell from the bit part that the performance of minor Meister Nachtigall was "wonderful"?) Good, anyway, to have more experienced gravitas from Nicholas Payne, former Royal Opera supremo. Plus perfectly eloquent little interviews with Terfel and Lothar Koenigs, the outstanding WNO music director.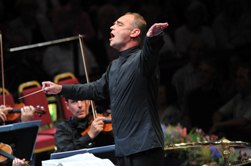 Koenigs (pictured right by Chris Christodoulou) and his orchestra seemed to have got even better since the first night in Cardiff. The relatively small ensemble looked almost lost on the Albert Hall stage, but that's no doubt the kind of modest size Wagner intended. They kept the action afloat, the woodwinds sounded even more luminous than they had in the Millennium Centre, and overwhelming climaxes always made their mark. A wrong entry or two suggested understandable fatigue, as did Bryn's final monologue, but at least they weren't sweltering in high temperatures.

In front of Koenigs, the singer-actors did an economical little bit of their stuff. With the men all in black open-necked shirts, there was a touch of Brechtian alienation and none of the class/ status distinctions you got in the production. In close-up, some could look just a little over-emphatic, but they all seemed so physically at ease, which can't have been easy on presumably only one rehearsal in the giant venue. Odd that Bryn should have developed a self-protective arm-folding gesture perhaps at odds with natural man Sachs. But he was so in command of the words, and, as they say, so owned the stage that his massive charisma must have put some of the less experienced singers at their ease. Christopher Purves's Beckmesser, a rather different stage animal in the Albert Hall but consummate as ever, certainly didn't need it. And Raymond Very seemed amazingly relaxed, easy and taken with the spirit this time when it came to Walter's "Prize Song". Smile, chorus, though, please, when you're supposed to be having fun on the banks of the River Pegnitz.

How do they all feel this morning? They've done what for many will be the run of their lives and, according to Jones, there are no plans to bring it back - too expensive - or share it with another house (the big companies all want their own epics, apparently, even in straitened times). Jones shrugged off the laments that no-one had filmed the show - that's the now-you-see-it-now-you-don't nature of theatre, he replied - but at least this Proms performance has been captured for ever. And why am I up so early on a Sunday morning writing about it? Because Wagner at full inspired pelt never lets you sleep for long.