Tony Williams: Cole the Magnificent - fantastical tale blends myth, poetry and comedy |

reviews, news & interviews
Tony Williams: Cole the Magnificent - fantastical tale blends myth, poetry and comedy
Tony Williams: Cole the Magnificent - fantastical tale blends myth, poetry and comedy
Nonsense and whimsy abound in a novel that both delights and exasperates
Author Tony Williams
Cole the Magnificent is a picaresque, fantastical tale of the life (or lives) of a man, Cole, following his adventures as he progresses through a mythical pre-Norman Britain, from adolescence to old age, and beyond.
It is episodic and poetic, by turns evoking Norse saga tradition and then putting
post-modern
quotation marks around it. Hard to encapsulate, it is sweeping, tricksy, violent, elegant, substantial, trifling, virtuoso, whimsical, colourful, deadpan, infuriating and nonsensical. It is, in its way, brilliant, but may not be for everyone.
We first meet Cole, on his father's "steading", submerged in a vat of urine to escape the invading warlord Brand. He escapes and sets out on his travels, accompanied by a ragtag group of companions with echoes of Monty Python and the Holy Grail, leaving behind his first love, Sigrid, who he has casually impregnated. He promises her to go to the Underground City and return to claim her hand. Meanwhile in another place, the young girl Niven dreams of a world outside her privileged but closeted upbringing. Needless to say, her path will cross with Cole's.
Although this suggests a coherent quest narrative plot, the novel is in fact an exercise in digression and distraction. Short chapters tell self-contained stories which are often mutually contradictory, and make for a staccato reading experience. They are dressed up in pseudo-scholarship and cod history, in mock academic style that ranges across the world of medieval learning. The book has a rich, almost indulgent, texture, which is generous-spirited and witty (the names are a delight throughout) but also nonsense, albeit a nonsense confidently told. Of Cole, the narrator says "there was something cocky about the lad that both annoyed and gladdened him" and this is true of the book itself too.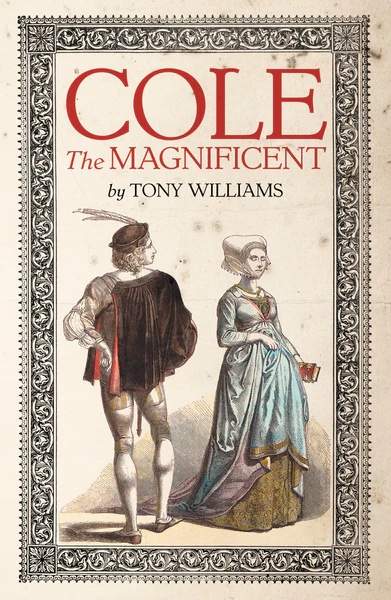 But Williams is knowing: he is aware of this tendency, he is deliberately playing with tropes and forms, and knows he might test your patience. "This tale of Cole is stitched together from manifold parts taken from this district and that. If it seems to limp along at times and shed its feathers like an aged goose, the miracle is that it should move at all."
The prose is fluid and drinkable. "Olaf sat and thought for a time, and then began to reel off the places he thought might constitute a world, whether earthly or celestial: 'A riverbed, a hall full of smoke, a lover's eye. The stroke of an axe. A liar's throat. The space in the very centre of a hazelnut.'" At times the relentless whimsy becomes a bit tiresome but your reaction to passages like this will determine if this is the book for you.
Meanwhile the stories come thick and fast. There is so much plot there is almost no plot. The superabundant confabulation recalls Peter Carey, in both good and bad: the ability to endlessly spin stories out of thin air is a delight, but the author can get caught up in his own fecundity and the main narrative gets a bit lost amid entertaining but inconsequential episodes. The result is, it's too long. By halfway through there have already been enough events and years for several lifetimes and I'm wondering: how does is sustained for 400 pages? The answer is a plot twist which owes something to the most absurd of Baldrick's cunning plans, however seriously presented.
Cole himself is a cipher, a man things happen to with little agency on his part. He undergoes many privations and miseries, but when the stories of tragedy, disaster and death are so unremittingly undercut and played about with, do we care about him, or any of the other characters?
The answer is that the characters we care most about are the women, ostensibly supporting characters but in fact given agency and seriousness denied to Cole. In a patriarchy where women are married off, impregnated or discarded at will, there are several in the book who survive without men, defy them and make their own lives. This element of subversion is perhaps the most interesting aspect of the novel. There are also meditations towards the end about whether it is disloyal to a first love to ultimately prefer a later one: "Forgive me: the promise/love makes in the morning/is broken by nightfall."
And the novel is about the multivalence of stories: there is no single Cole, there is no truth to any story beyond the enjoyment of its telling and its hearing. Cole the Magnificent has an elastic quality, both in its language, its stories and its meaning. It is undoubtedly clever – although to say this is sometimes to damn with faint praise – but it also has a heart. And if the incessant word-spinning is a bit exhausting, it is also a rich feast and as intoxicating as a tankard of mead.
the characters we care most about are the women, ostensibly supporting characters given agency and seriousness denied to Cole
rating
Explore topics
Share this article