Music Reissues Weekly: Happy In Hollywood - The Productions Of Gary Usher |

reviews, news & interviews
Music Reissues Weekly: Happy In Hollywood - The Productions Of Gary Usher
Music Reissues Weekly: Happy In Hollywood - The Productions Of Gary Usher
Stunning collection honouring California's one-man musical powerhouse
Gary Usher: the creator of the glistening, upbeat and uplifting
As either a producer or songwriter Gary Usher worked with The Beach Boys and The Byrds, the two most consequential California bands of the Sixties.
When he co-wrote "409" with Brian Wilson for the Beach Boys's first Capitol Records single in mid 1962, he teamed the hot-rod fad with surfing in popular culture for the first time. By his own reckoning, Usher wrote and recorded more than 50 car songs in one month in 1963.
Any of this would make Gary Usher a significant figure in pop music. But, of course, there's a lot more. Much more. Getting to grips with his world means that bands or studio creations like The Hondells, The Peanut Butter Conspiracy, Sagittarius and The Super Stocks have to be taken account of. Then there are auteur musical figure Curt Boettcher, Chad Stuart & Jeremy Clyde, and former Byrd Gene Clark. The role call helps define Usher as pivotal to California's music. Not bad for the man dismissed thus in August 2020 by another former Byrd David Crosby: "Wasn't a good producer."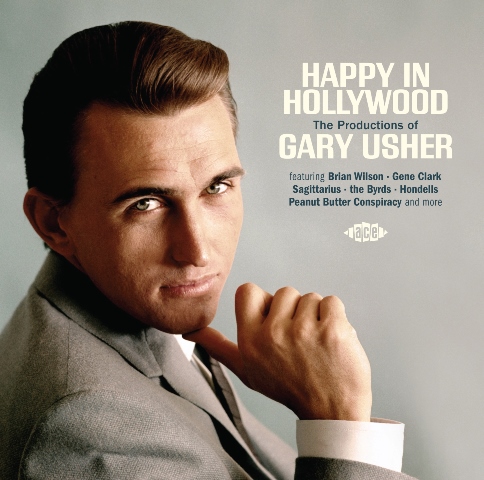 Gary Usher (born 1938 in New England, he moved to California in 1957) died in 1990 so wasn't able to respond to Crosby's churlishness, but the comment probably stems from what was going on with The Byrds during the second half of 1967. Usher produced their final single with Crosby, "Lady Friend" (issued in July 1967). Usher also produced The Notorious Byrd Brothers album (January 1968). Crosby was fired from the band as it was being recorded. Usher would already have known The Byrds were unstable: in 1966, he produced just-over half of original Byrd Gene Clark's first solo album.
Usher entered the happening side of the music business through The Beach Boys and their creative lynchpin Brian Wilson. Usher had laboured, then worked in a bank and next had a spell in army while dipping his toe into music as a side-line. A couple of singles in 1961 didn't click but in 1962 he visited the Wilson family, who lived locally to him. He and Brian bonded, and he wrote lyrics for The Beach Boys which reflected his yen for cars. Taken on by a music publishing company as a songwriter, Usher began putting out singles under made-up band names. He was also credited as an arranger and, from around 1964, as a producer. His work tracked the changes in popular music and creatively peaked on mind-blowing baroque, complex, filigreed, harmony-drenched, lush, psychedelia-slanted albums for Chad & Jeremy and (with Curt Boettcher) as Sagittarius in the second half of the Sixties.
The Byrds's "Lady Friend" opens the stunning new compilation Happy In Hollywood - The Productions Of Gary Usher. The booklet's track-by-track commentary says of "Lady Friend" and The Byrds that "As their recently appointed producer, balancing the conflicting demands of each band member became Gary Usher's main task: not so much a producer, more a referee. The original band recording was, unbeknownst to the rest of the group, allegedly re-mixed by Crosby before release, with his multi-tracked vocals replacing the group vocal performance. Indeed, Usher was later to recall, 'I always considered it to be a Crosby recording, and not a Byrds recording.'"
The Byrds weren't the only band heard on Happy In Hollywood where friction was in the mix. Los Angeles psychedelic-punk band The Sons Of Adam "were more interested in trying to capture the rawer-edged stage work [in the studio]. Usher did not relate to their approach." Of hairy hippy-pop outfit Peanut Butter Conspiracy, Usher is quoted as saying "They were a strange bunch, different in many ways [to me], in culture and lifestyle particularly. I never really enjoyed working with them because their scene was so foreign to me. I always felt uncomfortable around them." That wouldn't be a problem with The Spiral Starecase and The Surfaris, whose Happy In Hollywood tracks feature session players brought in by Usher rather than most of the members of the bands themselves. It was no issue when the band names on the record labels were plucked out of the air, as what was heard was played entirely by studio musicians.
Happy In Hollywood draws its title from a 1976 single produced by Usher and Curt Boettcher which was credited to California. It's lovely and closes Happy In Hollywood – the final track of 24. But on the way to this point, it becomes clear that despite the sun, surf and sparkling harmonies, things were not always happy in Hollywood.
A little later, it was the same. Usher was brought on board for what became Brian Wilson's 1988 solo album. The text in the booklet for the "Let's go to Heaven in my Car" single says "Gary Usher was the first [producer for the album] to be put through the mill by Eugene Landy, Wilson's subsequently discredited doctor and the project's self-appointed 'executive producer.' Usher kept a meticulous diary through his involvement in the project, and was wise to do so: his journals would later be used as evidence against Landy in the court case brought by Wilson's family."
The contrast between the glistening, upbeat and uplifting material collected for Happy In Hollywood and the problematic stories of some of the individual tracks can be striking. Even so, the music Usher was integral to creating is breathtakingly wonderful. The first four tracks here instantly make the case: "Lady Friend" (The Byrds), "My World Fell Down" (Sagittarius), "So you Say you Lost Your Baby" (Gene Clark) and "Just one More Chance" (The Hondells). From hereon in, obscure cuts, a few things which might be expected, top-drawer rarities and a great flow to the listening experience. Get this – whatever the studio upsets, Gary Usher rode them all out. And no matter what David Crosby thinks, making the perfect record for the moment was his goal.
Next week: The Beatles's Get Back becomes available in shops - the latest episode in the seemingly never-ending saga of what initially became Let It Be

Making the perfect record for the moment was Gary Usher's goal
Explore topics
Share this article