Wang, Czech Philharmonic, Bychkov, Barbican review - the sound of history
Wang, Czech Philharmonic, Bychkov, Barbican review - the sound of history
An epic celebration of national identity outshines even a megastar soloist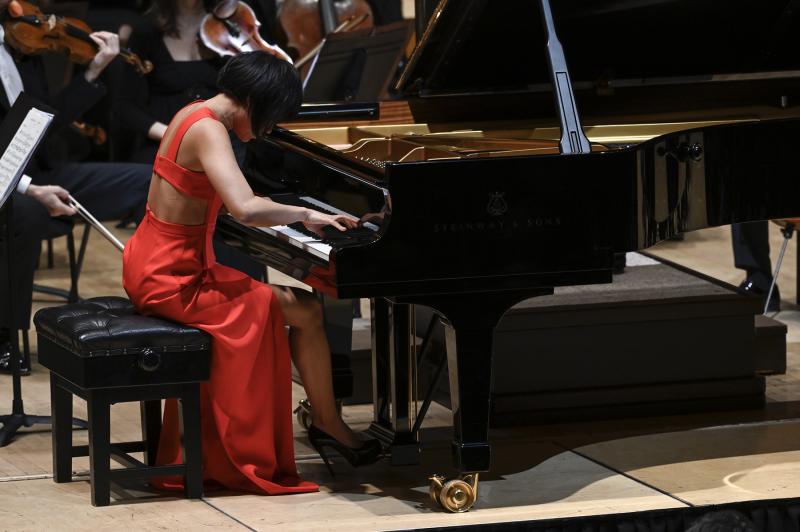 Into the whirlwind: Yuja Wang
"The past is never dead," William Faulkner famously wrote. "It's not even past." Funny to think that I approached 2022 bored in advance with all the glib celebrations of post-WWI international modernist breakthroughs that the centenary of Ulysses and co. heralded. Yet here we are, the year only a couple of months old, standing eagerly for a national anthem in a packed concert hall.
It comes in the middle of a programme that delivers not just a fervent, but a nearly ecstatic, celebration of European cultural identities in all their Romantic passion and singularity. The anthem, of course, belongs to Ukraine.
Semyon Bychkov prefaced the Czech Philharmonic's second half at the Barbican last night with an impassioned rendering of it that made the decades – and the doubts – roll away. Born in Soviet Leningrad, resident abroad since the mid-1970s, Bychkov had issued an early, powerful denunciation of the Russian invasion. Last night he said that the notes of Smetana's symphonic poem Ma Vlást would "sound differently" at this moment when the past of Europe has risen grimly from its shallow grave. So they did – and how. Smetana wrote his patriotic rhapsody to channel and focus a nascent Czech identity; last night, every one of the outstanding players would have thought not just of Ukraine today but of the Russian tanks that crushed Prague's own dreams of freedom in 1968. Some would even have remembered them.
The Czech Phil arrived in London, the Barbican's first international orchestral visitors since the pandemic began, during an ambitious European tour. There was, though, nothing jaded or routine about performances that married the underlying excellence of each desk – and the hawk-like attentiveness of Maestro Bychkov (pictured above and below by Petr Kadlec) – with the urgency that came from those long shadows of the past. All of which meant that, remarkably, the presence of Yuja Wang as soloist in Rachmaninov's first piano concerto ceased to feel like the evening's main event. Unfair to her, perhaps: the astonishing mastery, deftness and expressive range of her pianism should never be taken for granted. We expect that scintillating virtuosity now as much as we look forward to spectacular frocks and heels from the Beijing-born wunderkind.
Somewhat unloved in comparison with its later counterparts, the First was the result of a thorough overhaul of an apprentice work. Rachmaninov finished his revision in 1917, just before he quit Russia for good. Even here history inflects the musical imagination. Wang's ferocious alloy of power and precision, and her octave-spanning athleticism in the opening Vivace, had to work together with an orchestra packed with forceful individual voices, and in no mood to be easily eclipsed. From the opening brass flourishes we knew that this multi-directional conversation would bring no automatic deference to the star in scarlet at the front. Band matched pianist in their emphatic muscularity of sound, but Bychkov ensured that parity stopped short of rivalry.
For her part, Wang excelled in quieter, filigree passages of rhythmic suppleness – not too much lavish rubato, a sin with which she's sometimes taxed – and lyric introspection. The nocturne-like Andante cantabile lived up gorgeously to its marking, with well-drawn accompanying touches from the mellow Czech woods. In the closing Allegro the dance theme triggered some blazing fortissimo moments. Wang commanded the whirlwind of stormy passagework while the Czech strings – impressively led by concert-masters Jan Mrácek and Jan Fišer – soared and swooned with their sleek, velvety purr. Her controlled intensity and clarity amid the blast of an orchestral tempest remains a marvel. But the restless inwardness, gracious stillness and legato flexibility of the solo sections perhaps served as the purest token of a special gift.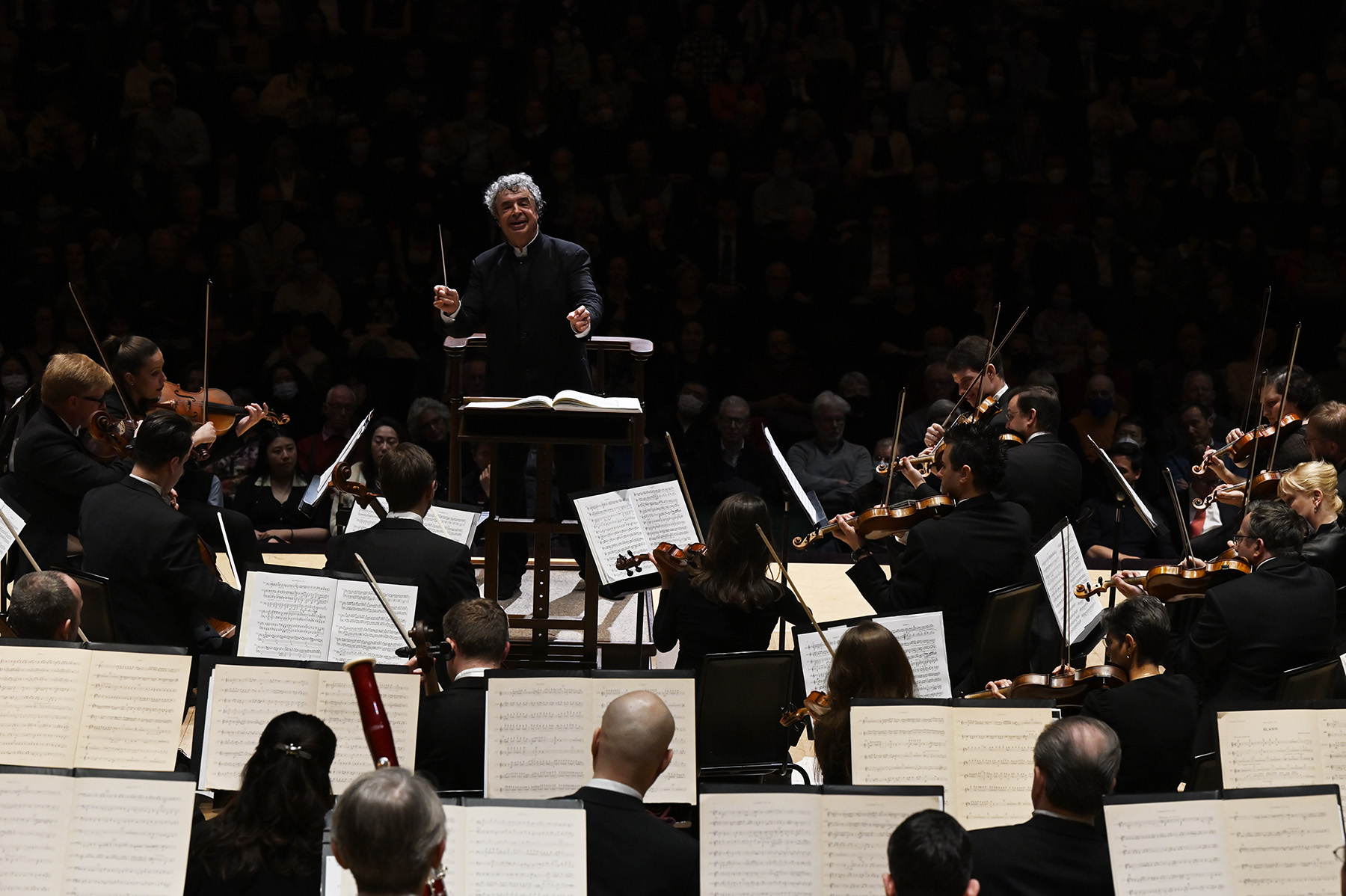 However familiar it must be for them, the orchestra managed to make the complete, six-movement version of Ma Vlást into a landmark event. Bychkov's ability to draw a consistent warmth and depth of sound from every corner of a very big band neutralised any challenges that the Barbican acoustic may have presented. From the initial rhapsody of the twin harps in "Vyšehrad" ( Barbara Pazourová and Roxana Hädler) to the cellos and basses shaking the earth as the percussion stormed the heavens in the closing movements, "Tábor" and "Blaník", Smetana's 1882 grand tour of Czech landscape, myth and history arrived not just with an epic amplitude. It glowed with a sense of beloved local detail which each well-accented instrumental voice enhanced.
Played in full, without tonal variety, Ma Vlást can trudge and tire the ears. But Bychkov's sculptural hand lent each part freshness as well as force. The strings, lower as much as upper, had agility and attack on top of the rich-textured lusciousness of old Mitteleuropa. Bychkov's command of the wide sonic spaces, as waves of sound rippled thrillingly across the stage in the great theme of "Vltava", was something to behold. Under this baton, Smetana's iconic river might even have overwhelmed Wagner's Rhine. The fine woodwinds – bassoon, clarinet and oboe to the fore – shone in the mythic drama of "Šárka" and the spacious pastoral of "From Bohemia's Woods and Fields". After "Šárka", a changeover of wood and brass players marked a welcome pause and allowed us to grab just how deep the talent of the Czech Phil runs.
Bychkov never stints on the sweep and grandeur of the piece, deepened at every stage by the terrific heft of horns and lower strings. Yet he pinpoints too the subtleties buried in the writing, for instance in the interweaving fugal elements of "From Bohemia's Woods and Fields". The pulsating martial rhythms of "Tábor" and "Blaník" – inspired by the Hussites' revolt against the invasive imperial powers of their day – can sound grindingly monotonous. Not here, where solo excursions (above all in the woods) balanced the ominous ostinato figures with hints of the springing natural beauty that survives the heat and din of battle. Performed without this level of conviction and empathy, Ma Vlást in bulk can sound too much. Here it felt like just enough. It reminded me, in its splendid long-form generosity and shameless stylistic leaps between epic, heroic and folksy registers, that Mahler came from Bohemia too – and that this orchestra premiered his Seventh Symphony. If events force us to live in the past again, let's hope that it can sometimes sound as magnificent as this.
Every player would have thought not just of Ukraine today but of the Russian tanks that crushed Prague's own dreams of freedom
rating
Explore topics
Share this article