House Of Gucci review – gloriously gawdy trash |

reviews, news & interviews
House Of Gucci review – gloriously gawdy trash
House Of Gucci review – gloriously gawdy trash
Ridley Scott's latest is a hot mess of cod accents and daytime drama, yet watchable
Thursday, 25 November 2021
Adam Driver and Lady Gaga star in House of Gucci
Back in 2013, Gina Gershon chewed up the scenery in the daytime movie House of Versace. Focusing on the murder of Gianni Versace, it was a tacky, cheap drama that knew what it was, and was all the more entertaining for it. The same can't be said of Ridley Scott's new drama which focuses on an equally prestigious Italian fashion house and a murder.
The film masquerades as a
crime
drama with an impressive gloss, but it can
'
t mask its daytime TV mechanics.
Scott's second film in as many months, House of Gucci follows box office failure The Last Duel. Sitting somewhere between bad opera and good soap opera, it's a gleeful mess of a movie that's as trashy as Lee Daniel's The Paperboy and will no doubt be as hotly debated as Ridley's much maligned The Counsellor. At times it has the overly-constructed faux drama of a Real Housewives reality show, and about as much emotional pathos to boot. But there's no denying that it's a good-looking movie.
Lady Gaga stars as Patrizia Reggiani in her first movie role since her Oscar-winning performance in A Star Is Born. It's no spoiler to say that Reggiana was convicted for hiring a Sicilian hitman to kill her ex-lover, Maurizio Gucci. The film opens with the assassination, although it holds back the coup de grâce until the final moments. Gaga certainly gives it her all as Reggiani, even though her accent sounds about as Italian as Gianni from EastEnders.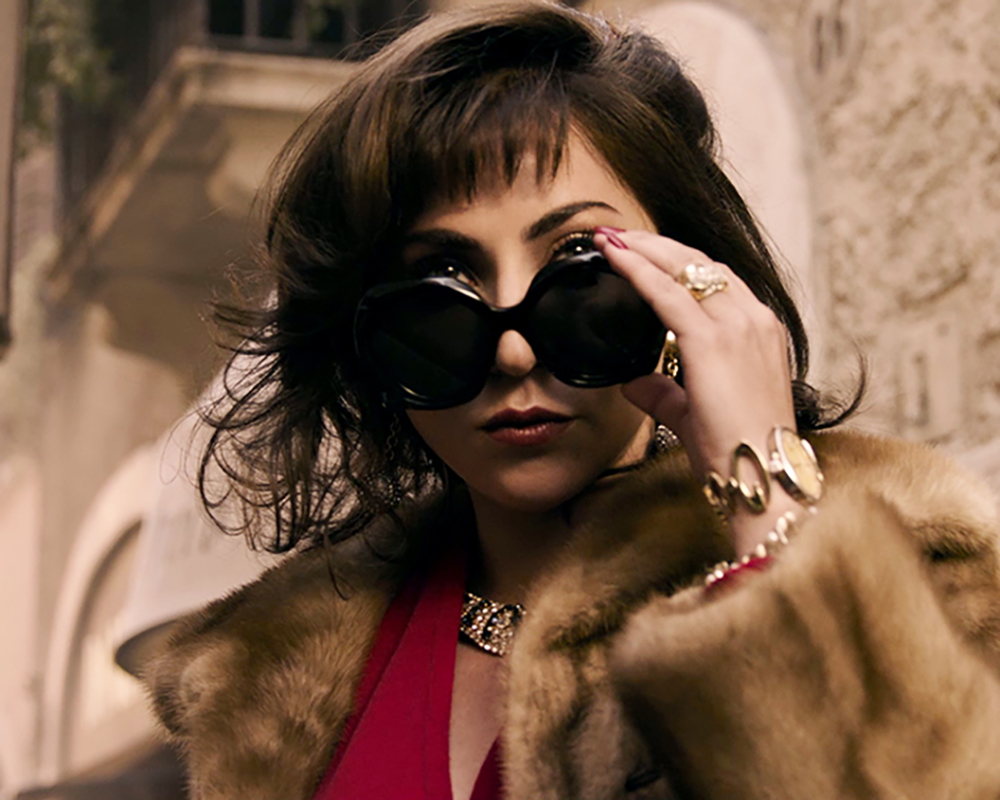 Reggiani is a social-climbing Lady Macbeth, who hits Milan's party scene with the hope of snaring a rich husband. This is where she encounters Maurizio (Adam Driver). She sets about ensnaring him and succeeds, much to the annoyance of his reclusive father and co-head of the Gucci dynasty, Rodolpho (Jeremy Irons). However, she does win the approval of his brother, Aldo (Al Pacino) and his dolt of a son, Paolo (Jared Leto in a career worst, and that's saying something). Once established in the Gucci clan, Reggiani brings fortune and misfortune, setting father against son, and winning the disapproval of the family's loyal legal retainer, Domineco (Jack Huston).
The drama is uneven, but it's peppered with spectacular moments, particularly those involving Salma Hayek as a fortune-telling cat-lady-cum-witch, who befriends Reggiani and helps her find a hitman to kill her one-time lover. Scott also provides us with a chance to see Camille Cottin as Maurizio's new lover, Paola Franchi, in her biggest film appearance since the international success of Call My Agent.
The main problem with the film is that it's all veneer masking cheap wood beneath. There's the wide array of hammy accents that sound like the policeman from Allo Allo. The worst offender is Leto, who shows that Bob Hoskins playing Mario had a better grip on the Italian accent. We don't want to return to the days of The Hunt For Red October and the extreme suspensions of disbelief needed to convince ourselves that Sean Connery was Russian.
Then there's the screenplay. Based on the book by Sara Forden, and adapted by Becky Johnson and Roberto Bentivegna, it's not just uneven - it's a little dull. Given the sensationalism of the story and popularity of dynastic dramas like Succession, they had an easy job on their hands. Despite this, the film waxes and wanes, stirring laughs when it shouldn't and failing to elicit an ounce of pity or anger for Gaga's Reggiani, despite the best efforts of the singer-turned-actress.
But… and there is a big 'but'. Despite its myriad flaws, the film is a glossy glorious mess that you can't stop watching. Viewing House of Gucci feels like being stuck on the sofa on a hangover binge watching HayU - you know damn well that your time could be better spent… but until the new Paul Thomas Anderson is out, why not just sit back and enjoy some trash.