A Star is Born review - Bradley Cooper and Lady Gaga make a compellingly combustible duo |

reviews, news & interviews
A Star is Born review - Bradley Cooper and Lady Gaga make a compellingly combustible duo
A Star is Born review - Bradley Cooper and Lady Gaga make a compellingly combustible duo
Familiar story is revealed afresh in actor Cooper's directorial debut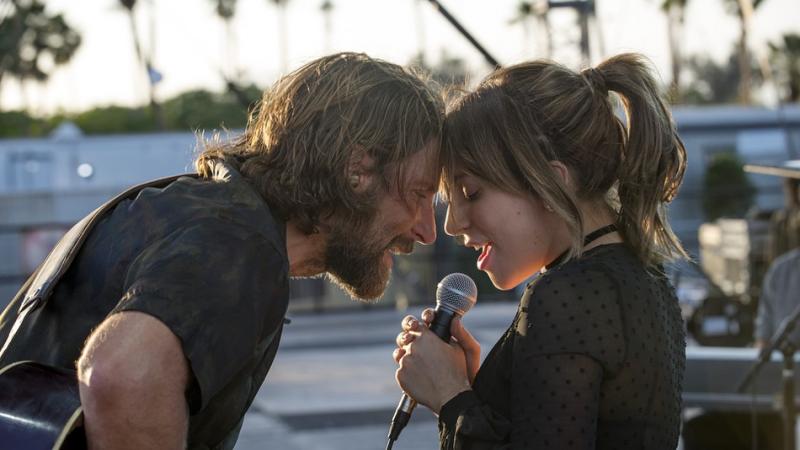 Rise and fall: Bradley Cooper and Lady Gaga in 'A Star is Born'
"It's the same old story, told over and over forever": So remarks the redoubtable Sam Elliott late in the most recent reboot of A Star is Born, which itself manages to take an oft-told story and reinvent it very much afresh.
As the grizzled sage who happens to be the older brother to the self-sabotaging
rocker
played for keeps by the film's director Bradley Cooper, Elliott in a sentence gives voice to the eternal appeal of this intersecting narrative, about one artist (Lady Gaga's waitress-turned-vocal wonderwoman, in this instance) who is catapulted to film even as the other flames out in a drink-sodden decline.
Those who've seen this material incarnated by James Mason and Judy Garland, or in the full-throttle vanity production that paired Barbra Streisand with Kris Kristofferson, may wonder whether a further go-round isn't surplus to requirements. (An even earlier one, in 1937, starred Janet Gaynor.) In fact, for its first two-thirds particularly, Cooper folds a decidedly 21st-century meditation on celebrity into an unexpectedly heady, loose-limbed entertainment that suggests a throwback to the Hollywood heyday of the 1970s, when directors like Hal Ashby communicated a comparable giddiness with every frame. And if the last section seems comparatively pro forma, that may simply be due to the skill of a screen neophyte in the instantly-likable Gaga (pictured below) whose career ascent enthrals throughout but tends to plateau once her character, Ally, arrives in the limelight.
The opening sequence marks Cooper out at once as a master behind the lens as well as in front of it: an artist who has worked with the best and learned from them, as well. First seen mid-concert at a stadium gig at which he's a charismatic, boozy shambles, Cooper's growly Jackson Maine soon after has his driver drop him off at a bar on drag night, where he is reduced to tears by an eyebrow-heavy Ally (the venue's lone non-drag performer) who is singing, of all prophetic titles, a full-on version of "La Vie en Rose". Helping with her lashes backstage, Jackson enters into Ally's life as an adviser and mentor and, inevitably, lover, encouraging this burgeoning artist's songwriting and pulling her onstage to perform at one of his concerts with the gentle exhortation, "trust me".
What ensues is that tale as old as time: the artist-partner who rockets to fame even as the man who made her new life possible starts to fall. The difference here is the genuine tenderness – an emotional spectrum studded with empathy and heartache – that Gaga and Cooper bring to their shifting, always-impassioned rapport, alongside a colourful array of supporting characters. That lineup includes Elliott (pictured below right), a welcome veteran who was first coming to the attention of screen audiences just as the Streisand Star is Born was being released (i.e. 1976); Andrew Dice Clay as Ally's sweet-natured, Sinatra-obsessed dad; and Rafi Gavron as the sockless, straight-shooting manager who gets Ally a guest spot on an Alec Baldwin-hosted Saturday Night Live just as the film acquires the vaguely synthetic gloss it has managed to avoid elsewhere. (The SNL sequence is notably clumsy by contrast with the urgency of what surrounds it.)
And yet, whether reinventing himself as a cross between Neil Young and Gregg Allmann or allowing his untested (in film terms) co-star to take centre-screen, Cooper gives a performance that ranks amongst his most fearless, and there's no denying the sense that he understands Jackson's jumped-up environs from the inside. Bearded and bleary-eyed, he's also open-hearted and tender, and it would be a shame if the media-friendly focus on his distaff discovery took attention away from Cooper's own achievement as an actor here.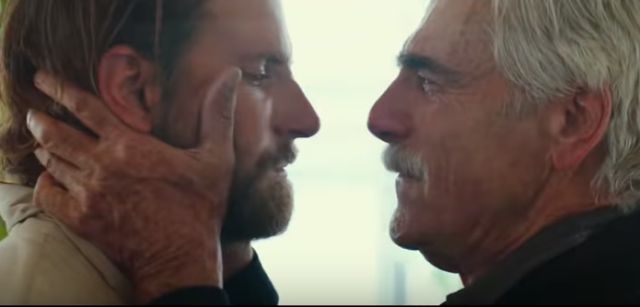 Gaga, for her part, seems already to have been corralled as Glenn Close's main competition for next year's Oscar, all of which seems premature given the notable year-end titles awaiting release. But those accustomed to the abundant theatricality of her persona will be at once surprised, and impressed, with the earthiness she projects onscreen, even if her vocals (as often as not on songs that are self-penned) justify the three Grammy nominations that come Ally's way: a shame the Grammy ceremony itself feels oddly canned. The screenplay, by Eric Roth, Will Fetters, and Cooper, makes much of Ally's beauty/ugliness to a degree one imagines the Streisand character from 42 years ago would have understood at once, and there's a suggestion of Streisand to both Gaga's physical and emotional constitution that Star is Born junkies will surely clock.
Given the contemporary setting, the world of the film can seem strangely hermetic (doesn't Ally have any friends?), but that in itself may represent a commentary on the gathering insularity that goes with fame. Suffice it to say that Cooper, as director and actor alike, is at no time more accomplished than in the numerous intimacies in his movie that include a bruising whiplash encounter that finds Ally in the bath while Jackson slings hateful aspersions her way. The movie understands the byways of celebrity and addiction and has something to say about the ever-shifting corridors of love, as well. And whatever tears you may shed at the end feel entirely earned, as is one's respect for a movie far better than one might have imagined: a film director is born.