Reissue CD Weekly: Iggy and the Stooges - Born In A Trailer |

reviews, news & interviews
Reissue CD Weekly: Iggy and the Stooges - Born In A Trailer
Reissue CD Weekly: Iggy and the Stooges - Born In A Trailer
Box set documenting what came before and after 1973's crucial 'Raw Power' album
On stage in 1973, Iggy Pop ponders whether The Stooges would have an endless afterlife
Despite their implosion three years earlier, 1977 was a good year for The Stooges. The CBS budget label Embassy reissued their 1973 Raw Power album in the wake of their songs cropping up in the repertoires of The Damned and Sex Pistols.
After the arrival of Autumn 1975's
Metallic KO
live album and
punk
rock
reviving their commercial profile, it was confirmation of The Stooges' endless afterlife. Former frontman Iggy Pop was on the up too, treading the boards with old friend David Bowie as his unobtrusive keyboard player.
Also in 1977, two singles arrived which were in-tune with the spirit of the age. Each was the first-ever airing of previously unheard studio tracks recorded by The Stooges around the time of Raw Power. "I Got A Right" was brutal and as good as anything on the album. Drawing from the intro of The Yardbirds' version of "I'm Not Talking", it appeared on the US label Siamese and was widely available in Europe. Also available was the fantastic "I'm Sick Of You", issued by Greg Shaw's Bomp label. It also borrowed from The Yardbirds: "Happenings Ten Years Time Ago" in this case. Three other tracks appeared on the singles: "Gimme Some Skin", "Scene of the Crime" and "Tight Pants". The latter was given new lyrics to become Raw Power's "Shake Appeal".
Born In A Trailer: The Session & Rehearsal Tapes ('72-'73) is a four-disc clamshell set which includes these five tracks in the context of their full source tape. There are multiple try-outs of "I Got a Right", and sloppy versions of "Louie Louie" and "Money"(which detours into The Trashmen's "Surfin' Bird"). An essential listen – and a rough complement to the Fun House box set, which documented the full sessions for The Stooges second album – this is important stuff. Also collected in the box are a series of Stooges' rehearsal tapes from 1973.
Iggy Pop had arrived in London in early 1972 after being taken on by David Bowie's management company MainMan. The plan was to make a solo album after The Stooges had fallen apart in July 1971. In London, local musicians didn't prove suitable so Stooges' second guitarist James Williamson was brought over (he first played with The Stooges in December 1970). Soon, Stooges main and original guitarist Ron Asheton arrived to play bass as did his drummer brother Scott. Although The Stooges were back, Williamson was prevented by the demoted Ron from playing material on which the latter had originally played guitar. Consequently, new songs were worked up at the RG Jones studio in Morden in advance of a show at the King's Cross Cinema on 15 July 1972 (it provided the cover shot for Raw Power). Disc One was recorded at Olympic Studios on 17 July 1972, so is as close as it can get to what was performed by The Stooges at their only British show.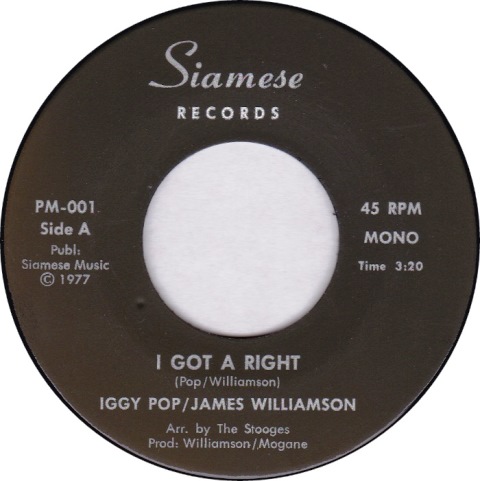 When Raw Power was recorded at the CBS label's Whitfield Street studio (The Clash later made their debut album there) from 10 September to 6 October, only one track from the Olympic session survived on the album: the reconfigured "Tight Pants". As to why the amazing "I Got a Right" and "I'm Sick of You" plus "Gimme Some Skin" and "Scene of the Crime" were ditched? Who knows. But what's on Disc One is essential to understanding and enjoying Raw Power.
The rest of Born In A Trailer is interesting, but for academic reasons rather than for unbridled enjoyment. The annotation is spotty, so it's hard to work out what these tracks are. There seems to be recordings of five rehearsal sessions across Discs Two, Three and Four. The earliest (all of Disc Two) is from Morgan Sound Studio, Ypsilanti, Machigan, March 1973 and taped as the band prepared for their first post-King's Cross show at Detroit's Ford Auditorium on 27 March 1973. Raw Power had just been released. Disc Three collects two rehearsals, from June 1973 in Detroit and Los Angeles. Disc Four teams a July 1973 session in New York at CBS Studios with tracks from a very scrappy Detroit rehearsal which may have been recorded in September or October 1973.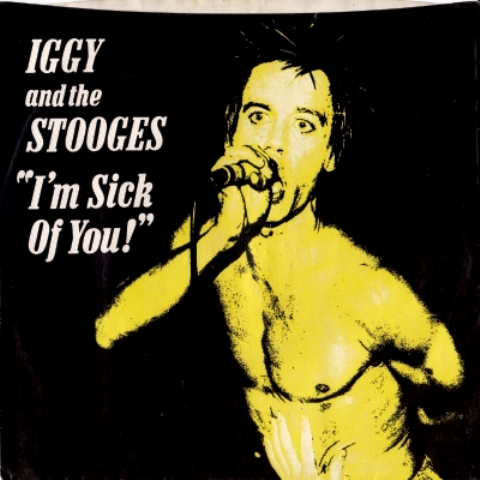 It's worth ploughing through all this. Despite having a new album to promote, The Stooges had loads of new tracks: "Cock in my Pocket", "Head On", "Johanna", "Open Up and Bleed", "Rubber Legs", "She Creature of the Hollywood Hills", "Till the End of the Night", "Wild Love". There are ad hoc goofs too: "Jesus Loves the Stooges" (also issued as a single in 1977), "Pinpoint Eyes". All in all, enough for a convincing post-Raw Power Stooges album especially as "Open Up and Bleed" is one of their finest songs. Yet only "Johanna" re-emerged as a proper recording, on what became the Kill City album. These three discs are a grab bag and what's really needed is a considered, single-album boiling-down of all these tracks to create a coherent, if lo-fi, hypothetical follow-up to Raw Power.
Potential buyers of Born In A Trailer should be aware of a few things. The first three discs are as per the first three of the 2005 Heavy Liquid set. The first seven tracks of fourth disc are as per the same on Heavy Liquid, while the disc's final nine tracks cherry pick from the 13 tracks of the 2001 Wild Love album. Disc Three's supposedly rehearsal version of "Death Trip" is actually a muddy duplication of the Raw Power album recording. Some of Kris Needs' text in the booklet reuses sections of what he wrote for the 2010 Raw Power box set. Disappointingly, nothing is said about the source tapes and their history – what's the story with them? Also, page nine of the booklet illustrates a tape box for one of the Metallic KO live shows which is not included in this set. And, as everything collected has been out before it's hard not to wonder whether there's much of a market for Born In A Trailer.
Caveats aside, Born In A Trailer is indispensable to appreciating how Raw Power came into the world. Considering the profusion of sonically deadly and wayward 1973 and 1974 Stooges live shows which have been issued, it's also the most ear-friendly way of getting a handle on what followed Raw Power. Maybe it's best to view Born In A Trailer: The Session & Rehearsal Tapes ('72-'73) as an extended sequence of bonus tracks to Raw Power. Back in 1977 when "I Got A Right" and "I'm Sick Of You" hit shops, such a deep-digging line of attack would have seemed outlandish.
Next week: Leslie Winer's When I Hit You – You'll Feel It
The tracks recorded at Olympic Studios on 17 July 1972 are as close as it can get to The Stooges' only British show at The King's Cross Cinema
Share this article