Reissue CDs Weekly: Donovan - Hurdy Gurdy Songs |

reviews, news & interviews
Reissue CDs Weekly: Donovan - Hurdy Gurdy Songs
Reissue CDs Weekly: Donovan - Hurdy Gurdy Songs
Never mind the hiccups, it's the songs that count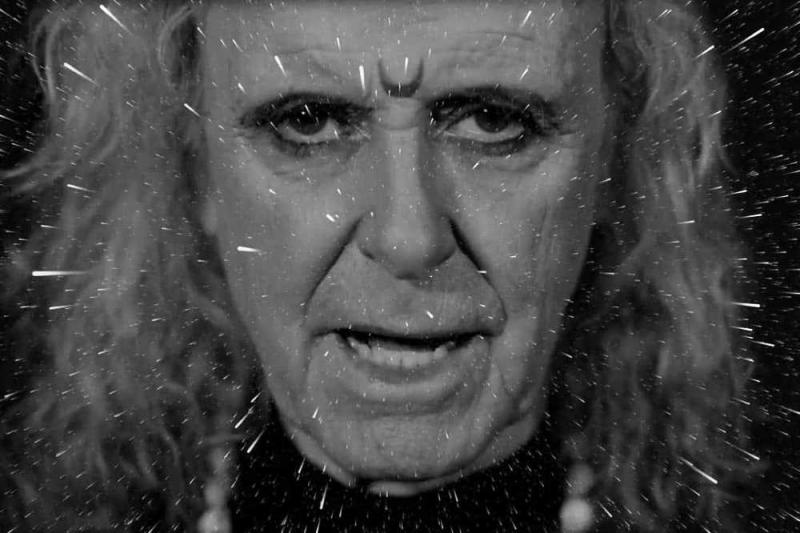 He is the shaman. Donovan in the David Lynch-directed video for 'I am the Shaman'
Early last month, Donovan issued his extraordinary new single "I am the Shaman". Recorded at David Lynch's Los Angeles studio, it was produced by the polymath director and fellow transcendental meditation devotee. The accompanying video was also directed by Lynch. The powerful "I am the Shaman" haunts. It also confirms that Donovan remains an active force.
He first entered the public consciousness on 22 January 1965. On that date, Donovan Leitch wasn't yet signed to a record label but the producers of the weekly pop show Ready, Steady, Go! put him in front of the cameras in the first of three consecutive weekly appearances. In late March his first single "Catch the Wind" entered the charts. Reactions were mixed. Cat-callers said he was a Dylan knock-off. In September, Pop Weekly asked if he was a poet, clown or genius – "he has been called all of them."
After the Ready, Steady, Go! leg up, he moved fast. On 19 December 1965, at Abbey Road's Studio 3, he recorded "Sunshine Superman" the first unambiguously psychedelic British record. Three days later, at Hollywood's RCA Studios, The Byrds – whose debut single "Mr Tambourine Man" was a Dylan cover – recorded the first version of the mind-expanded "Eight Miles High". This was the ground floor of a fresh approach to pop music. The new visions encompassed jazz, which coursed through both songs. Donovan was a pioneer and what was seen in the January 1966 TV documentary A Boy Called Donovan brought him to the attention of the drug squad of the Metropolitan Police. A bust followed in June 1966. That same week, "Eight Miles High" reached its chart peak. Unfortunately, non-fuzz business issues meant "Sunshine Superman" wasn't issued until July 1966 in the US and December 1966 in the UK. Still, the hits kept coming: "Mellow Yellow", "There is a Mountain", "Jennifer Juniper", "Hurdy Gurdy Man".
Despite the hiccups Donovan was established and, ultimately, his ascendancy was about the songs rather than any attendant hoo-hah. Hurdy Gurdy Songs – Words & Music By Donovan 1965–1971 collects 24 versions of songs written by Donovan. He is on none, and was not involved in the recording of any. A couple of the interpreters are from his contemporary milieu: his friend Dana Gillespie and the folk-pop stylist Marianne Faithfull (Brian Jones of The Rolling Stones had brought him to the attention of Ready, Steady, Go!). Popsters Herman's Hermits and moody country individualists The Gosdin Brothers are here. So too are Eartha Kitt and Deep Purple. It's about the song.
In the comp's running order, The Gosdin Brothers' stately 1968 version of "Catch The Wind" is preceded by Dandy Livingstone's 1967 rocksteady makeover of "There is a Mountain". After the recast "Catch the Wind", Canadian harmony poppers The Sugar Shoppe breeze through "Skip-A-Long Sam." All three testify to the flexibility of Donovan's protean melodies. Whatever Donovan appeared to be, there was a chance one his songs was ripe for a re-rendering.
As to what Donovan was seen as, covering one of his songs could confer a smattering of hipness. The tremendous Gábor Szabó's glistening "Three King Fishers" fits that bag. Noel Harrison's "Poor Cow" might. But whichever way it's looked at, Peggy Lipton's "Wear Your Love Like Heaven" and The Sandpipers' "Jennifer Juniper" are froth. Marianne Faithfull's "Young Girl Blues" is one of her most powerful recordings. And "Sunshine Superman" survives The Standells' garage-punk assault.
Ultimately, what comes across is that the songs of Donovan have their own life. Hurdy Gurdy Songs – Words & Music By Donovan 1965–1971 – the title is loose as the songs themselves fall into that date range but the recordings collected are from 1967 to 1971 – shows that Donovan was in an enviable position. He could release the sprawling A Gift from a Flower to a Garden box set in 1967 and record songs specifically meant as music for children. In parallel, his songs were fair game for anyone who fancied having a go. He could do his thing. His songs could do their thing. Which begs the question – who is going to take the challenge with "I Am The Shaman"?
Next week: Screamers – Demo Hollywood 1977. Belated first-ever release for legendary LA punk-era provocateurs
Donvan did his thing. His songs did their thing
Explore topics
Share this article