Tony and the Young Artists, Royal Opera/Liebeslieder Waltzes, Blackheath Halls online review - love and joy |

reviews, news & interviews
Tony and the Young Artists, Royal Opera/Liebeslieder Waltzes, Blackheath Halls online review - love and joy
Tony and the Young Artists, Royal Opera/Liebeslieder Waltzes, Blackheath Halls online review - love and joy
Much-needed platforms for talented youth to make its way in difficult times
Tuesday, 23 February 2021
Antonio Pappano, Alexandra Lowe and Filipe Manu: Mozart in the Crush Bar
Young performers seeking platforms for their careers have had it especially rough over the past year, most slipping through the financial-support net and now facing the further blow of the Brexit visa debacle. So it's always good to welcome quality streamings supporting their progress.
The
Royal Opera
has kept its Jette Parker Young Artists regularly in the public eye – we've got to know and care about many of them – while Barbara Hannigan's recently-launched Momentum project teams up new talent with more established performers, as happens in the Blackheath/Leeds Lieder
Brahms
special (three starting out, three already well-known). In both events, the artists give so much more than a tenner can buy you, so please be extra generous if you can.
The three JPYAP performers presented and accompanied with focused warmth and support by the Royal Opera's wonderful music director Antonio Pappano have appeared before with varying degrees of regularity. Soprano Alexandra Lowe's Daphne shunned Jonathan McGovern's Apollo in the first, Handel, staging of the superb 4/4 sequence, and I was lucky to be there in the Linbury Theatre last October when she added several more golden arrows to her bow in songs by Debussy, Strauss and Nin. Mezzo Stephanie Wake-Edwards (pictured below) offered fine Handel credentials in the third of the Live from Covent Garden streamings and New Zealand-Tongan tenor Filipe Manu, the most charismatic of the three, has made his presence felt in word and song in three previous streamed events.
A few threads held the crush-bar hour together. Lowe and Manu both made us look forward to April in songs by Bizet and Tosti respectively, one of three apiece. Wake-Edwards, having kicked off the evening stylishly with the slightly stiff showpiece that (sometimes) ends Act One of Gluck's Orfeo ed Euridice, chose a cabaret triptych – launched with the serpentine-bittersweet classic of Weill's "Speak Low" from One Touch of Venus, squeezing in a female composer with Madeline Dring's setting of Betjeman's "Song of a Nightclub Proprietress"; Pappano, playing on a Steinway that sounded at first in need of extra care, proved a master of the popular idioms here.
There were no trios – hard to think of one for soprano, mezzo and tenor that would have suited – but Worth and Manu kept their physical distance, and eye contact to a minimum, in the Fiordiligi-Ferrando moment of truth from Cosi fan tutte, releasing more ardour in a better-than-usual West Side Story "Tonight" (though the more sincerely Sondheim's words for Bernstein are projected here, the clunkier they sound).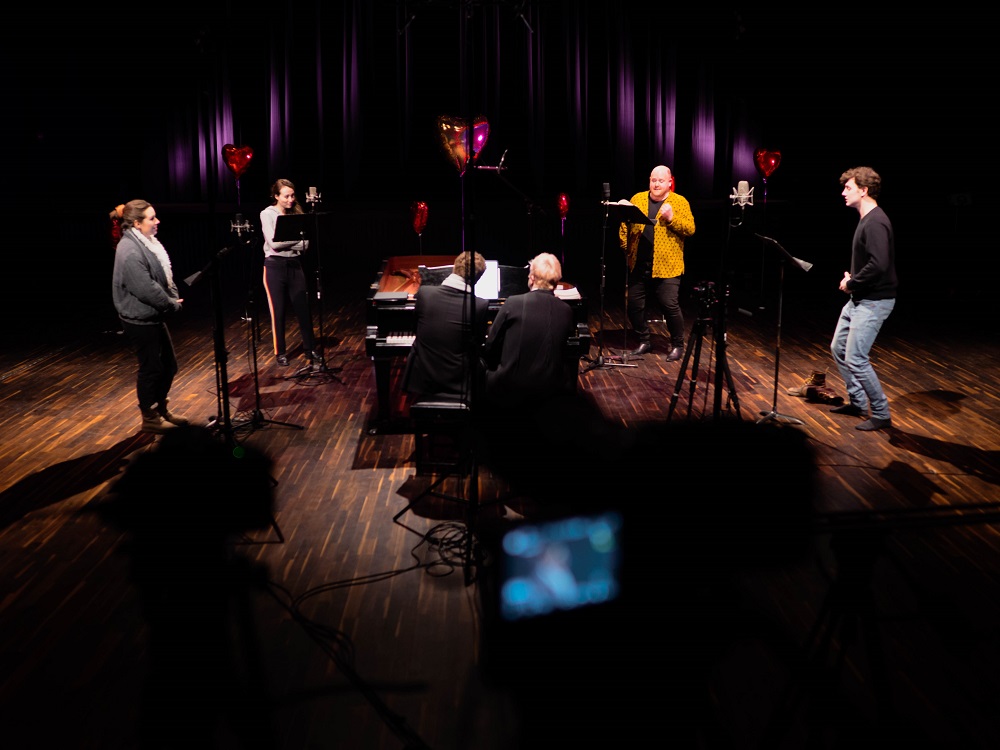 Brahms's two sets of Liebeslieder (Lovesong) Waltzes provided the ready-made context for tenor Nicky Spence's idea of a lovely gathering for Valentine's Day (rehearsal pictured above, both Blackheath images by Alexander Barnes): the composer is so even-handed to his quartet of singers, so various in the rainbow he finds in waltz-form, that a full evening with the 16 four-hand-piano Waltzes Op. 39 in between would also have been welcome. But again the brief was an hour, presented by Natasha Loges with a good deal more poise (and perfect German) than we've often got from the Wigmore Hall comperes.
Our brilliant tenor is such a relaxed performer, a model to watch, lightly springing the "hübscher"s ("pretty"s) of Op. 54 No. 6's bird song and inscaping the tenderness of ""Nicht wandle, mein Licht" ("Do not wander, my light"), while Mary Bevan, in perfect accord with the effortlessly modulated piano duet of Dylan Perez and Joseph Middleton, highlighted the strange wanderings of "Wohl schön bewandt war es" ("All seemed rosy"); both here and in the sadness of Op. 65 No. 9, you didn't need the full text translations – only each song title was given – to feel the essence.
The revelation of the four singers to me, since I hadn't heard her before, was mezzo Fleur Barron (pictured above with Middleton and Perez), already vividly living the essence of her part in each song, a Carmen in the making as "Wahre, wahre deinen Sohn" ("Watch out for your son") perfectly showcased. 23-year-old bass William Thomas, winner of the 2018 Kathleen Ferrier Award, is still finding his feet in terms of communication, but the voice is gold, and in any case it's the point of Hannigan's Momentum: Our Future Now to help young singers and pianists – Perez was the third of them here – gain confidence in experienced company: you could see that being near Spence gave Thomas the confidence to look about him, as the performance requires. The whole thing is a pleasure to ear and eye, beautifully recorded to place woman left, pianists in the middle and male singers to the right. More of this, please.