Reissue CDs Weekly: Scars - Author! Author! |

reviews, news & interviews
Reissue CDs Weekly: Scars - Author! Author!
Reissue CDs Weekly: Scars - Author! Author!
Expanded edition of the sole album from Edinburgh's exceptional post-punks
Scars: they stood apart
Scars's tour de force album Author! Author! has been out of sight for too long. Originally released in 1981, it first reappeared on a swiftly withdrawn CD in 2007. Apparently, there were issues about where the rights for its reissue lay. Now, it has re-emerged.
Author! Author! was great. On the surface it was poppy, but a darkness coursed through its ten tracks. "All About You", the March 1981 single trailing its release, sounds like a hit (its promo video is on YouTube). Driving, melodic and mysterious, it suggested Scars as an artier, more subtle counterpart to the U2 of "I Will Follow". It was not a hit and, after membership changes, Scars split in 1982.
Still, they had their fans. "The Scars epitomise the post-punk new seriousness that has radically reactivated pop music, destroying the dichotomy between intelligence and emotion and confronting a whole range of different fears and desires. New pop that treats the transient thrill seriously. New pop, the matter-realism that is today's heroic retaliation, has imagination and conviction." Despite its peculiarity, Paul Morley's NME review of Author! Author! seemed positive.
As the 1980 flyer below shows, the Edinburgh-formed Scars were central to a Scottish post-punk groundswell. Orange Juice weren't there that night, but it's a close-to definitive snapshot of what was going on. Scars formed in 1977, when they had cover versions of pre-punk staples "Rebel Rebel" and "Suffragette City" in their set. They also played "Blitzkrieg Bop", "Chinese Rocks", "I Wanna be me", "Substitute" and "You Really Got me". Their guitarist, Paul Research/Paul Responsible (born Paul Mackie) was classically trained and Scars were obviously going to move on from this unfocussed mish-mash.
After Scars found their feet, they gained fans in the on-the-rise Skids who helped them out with support slots. Scars's first single, the lacerating "Adult/ery"/"Horrorshow", was issued in March 1979 by the happening Fast label. Soon afterwards, they supported Siouxsie and the Banshees who were also fans. In late 1979, they signed with the Charisma Records offshoot Pre, who released the stunning "They Came and Took Her" single in February 1980. While that edged towards an angular take on glam, Scars ensured they stood apart in the period by covering "Next" (Jacques Brel via Alex Harvey) and "Psychomodo" (Cockney Rebel). Demos of both are heard on the new release.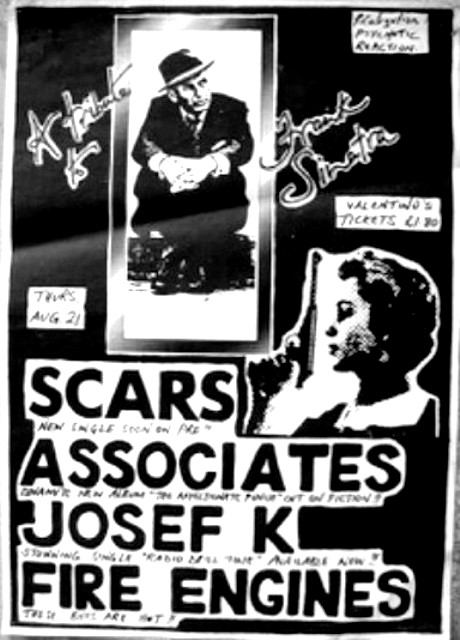 The new version of Author! Author! is a three-disc set in a slipcase with a booklet. The album, plus bonus tracks from its cassette version and singles, makes up Disc One. Disc Two collects 17 demo recordings. The 22 tracks on Disc Three are from six live shows (one track is from the limited 2010 CD Live Valentino's Edinburgh Sunday June 21 1981: a ripping show undertaken in the immediate wake of the release of Author! Author!). Bar that one track, "Obsessions", everything on Discs Two and Three is previously unreleased.
Little needs saying about Author! Author! It came out around the time of Josef K's sole album but two years after Gang Of Four's first – they and Scars had been on Fast. If Scars had moved fast and issued their album swiftly after the release of their first single, it may have been more abrasive than what came out in 1981 but they would have made a mark in a less crowded market, a market that was moving on. By the time Author! Author! arrived, U2 had released Boy and were working towards October. Post-punk was being commodified for stadiums. In spite of a US tour and a makeover with clothes designed by Celia Perry, Scars may have been left behind.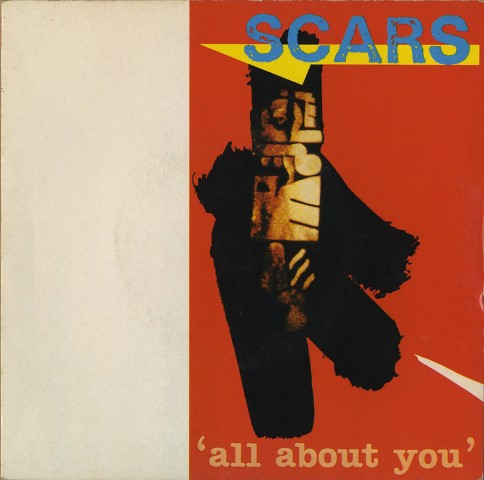 Hints at what an earlier Scars album might have been like come from Discs Two and Three. Four live tracks from 1979 are abrasive, edging towards proto-Goth and are much more fidgety than what was issued in 1981. Of Disc Two's demos, "Anti-Feelings" is a winner – a bit like Josef K, but faster and wilder. "Leave me in Autumn" and "Aquarama", which were recorded for Author! Author!, are also rougher than what was issued.
Discovering there's an alternate Scars to what was in the shops at the time is fascinating, but this reissue has its eccentricities. The text in the booklet mentions at length the Fast single, yet it is not included. It would have been great to know why the band recorded David Essex's "Silver Dream Machine", but the track is not mentioned. Although the text says some of the demos were recorded at "Edinburgh's legendary Mike's Studio", no sources and dates are given for any of these tracks. It's essential to know when in the band's history the demos were recorded, as well as for who – were any these demos made for Pre? Or other labels? Likewise, the live tracks are credited by year only: 1978, 1979 and so on. Dates are needed to work out how they dovetail with what was issued.
The new Author! Author! is not the last word on Scars. They recorded two Peel sessions, and a song called "Bone Orchard" was recorded as a potential single. These and the Fast single are not included. Get this though. It's a post-punk essential.
Next week: You Think You're Bad, Man? - Five CDs of live Iggy and the Stooges from 1973 and 1974

Paul Morley said 'The Scars epitomise the post-punk new seriousness that has radically reactivated pop music'
Explore topics
Share this article