Jazz Voice, Cadogan Hall online - from rambunctious to bittersweet |

reviews, news & interviews
Jazz Voice, Cadogan Hall online - from rambunctious to bittersweet
Jazz Voice, Cadogan Hall online - from rambunctious to bittersweet
EFG London Jazz Festival opening highlights music's power to connect and console
Saturday, 14 November 2020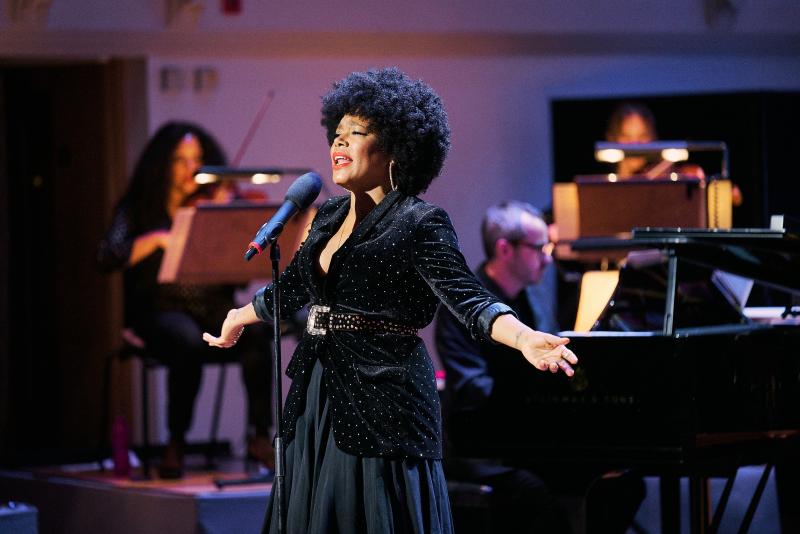 High jinx in Paris: China Moses
Oh to have been in the beautiful surrounds of Cadogan Hall last night – not just to have experienced the gorgeous wall of sound, heartfelt artistry and musical camaraderie at first hand, but also to have been able to show our appreciation for a concert which takes months of preparation.
Social distancing measures saw the EFG London Jazz Festival Ensemble reduced from its customary 40-plus musicians, but while the textural palette may not have been quite as luxuriant as usual, the slightly leaner charts provided their own rewards. This was a necessarily different Jazz Voice, but even a computer screen couldn't dim the thrilling immediacy of Guy Barker's magnificent arrangements.
Prefaced by an instrumental introduction which, appropriately enough, quoted the looping, circular theme of Thelonious Monk's "Friday the 13th", China Moses's self-penned opener "Watch Out" was inspired, we were informed by our genial host Jumoké Fashola, by "high jinx, partying and louche nights in Paris" – which, at the moment, sounds like heaven on earth. Moses also brought a passionate intensity to Donny Hathaway's "Tryin' Times", a song which also felt strangely apposite ("Tryin' times, what the world is talkin' about, You got confusion all over the land").
The genius of Joni Mitchell was celebrated through David McAlmont's glorious falsetto in Mitchell's "Edith and the Kingpin", one of the most transporting moments of the evening in which the vocal line occasionally coalesced in beautiful unison with muted trumpets. McAlmont, whose love of Billie Holiday led him to create a show based on her legendary 1956 Carnegie Hall concert, also channelled Lady Day's spirit in her co-write with pianist Herbie Nichols, "Lady Sings the Blues" (David McAlmont pictured above).
Named 'Jazz Newcomer of the Year' at this year's Parliamentary Jazz Awards, Luca Manning paid tribute to Nancy Wilson, dusting down a brace of songs from her 1962 album with Cannonball Adderley, the first a scat-infused take on Frank Loesser's "Never Will I Marry", followed by an adroitly understated take on one of the greatest of all break-up songs, "The Masquerade Is Over".
Enveloped by Guy Barker's sublime arrangement, which transformed the minimalistic electronica of the original into an impressionistic reverie, Zara McFarlane's beauty of tone caught the ear in "Saltwater", excerpted from this year's striking Songs of an Unknown Tongue. McFarlane provided a further nod to Holiday with a swinging take on one of her signature songs, "Mean To Me" (Zara McFarlane pictured below).
A featured vocalist at the very first Jazz Voice in 2008, and with his wonderful 60th birthday celebration as part of last year's festival still fresh in the memory, it was fascinating to hear two of Cleveland Watkiss's originals – the hypnotic, tabla-driven "Waiting For You" and the marble-smooth "So Near", both from his 2002 album Victory's Happy Songbook – being given the big band treatment.
Vanessa Haynes brought the first set to a rambunctious close with "On Revival Day", a song written in 1930 by the great US poet, composer and lyricist, Andy Razaf, and recorded that same year by the Empress of the Blues, Bessie Smith – one of the most life-affirming three minutes in her recorded output. Haynes's gloriously rich, powerhouse vocal carried all before it, and she similarly lit up the stage with Allen Toussaint's "Mean Man" – how this classic ended up as a mere B-side (for vocalist Betty Harris) remains one of life's great mysteries (Vanessa Haynes pictured below).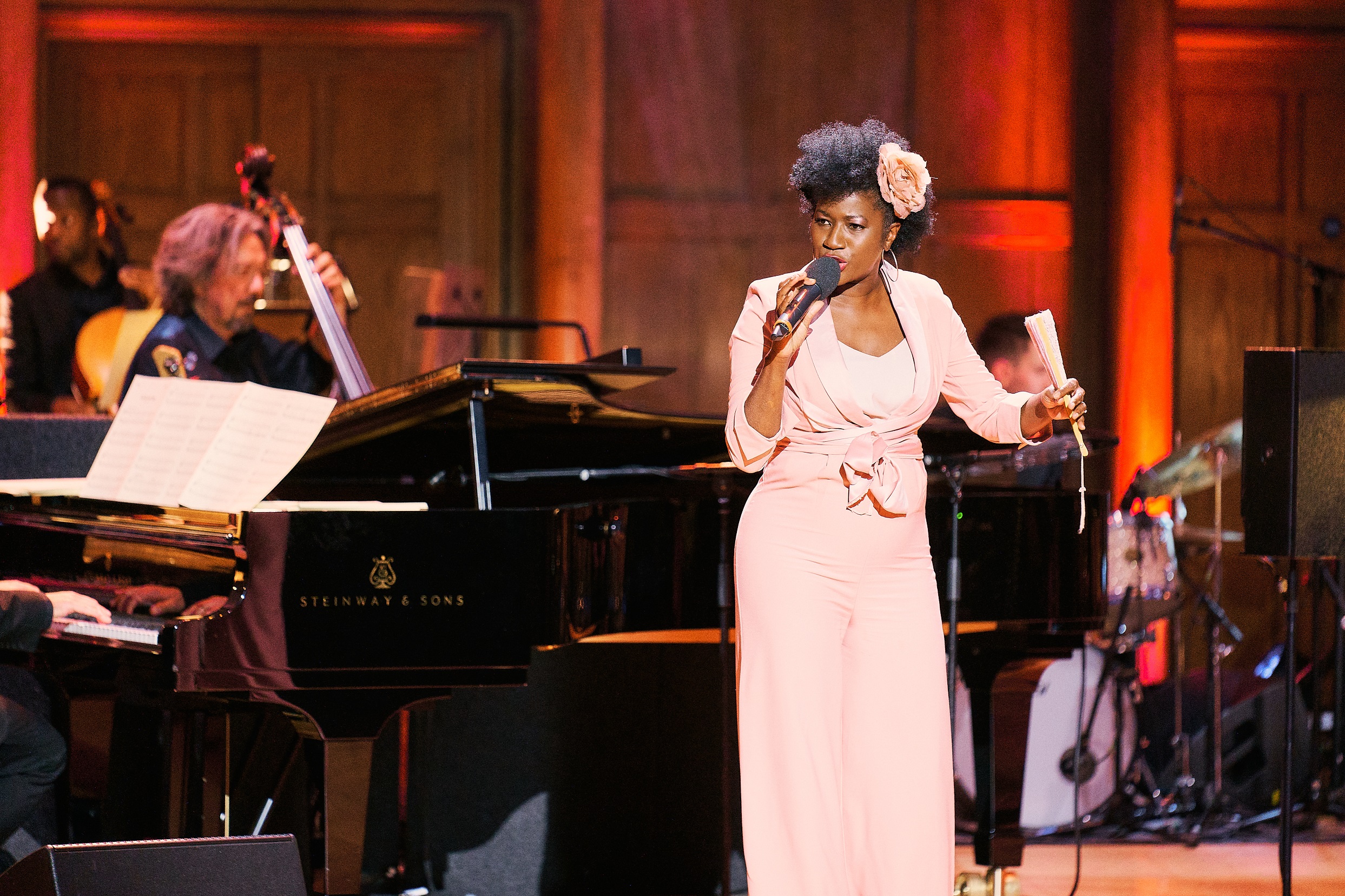 Barker's big orchestral feature which opened the second set was a decidedly bittersweet affair. The "JC medley" paid moving tribute to one of the founders of the EFG London Jazz Festival, and an instigator (with Barker) of Jazz Voice, John Cumming, who sadly passed away in May this year. Barker's arrangement featured music from artists who had formed an especially close musical relationship with Cumming, including Charlie Haden's "Song for Ché", Andy Sheppard's "Dancing Man & Woman", George Russell's "Stratusphunk" and "Concerto for Billy the Kid", plus Carla Bley's heart-stirringly lovely "Lawns". A recording of Barker's Jazz Voice orchestral arrangements is the Christmas present we all need in 2021.
With vocals shared among all of the featured vocalists, the finale served up one of the touchstones of 1970s pop music, Bill Withers' "Lean On Me", a statement from the heart whose message of connectedness and community – not to mention the consoling power of music – resonated deeply.
The medley paid moving tribute to one of the instigators of Jazz Voice, John Cumming
rating
Share this article