Emily in Paris, Netflix review - addictive escapism in the City of Light |

reviews, news & interviews
Emily in Paris, Netflix review - addictive escapism in the City of Light
Emily in Paris, Netflix review - addictive escapism in the City of Light
Lily Collins shines in Darren Star's fashionable fantasy
Wednesday, 14 October 2020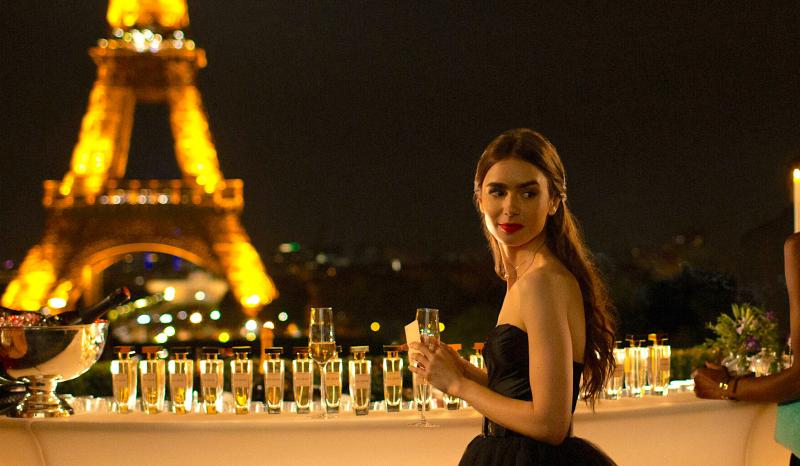 Lily Collins as Emily, in Paris obviously
Is Emily in Paris "the dumbest thing on Netflix right now?" or a sugar-rush of escapism in the midst of our global pandemic misery? "We need things to make us smile," commented one Parisian viewer. "In the time of Covid,we don't need more to stress us out."
The show's creator, Darren Star, has a genius for tickling the ratings g-spot, having been the mastermind behind Beverley Hills, 90210, Melrose Place and Sex and the City. This time, though, he's ventured beyond traumatised teens in California and the tortuous lives of career women in New York, to take a look at transcontinental culture shock as his protagonist Emily Cooper (Lily Collins, perfectly cast) takes a new job with Savoir, a luxury-goods marketing company in Paris.
Critics of the show have zoomed in on the portrayal of all (or almost all) Frenchmen as leering sex-pests, who can barely meet a woman without immediately dragging her off to the bedroom, buying her La Perla lingerie or inviting her for a weekend in St Tropez. Crude innuendo and loud conversations about bizarre sexual positions seem to be the norm, and if the office culture at Savoir was transported to New York or London, most of the staff would be in prison.
However, Emily is a blessed ingenue who glides blithely through the complex miasma of Parisian life, despite not speaking French or apparently having a clue about anything much outside her native Chicago, relying on her photogenic smile and kooky dress sense. Luckily, since she's been dispatched to Paris by Savoir's American parent company to soup up their online marketing strategies, she possesses an almost supernatural gift for dreaming up brilliant Instagram marketing campaigns on the spot (she's permanently taking pictures of everything on her phone, whether it's a luxurious pain au chocolat or an interactive Van Gogh exhibition).
This is not a friction-free process, however, since the dogmatic French scoff scornfully at the very idea of social media. Emily's very disgruntled boss Sylvie (a spendidly haughty Philippine Leroy-Beaulieu) declares that she wants her brands to be elite and rarefied, not splashed all over the shudder-inducing internet. Poor Sylvie, burdened with an unreliable married lover (a self-satisfied perfumier called Antoine, played by William Abadie, pictured above with Leroy-Beaulieu), is fighting a losing battle with professional obsolescence, which sometimes fuels some glittering one-liners. When a colleague inhales lustfully on a cigarette and asks "what would life without pleasure make us?", Sylvie retorts "Germans?"
It's Star's kickabout fun with cliches that makes this show addictive, now that we've all been programmed never to make jokes about... well, practically anything. The scene where Emily is seduced by Thomas, an aggressively pretentious professor of semiotics who lectures her about French existentialists as they sit outside the Café de Flore, is ridiculous, yet not that ridiculous. And at least Thomas has something resembling a personality, unlike Emily's yawnsomely bland chef boyfriend Gabriel (Lucas Bravo). A jibe about Angela Merkel's dress sense by Emily's ebullient Chinese friend Mindy (Ashley Park) works all the better for being wholly gratuitous.
Star takes aim at Americans too, mocking their self-centred assumptions that the rest of the world has to be like them if it wants to get anywhere. A visiting American movie star, Brooklyn Clark, is a horrifying greatest-hits of brattish excess. The Chicago that Emily comes from epitomises the corporate rat-race, an uptight, culture-free environment to which Paris provides such a liberating alternative. Of course, Emily, only an Uber away from the next haute couture launch party, never ventures beyond Paris's most exclusive arrondissements, and there's never a glimpse of gilets jaunes protests or banlieue riots. There's no sign of Covid either. It's an imaginary world, which (judging by viewing figures) is a place a lot of us would like to escape to.