Wise Children, BBC online review – beautifully bizarre |

reviews, news & interviews
Wise Children, BBC online review – beautifully bizarre
Wise Children, BBC online review – beautifully bizarre
Emma Rice's version of Angela Carter's last novel is a celebration of alternative families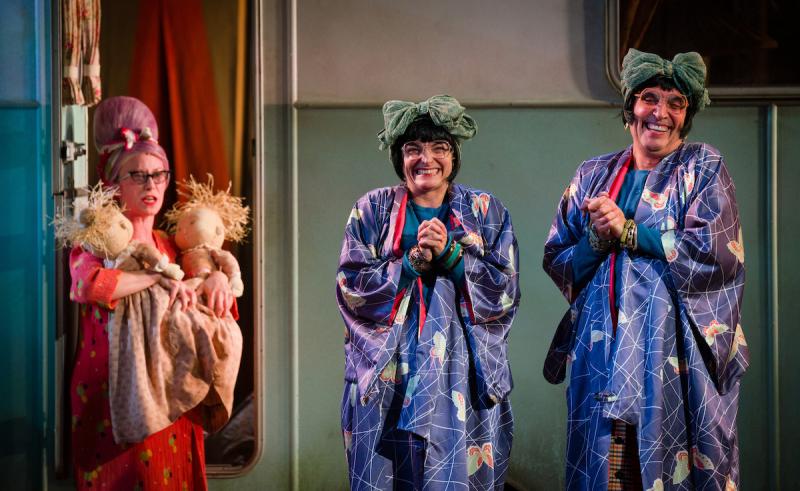 Unorthodox wisdom: Katy Owen, Etta Murfitt and Gareth Snook in 'Wise Children'
Reviewing theatre now means reviewing film. Knowing that Emma Rice's Old Vic 2018 production of Wise Children, her typically rambunctious version of Angela Carter's last novel, published in 1991, has been recorded by The Space immediately raises expectations of high quality.
After all, this company specializes in digitally bringing good art to wider audiences. As you'd expect for a show that is now streaming on BBC iplayer, and will be broadcast on
BBC Four
in due course, the filming is well directed and edited. But what about the play?
The plot tells the story of Brixton-born twins Dora and Nora Chance, and of their parents and grandparents, all of whom work in show biz. The family tree starts with Ranulph Hazard, a mighty Victorian actor-manager. His offspring are the twins Melchior and Peregrine. Later on, the great Shakespearean thesp Melchior fathers two illegitimate twin girls on young Kitty, who dies soon after. He refuses to acknowledge them, marrying instead the snobbish Lady Atalanta Lynde, who gives birth to two more twins. Meanwhile, Peregrine brings up his twin's kids, called Dora and Nora, in the home of Grandma Chance. The sometimes fraught and sometimes funny relationships between the Hazards and the Chances provide a richly complicated evening, which soon focuses on the young Dora and Nora, who earn a living as chorus girls.
"What a joy it is to dance and sing!" These words echo through Carter's novel and are repeated more than once in Rice's version, which is a love letter to both theatre and radically alternative views of family life. On stage the entertainment is a joyous celebration of the magic of theatre, with its show tunes, chorus girls, costumes, puppets and pantomime comedy. The older Dora, who celebrates her 75th birthday at the start of the piece, is the narrator and her birthday, significantly, is 23 April: Shakespeare's putative birthday. Snatches of the bard's words, plus a whole host of other thespian references – from Martha Graham to Richard Brinsley Sheridan – punctuate the proceedings, which have a comic brio as the vivid characters gallop through dozens of incidents with the speed and skill of a circus horse rider.
While this film version gives a good impression of why Wise Children was a big hit on stage, with its mixture of tawdry bohemian sex and showbiz glitz, its fluttering colourful butterflies and flashy shards of flame, its jokes and pop culture references (Eddie Grant's "Electric Avenue" is a highpoint), it can't quite match the exuberance of live performance. The relentless energy of the stage show feels a bit wearing, and the busy stage picture is all in one key, until some more sombre, and very welcome, serious moments in the second half. Still, it does provide a good, if overlong, record of some of Rice's best work, in all its fluid fun and surreal silliness. The jokey puns – As You Lick It – retain their peculiar appeal.
Wise Children is a hymn to the radical act of preferring your family of choice over your biological origins. Instead of being ashamed of illegitimacy, the play exults in the freedoms of having more than one father, and a grandmother instead of a mum. Being from the wrong side of the tracks is here a positive virtue, and the story extols temporary friendships and female solidarity in a world of class divisions and uncertain livelihoods. This argument is strengthened by Rice's emphasis on cross-dressing in Shakespeare (there is even a version of the bed trick), trans identity and acknowledgement of female pain. Occasionally a dark cloud crosses the sunny horizons of pleasure.
Such fun includes versions of Irving Berlin's "Let's Face the Music and Dance", Cyndi Lauper's "Girls Just Wanna Have Fun" and "The Willow Song" from Othello. Music hall jokes, quotes from Noël Coward as well as Shakespeare will keep pub-quiz buffs engaged, and the bawdy humour about copulation and generational strife sugars the more emotionally raw moments. Rice's production has a freewheeling quality and this performance, which was filmed at York Theatre Royal in March 2019 during its UK tour after opening at the Old Vic the previous year, is a testament to it. It's unbuttoned, unleashed and unafraid of wearing its heart on its ceaselessly flapping sleeves.
Under the neon lit sign that spells Wise Children, which is also the name of Rice's theatre company, which she set up after she was pushed out of her directorship of Shakespeare's Globe, the show sports a set, designed by Vicki Mortimer, whose battered caravan doubles for most of the locations – and a great cast. Gareth Snook has a down-to-earth working-class charm as the older Dora, well supported by Etta Murfitt as her twin; Katy Owen injects Grandma Chance with a vulgar energy that is hilarious in the naturist scenes; while Melissa James and Omari Douglas (pictured above) lend showgirls Dora and Nora a beautiful poise and gusty glamour. Paul Hunter gives the older Melchior a sense of Shakespearean gravitas, well matched by Mike Shepherd's Peregrine. As their younger selves, Ankur Bahl and Sam Archer are full of beans. Lovely stuff, but more imaginative cinematography would have been welcomed.