Danger Close review - the Vietnam war from an Australian perspective |

reviews, news & interviews
Danger Close review - the Vietnam war from an Australian perspective
Danger Close review - the Vietnam war from an Australian perspective
Punchy account of the short but ferocious battle of Long Tan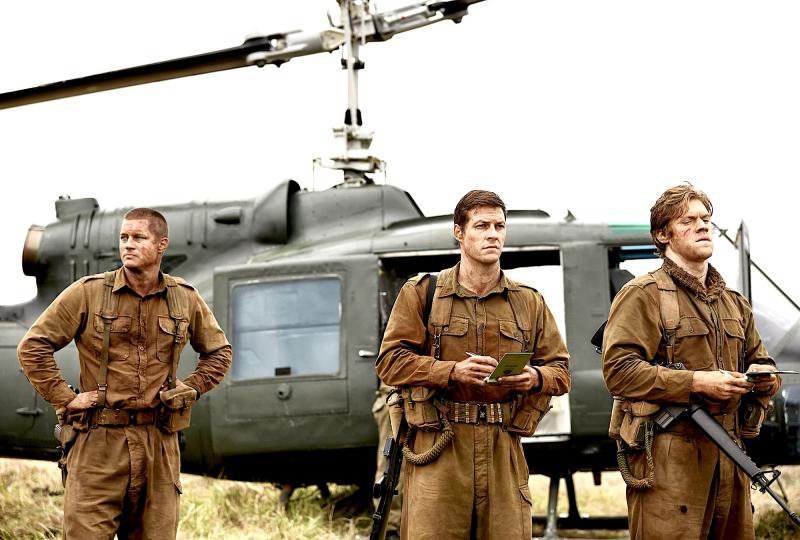 Action stations: Travis Fimmel as Major Harry Smith (left)
The battle of Long Tan in Vietnam isn't well known to the casual observer, but it has entered the military folklore of Australia and New Zealand.
On 18 August 1966, 108 men of Delta company, 6th Battalion of the Royal
Australian
Regiment found themselves under ferocious attack from 2,000 Vietnamese troops, and only some stubborn leadership, dogged resistance and the New Zealand artillery saved them from complete annihilation.
Kriv Stenders's film tells the story with an unpretentious straightforwardness you wouldn't get in a bigger-budget Hollywood production, even though the story isn't dissimilar to the one told in the Mel Gibson vehicle We Were Soldiers – small unit goes out on patrol expecting to meet only limited opposition, then finds itself sucked into a horrific firestorm. The soldiers here were mostly young conscripts who'd rather have been anywhere else, and Stenders successfully manages to imbue them with distinct personalities which don't descend into mere cliché. The most memorable of them is Private Paul Large, played by Daniel Webber with a cocky feistiness which grates on his hard-boiled commander Major Harry Smith (Travis Fimmel), a combat veteran who wants to be transferred to "real" soldiering with Special Forces.
It was perhaps inevitable that we'd see the early antagonism between Smith and Webber evolving into buddyhood in the stress of battle, but Danger Close fends off sentimentality with a pacy narrative which keeps the action sequences fierce and involving (the constant swoosh of passing bullets often makes you want to duck). The depiction of the conflicts between the headquarters officers overseeing the battle is also tensely portrayed, with frosty Brigadier Jackson (Richard Roxburgh) almost provoking a mutiny with his refusal to commit his armoured vehicles to rescue the beleaguered troops trapped in a rubber plantation and running out of ammo.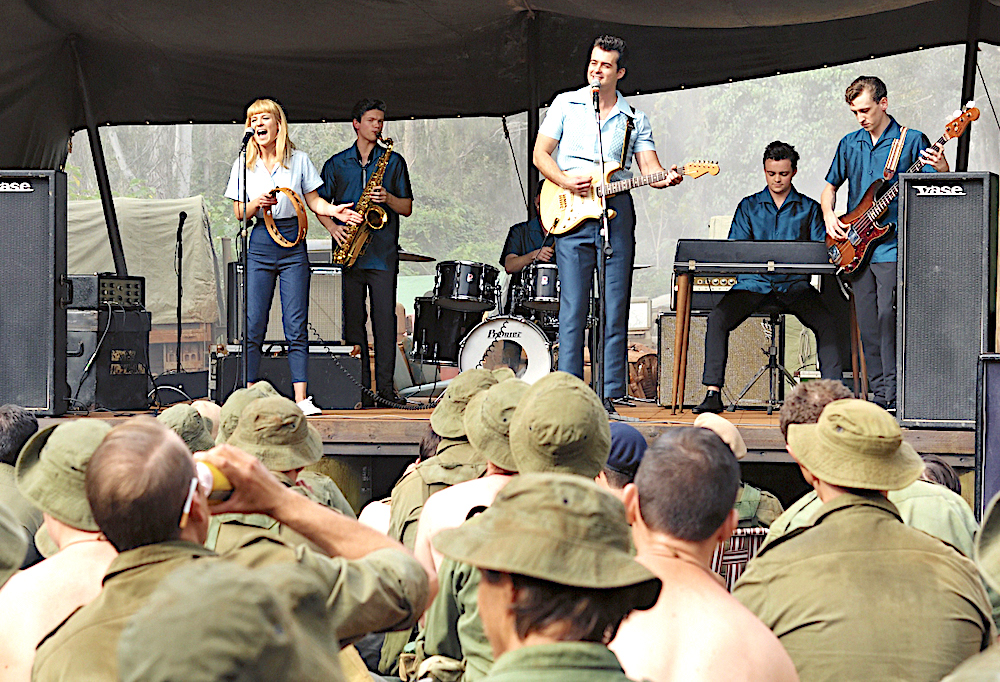 Additional doffs of the hat are paid to the precision shooting of the artillery ("danger close" refers to the perilous tactic of firing shells that land only 50 yards from your own forces) and the helicopter pilots who flew at treetop height to drop ammunition to – in fact on – the Australians.
However, the film has been criticised for its depiction of the Vietnamese as merely a faceless horde mostly there to be blown up or shot, while wider questions like what the hell the Australians were doing in America's Vietnam war in the first place are not addressed. The politics are inevitably prickly, and part of the purpose of the film was to bring some recognition to the soldiers involved, since the Australian government spent 45 years not recognising that the Long Tan battle ever happened.
The way that times have changed is expressed to surprising effect in a scene where an Australian pop group, Col Joye & the Joy Boys with singer Little Pattie, fly in to play for the troops (pictured above). Their silly, naive surf-pop is the sound of a vanished world.