One Man, Two Guvnors, National Theatre at Home review – bliss, utter comic bliss |

reviews, news & interviews
One Man, Two Guvnors, National Theatre at Home review – bliss, utter comic bliss
One Man, Two Guvnors, National Theatre at Home review – bliss, utter comic bliss
NT Live version of this masterpiece of farce is now available for free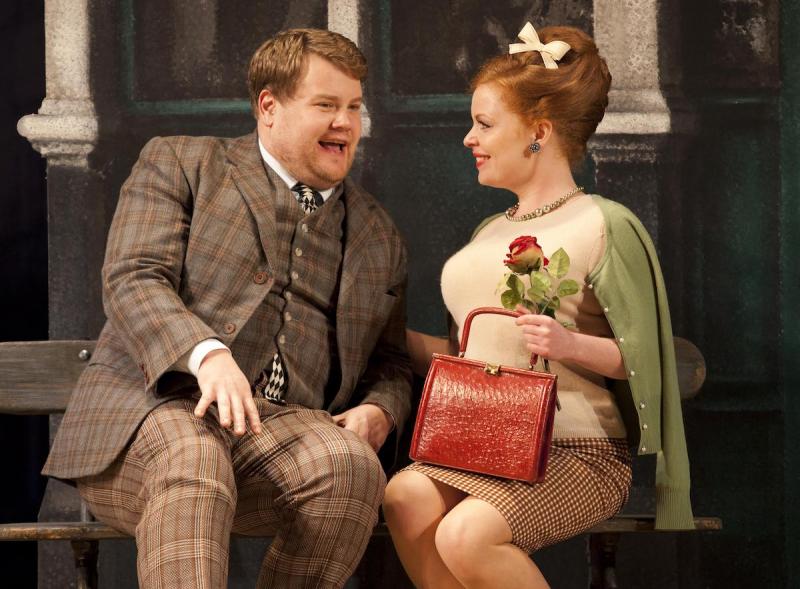 Dim and bright: James Corden and Suzie Toase in 'One Man, Two Guvnors'.
Armchair theatre-lovers rejoice. During the lockdown, the National Theatre is streaming a selection of its past hits for free for one week at a time. These shows, originally filmed as part of the flagship's NT Live project (which broadcast beautifully produced recordings of shows to local cinemas nationwide and abroad), are now available on its YouTube channel.
The first is Richard Bean's gloriously silly farce,
One Man, Two Guvnors
, starring the irrepressible and Tony-award winning James Corden.
Based on Carlo Goldoni's 1746 Commedia dell'Arte classic, The Servant of Two Masters, Bean's version is set in 1963 and located in Brighton, at the time a louche resort and an apt setting for this story of petty crime and sexual desire. The names of the characters echo the traditions of Jacobethan and Restoration comedy, just as the protagonists are archetypes: Francis Henshall (Corden), a rather stupid failed small-time musician, now works as a minder for Roscoe Crabbe, a minor East End gangster, who arrives on the south coast to collect money from his fiancée Pauline's father, Charlie Clench (Fred Ridgeway).
Except that he doesn't. Roscoe is actually his twin sister Rachel (Jemima Rooper), who disguises herself as her brother after he gets killed by her posh boyfriend Stanley Stubbers (Oliver Chris) in a feud. In typical farce style, Francis finds himself employed not only by her/him, but also by Stanley. As he juggles both jobs, balancing his appetite for food (he's perennially starving) and his desire to meet eligible young women, Francis gets sucked into ever more absurd situations. To complicate matters, Pauline (Claire Lams) has fallen for Alan (Daniel Rigby), a self-regarding actor, while Clench's henchmen include the smooth-talking Lloyd (Trevor Laird) and the corrupt lawyer Harry Dangle (Martyn Ellis).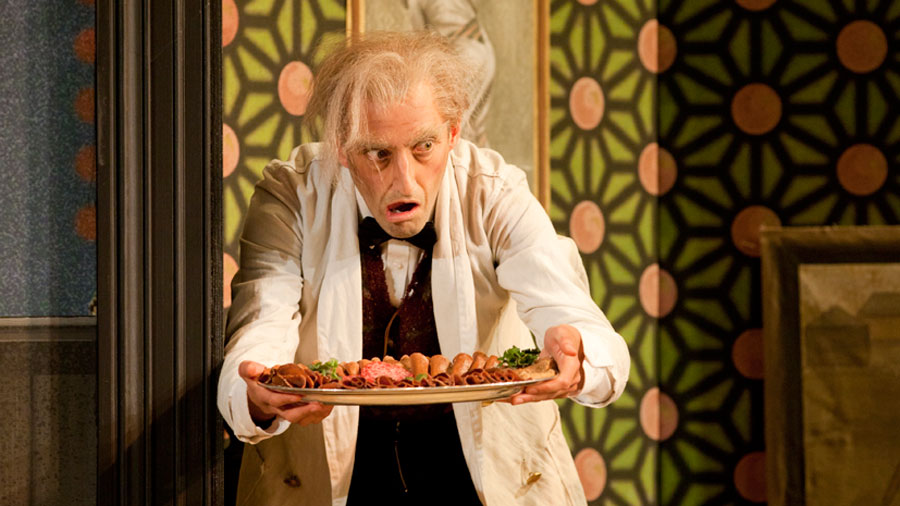 The play's highpoint, and surely a masterstroke of 2010s British theatre, is the 20-minute sequence in which Francis attempts to serve food to both his employers, who don't realise that they are in the same lodgings. As the dishes arrive with accelerating regularity, the show's slapstick reaches a pitch of intensity that is both viscerally funny and mind-bogglingly imaginative, with great comic work by Tom Edden as Alfie, the ancient waiter (pictured above). The show's typical edginess means that we are encouraged to laugh at this oldie's disability, which is disturbing as well as hilarious. As in most classical farce, pain is funny — and we giggle so as not to cry.
Corden plays the hapless Francis with a boyish charm that makes his incompetence charming as well as ridiculous, and he effortlessly dominates the show. At one point, he splits himself into two personalities, and then beats himself up; at another, as hunger overcomes him, he desperately chews on letters to his masters. Corden embodies the slightly dim and bewildered aspects of the Truffaldino character with enormous brio, and his energy and delight in the whole show is evident. The scenes in which he attempts to seduce Dolly (Suzie Toase), Clench's bookkeeper and clearly the most intelligent person in the room, are wonderful. These two performances deserve to be legendary.
Bean's text is strong on satire, as well as on running jokes: the one about a brother and sister being identical twins is marvelously silly and gets a forensic explanation from Rachel. Often, the main shafts of political criticism are voiced by Dolly, who takes a femninist point of view, and predicts the advent of a woman prime minister, but gets it hilariously wrong as she imagines that this will be good for all women. Alan, the self-dramatising actor, hails the arrival of the Angry Young Men and comments that "they are writing plays about Alans". Elsewhere the jokes come fast and vulgar: Charlie opines that "love passes through marriage quicker than shit through a small dog."
Although One Man, Two Guvnors is unapologetically populist, aiming only to entertain, its silliness is not only spliced with satire, but also conveys a touch of typically British nostalgia. In this show, the early 1960s are definitely rose-tinted and even the gangsters are rose-scented; all is bright and beautiful. Especially on designer Mark Thompson's colourful sets. The great comic traditions of British culture, mainly Carry On movies and Benny Hill, are triumphantly reasserted. Farce rules OK. At times, this means there is a distinct tension around, for example, the macho posturing of the men: is this meant to be ironic? Is it funny? Or just revolting?
First broadcast live from the Lyttelton stage to cinemas on 15 September 2011 as part of NT Live, this film of One Man, Two Guvnors is both high-definition and theatrically alive. The cast, who had opened the show in the previous May, are all fresh and the performance perfectly captures the show's vitality and its farcical joys. Corden's confident bonhomie is particularly evident in the audience participation sequences, one of which involves a sandwich and, on this occasion, almost goes wrong. His other ad-libbing includes a joke about premature ejaculation, and his rapport with the audience is heartwarmingly great.
Watching from home what you miss is not so much the liveness of the performance as the liveness of the audience. It's one thing to be surrounded by people roaring with laughter; it's another to chortle from your solitary armchair. Still, the advantage of film is that you get close-ups — and the subtitles ensure you don't miss any of Bean's witty satire. During the scene changes, a 1960s tribute band, The Craze, led by Grant Olding, twang nicely if a bit unnecessarily. The film is also a solid record of Corden's comic versatility.
Nicholas Hytner's dazzlingly brilliant production, which uses the clowning skills of associate director Cal McCrystal of Spymonkey theatre company to magnificent effect, is satirical, bawdy and crowd-pleasingly funny. As well as Corden, the show boasts vivid cameos from Rigby as the preening Alan and Chris as the public-school-educated Stanley (pictured above with Rooper). Rooper gives a lively reading of the cross-dressing Rachel, Lams is suitably dotty as Pauline and Toase is simply brilliant as Dolly. This masterpiece of cinema as well as theatre proves that staying in really does have its compensation.
The play's highpoint, and surely a masterstroke of 2010s British theatre, is the 20-minute sequence in which Francis attempts to serve food to both his employers
rating
Explore topics
Share this article