Fidelio, Royal Opera review - fitfully vivid singing in a dramatic void |

reviews, news & interviews
Fidelio, Royal Opera review - fitfully vivid singing in a dramatic void
Fidelio, Royal Opera review - fitfully vivid singing in a dramatic void
Davidsen and Kaufmann don't disappoint, but Beethoven's music-theatre goes for nothing
Lise Davidsen's Fidelio/Leonore with prisoners
Emblazoned on a drop-curtain in front of a mirror-image of the auditorium, the three great tenets of the French revolution seem to be mocking us right at the start, above all the second of them: equality, really, given the make-up of the Royal Opera stalls?
But the last, more bitter laugh is on both the audience and the director, Tobias Kratzer, who cheats
Beethoven
's admittedly lopsided liberation opera of its significant events and, ultimately, some fine singers, above all the eagerly-awaited Lise Davidsen and Jonas Kaufmann, along with their conductor, Antonio Pappano, of what has to be true music-theatre if it is to involve and move us. The serious inequality is between what we hear and what we see.
The premise isn't a bad one: start at the end of the 18th century, with a supposedly realistic panorama of life in a French prison run by revolutionary forces – Beethoven's move to Spain was, after all, a matter of evading the censors - and surround the characters in Act Two with a contemporary ring of spectators (the chorus, as us – scene pictured below). Designer Rainer Sellmaier's mobile mix of dark prison yard and jailer Rocco's rooms couldn't be faulted, while no-one would object to the outwardly glaring lighting from Michael Bauer when the imprisoned Florestan's darkness is the hell within. Dramaturg Bettina Bartz explains all this admirably in the programme, with just a few loopholes (Beethoven is, after all, still following the rescue plot when she tells us he has opened up from drama to oratorio). Alas, Kratzer botches every possible correspondence between music and drama.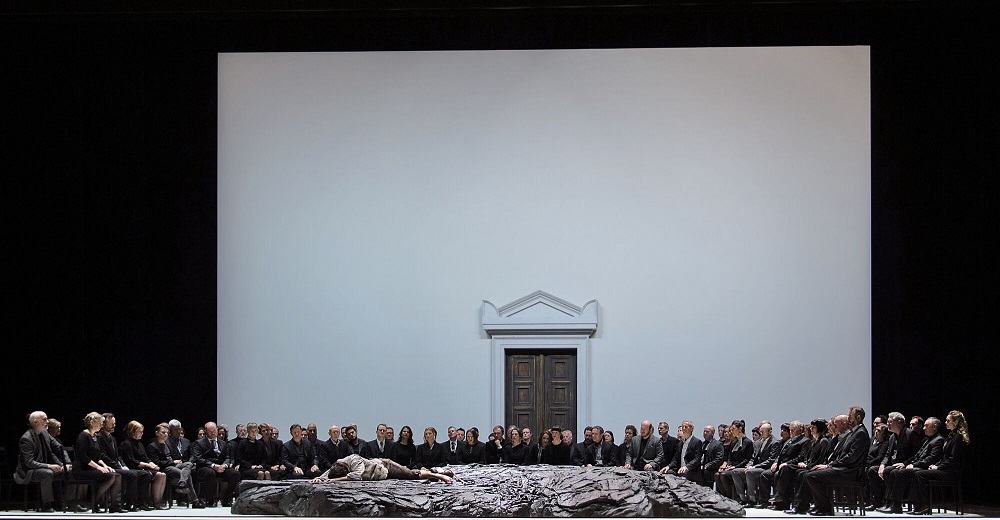 The misalliances start with business accompanying the overture to the revised and final opera of 1814, as opposed to Leonore Overtures 1, 2 or 3 (I hope we're going to get the radically different 1805 original before Beethoven anniversary year is out). This one is a mostly blithe dynamic journey to a significant rhythm, so a basket of heads dished out to newly-widowed women doesn't correspond. There is little clarity in the relations between Leonore disguised as "Fidelio", jailer's daughter Marzelline in love with "him" – Amanda Forsythe's light soprano can't carry the weight of character Kratzer wants to give her, though Elizabeth Watts, who played the role in the last Royal Opera staging might have managed it – Marzelline's suitor Jaquino, supposed I think to be a bit of a brute, but Robin Tritschler is way too nice, and Rocco himself, a role that has surprisingly little impact here despite the keen bass of Georg Zeppenfeld (pictured below with Davidsen).
If you're going for realism at first, stick to it. Would a 1790s Marzelline, however traumatised, strip off in the room next door from her dad and attempt to unbutton her intended's trousers? Why try and convey military governer PIzarro's furious vengeful nature by having him take Marzelline's canary out of a cage, stroke it and throttle it – fine when the Beadle does it in the melodrama of Sondheim's Sweeney Todd, random here? Something was, in any case, wrong with Simon Neal, pitchy with Pizarro's top notes, never suggesting the uncontrollable rage. Was Pappano keeping down the orchestra to try and help him? The beautiful horse on which he entered riveted all eyes, but, as the epitome of calm grace, the polar opposite of what the scene demands. The tension never rose here, after a promising start with plenty of deft orchestral colour for Beethoven's least successful music in the early stages, where he tries to be Mozart and fails.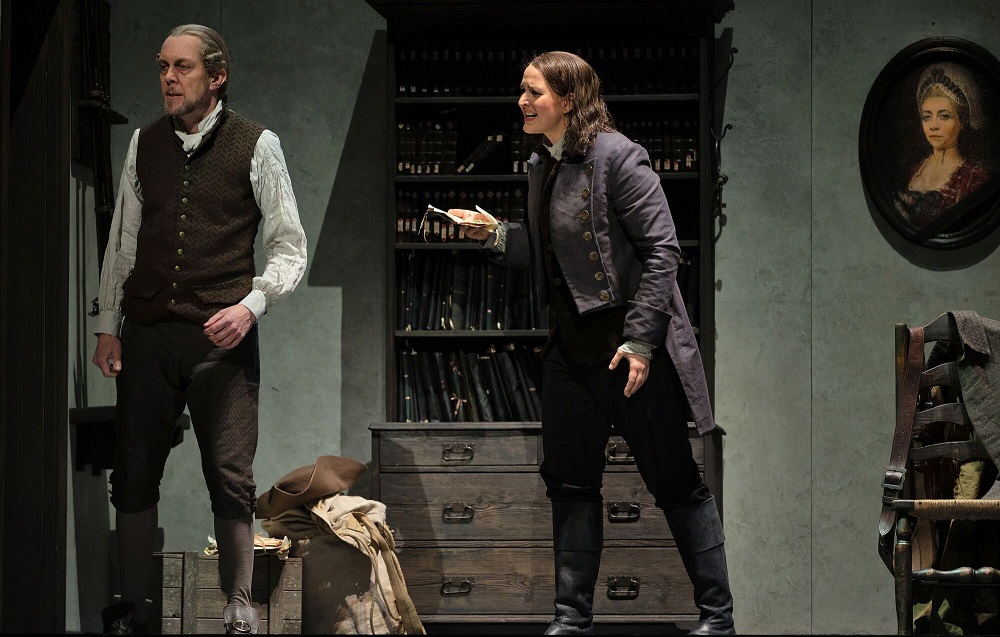 Dialogue is always a problem, but especially so when delivered with low energy and eked out by Kratzer with extra lines. We never begin to be involved in the story; even when Davidsen, after another pitchy start in the tricky Canon, and a bit of behind-the beat heaviness in the slow section of the magnificent aria, hit her stride with unavoidable shades of Birgit Nilsson in the middle range and a warm top register, the whole was and at every performance will be undermined by her unstrapping and being caught in the act by Marzelline. The choral prisoners sing beautifully, but where's the real context – do we perceive the release from darkness that's in the music?
So – great set, lovely horse, young soprano living up to expectations, zero drama. Would the stricken vocal entry of Kaufmann's Florestan, presented as a circus animal inspected by today's bourgeoisie (shades of the dining-room scene in Ruben Östlund's unsettling satirical film The Square), fulfil the new energy of the orchestral introduction to Act Two? We were told to cut him some slack; he'd missed the final rehearsal and was still "under the weather". He never sounded it, and even carried off the insane high-register vision of Leonore as angel at the end of the aria, as very few tenors do. But there was to be precious little sense of who Florestan is or was, or much interaction with the wife who's dared everything to come and save him. When we should have been focusing on the trio with Rocco, large video projections of chorus members as audience looking artificially stricken or producing a bar of chocolate and eating it (as the lady on the left, pictured below, had seemingly been wanting to do all along) achieved – what exactly, Brechtian alienation? And how do you mess up the dramatic moment when Leonore pulls a pistol (actually nothing here) on Pizarro, declaring "first kill his wife"? Kratzer flunked that too.
Davidsen was vocally magnificent, but had no directorial help at this crucial point, and dramatic plausibility was further stretched by more unstrapping. Guess what - it's Marzelline who shoots at Pizarro before spouting Grillparzer. Calixto Bieito's English National Opera Fidelio hampered its singers with an impossible-to-negotiate set but had many of us in tears when reunited husband and wife share a moment of calm as a string quartet descends in cages playing parts of Beethoven's Op. 132 "Song of Thanksgiving". Pure interpolation, but absolute theatrical magic. Nothing of the sort here, only the onlookers overcoming the guards of two centuries earlier and welcoming the ennobled couple into their circle. Jaquino left behind? Did anyone care? Not I. It's hard to say you have ever sat through Fidelio completely dry-eyed, but there's always a first time, and, for me at any rate, this was it.
theartsdesk's Bill Knight photographed the final (public) rehearsal, for which Kaufmann was indisposed, and the Marzelline made up in a way that yielded a request to remove her from the images
Kratzer botches every possible correspondence between music and drama
rating
Explore topics
Share this article