The Stranger, Netflix review - strong cast grapples with labyrinthine plotting |

reviews, news & interviews
The Stranger, Netflix review - strong cast grapples with labyrinthine plotting
The Stranger, Netflix review - strong cast grapples with labyrinthine plotting
Adaptation of Harlan Coben's novel is improbable but watchable
Saturday, 15 February 2020
Richard Armitage as Adam Price, Hannah John-Kamen as the Stranger
This eight-part mystery from Netflix is based on the titular novel by American writer Harlan Coben, who has formed a production company with Rochdale's own Nicola Schindler, the production brains behind Happy Valley, Last Tango in Halifax and many more.
The action has been transposed from New Jersey to
Manchester
– the one in England, not Massachusetts – and a strong and varied British cast does the heavy lifting, but there's something in the mix that never quite feels right. Maybe it's that things that seem par for the course in America's moronic inferno can look hilarious in a homely British setting, or maybe the narrative just treads on implausibly thin ice too often for comfort.
Nonetheless, most of the building blocks for a powerful thriller are all present and correct. Richard Armitage is stolidly persuasive as Adam Price, a successful lawyer trying to cope with the disappearance of his schoolteacher-wife Corinne (Dervla Kirwan) amid accusations of stolen money and an unsettling secret from her past. Siobhan Finneran (pictured above) plays down-to-earth DS Johanna Griffin roughly halfway between Vera Stanhope and Janet Scott in Scott & Bailey (another Schindler product), while Paul Kaye's Patrick Katz is the most leprously rancid bent copper in living memory. Jennifer Saunders, as Griffin's cafe-owning friend Heidi Doyle, looks as if she's been installed as a spot of light relief, until she's suddenly engulfed by a grisly fate.
The theme is a kind of worm-in-the-bud idea, the notion that lurking within the things dearest and most familiar to you is a deadly secret that will suddenly burst forth and destroy your life as you've known it. The Stranger (whose name we belatedly learn is Christine) is the deliverer of these shattering revelations. Her trail of destruction begins with her accosting Adam Price at a bar and casually bludgeoning him with the news that his wife had faked the pregnancy and miscarriage she'd seemingly suffered two years earlier. For proof, she gives him the address of the website from which she ordered the prosthetic baby-bump and bogus ultrasound images. Adam confronts Corinne with his new-found knowledge, after which she suddenly disappears.
One strand of the story is Adam's search for his wife while he tries to cope with looking after their two sons, but as the series progresses that becomes obscured in a thicket of plotlines that add a smokescreen of confusion and leave you feeling like you're running around in a badly-lit maze. There's a bizarre subplot about a drug-fuelled rave where teenagers go ape on bad drugs – particularly Mike Tripp (Brandon Fellows), who gets dosed with PCP and ends up beheading an unfortunate alpaca.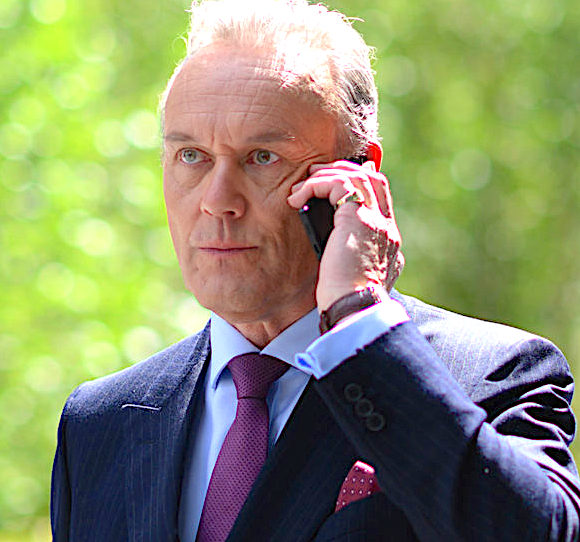 Another thread centres on Martin Killane (Stephen Rea), a grumbly old ex-detective fighting off workmen trying to bulldoze his house. Cue the introduction of Anthony Head (pictured right) as smarmy property developer Ed Price. Familiar surname? Yep, he's Adam's estranged dad, though Coben's yarn-spinning entwines them back together as the show goes on.
Ultimately, the Stranger (Hannah John-Kamen) is the catalyst in setting all these plates spinning, as she blackmails, intimidates or humiliates her unsuspecting clientele with dirty secrets gleaned from her obsessive internet-trawling. The way we're becoming prisoners of mobile technology and the online world's infinite potential for harm emerge strongly as themes.
It's the kind of show where you keep saying "this is ridiculous!", but end up watching it all anyway. Interesting, though, that Netflix is prepared to underwrite a programme that could (perhaps with a few trims) fit neatly enough on ITV. The march of the super-streamers knows no boundaries.
The way we're becoming prisoners of mobile technology and the internet's potential for harm emerge strongly as themes
rating
Explore topics
Share this article