Reissue CDs Weekly: The Daisy Age |

reviews, news & interviews
Reissue CDs Weekly: The Daisy Age
Reissue CDs Weekly: The Daisy Age
Compilation celebrating hip hop's most magpie-minded chapter
Sunday, 29 September 2019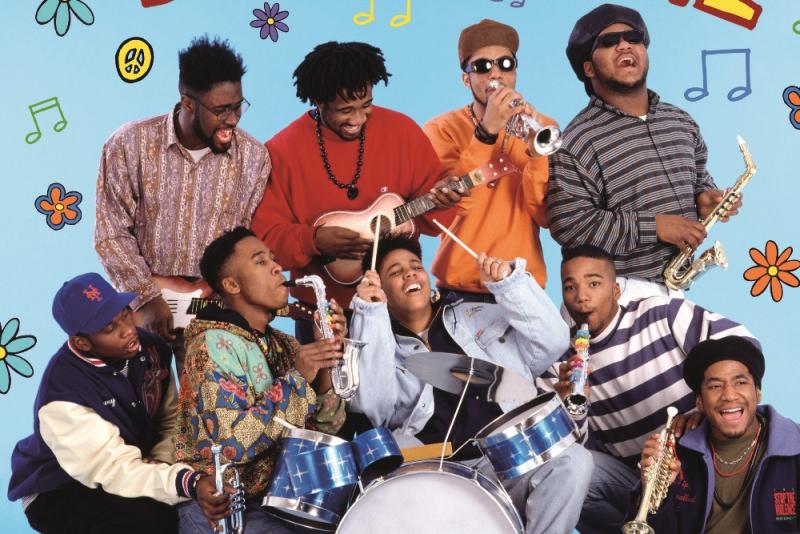 The Native Tongues gather for the cover of 'The Daisy Age', with Monie Love, Q-Tip and members of A Tribe Called Quest, De La Soul and Jungle Brothers
In the lyrics of 1989's "Doin' Our Own Dang", Jungle Brothers' Mike D noted his combo were "Breaking the beat others wished they broke." Going further, he acknowledged "Cause you're trying to feel what's on my reel to reel." Jungle Brothers recognised they were not on their own. During the same year, the like-minded De La Soul released their debut album 3 Feet High and Rising.
Both outfits had links with hip hop collective Native Tongues which, directly or indirectly, also related to or spawned A Tribe Called Quest, Queen Latifah, Monie Love, Black Sheep and Chi-Ali, and influenced Digital Underground, Naughty By Nature and more. All are heard on the new compilation The Daisy Age, which puts retrospective shape on what emerged around 1988 by collecting 18 tracks on similar wavelengths from the period 1989 to 1994. Without this, as the liner notes make clear, Arrested Development, The Fugees and The Roots may not have subsequently emerged. Closer to home, the origins of The Go! Team's ethos are here too.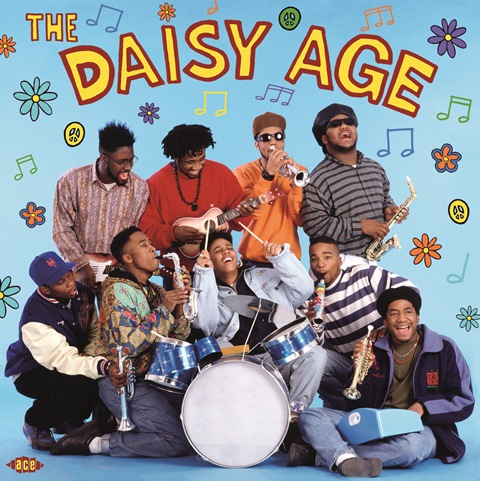 Musically, the shift captured across most tracks is hip hop's frisky incorporation of jazz, Sixties soul, white pop and the non-musical such as instruction records into a pre-existing musical palette. As the music business cottoned on, such magpie-minded sampling became less-and-less economically possible. Some of the songwriting credits bear this out: due to its sources, Del Tha Funkeé Homosapien's wonky "Mistadobalina" has James Brown, George Clinton, Bootsy Collins, Fred Wesley and Bernie Worell amongst the names in its writing credits. Sampling on this scale became prohibitively expensive.
What's on The Daisy Age further stands apart as it's markedly at odds with, as booklet's text puts it, "the gut-churning violence and misogyny of Dr Dre's 'The Chronic' [which] took rap to a whole new commercial level." Indeed this is a story which, as is so often the case with the upbeat, is drowned out by anger, aggressive posturing, negativity, shouting and violence. However, De La Soul found themselves painted into a corner and their second album was titled De La Soul is Dead. Its cover image was of wilted flowers. The darker and more macho Naughty by Nature and Chi-Ali are included, but feel out of place in The Daisy Age's Day-Glo world.
As a mainstream compilation tackling this groundswell, The Daisy Age is important. Moreover, it's a reminder that much of this music was itself embraced by the mainstream. The booklet includes an image of an issue of Record Mirror where cover stars A Tribe Called Quest are said to be "doing it for the kicks." Elsewhere, there's a breakfast cereal box with a cut-out De La Soul record. It becomes clear this positive musical outpouring helped bring hip hop to wider audiences than previously.
While it lasted, extraordinary records were issued. Although Dream Warriors' "My Definition of a Boombastic Jazz Style" is tarred after-the-fact by its link to Austin Powers through the use of Quincy Jones' "Soul Bossa Nova", it remains an irresistible explosion of energy and invention running in parallel with the simpatico and almost-related easy listening/exotica/lounge boom of the same time. Even better is Digable Planets' contrastingly measured "Where I'm From", where it becomes clear how what's heard fed into trip hop. Most fantastic – and also in the proto-trip hop bag – is Justin Warfield's "K Sera Sera".
But as De La Soul identified, things could only go so far before a full-stop was reached. The latest track on The Daisy Age is Da Bush Babees' "We Run Things (It's Like Dat)", from 1994. While its undertone is jazzy and its trumpet queasy, some ragga-influenced lines and an overall sparseness posit it as born from an outlook more concerned with MCing than the music.
In this reading, what's been dubbed The Daisy Age was a finite period, one during which a fresh creative generation gleefully fired on all cylinders, in all directions while retaining the foundations of hip hop. This, though, was 25 to 30 years ago. Such optimism would be welcome now.
Next week: The previously lost 1976 album from the Kim Fowley backed The Hollywood Stars

Explore topics
Share this article