San Sebastian Film Festival: Proxima review – Eva Green has The Right Stuff |

reviews, news & interviews
San Sebastian Film Festival: Proxima review – Eva Green has The Right Stuff
San Sebastian Film Festival: Proxima review – Eva Green has The Right Stuff
As a mission approaches, an astronaut struggles with the prospect of leaving her child
Tuesday, 24 September 2019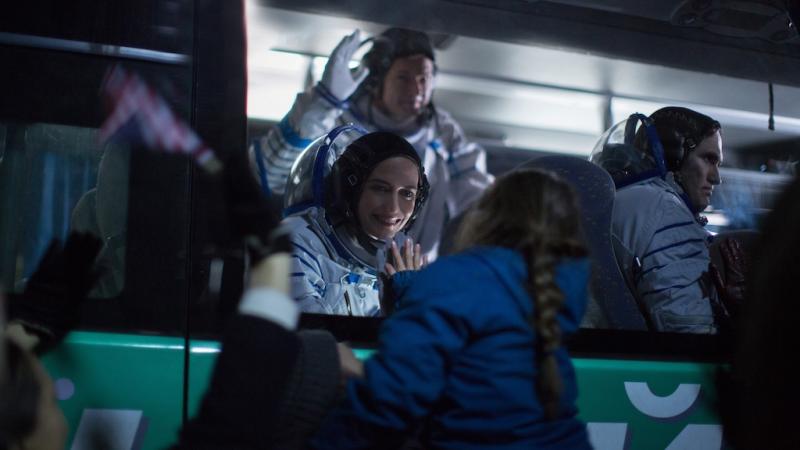 I'm just popping down the shops: Eva Green in 'Proxima'
Proxima is a very special, very beautiful space movie, one of those that are more concerned with the bread-and-butter reality of getting people into space – practically, emotionally, psychologically – than with the starry shenanigans themselves.
Think
The Right Stuff
, the Eighties classic charting the dawn of America's space programme, only this time with a female astronaut battling both sexism and the emotional ties of motherhood on the way to the launchpad.
Written and directed by France's Alice Winocour and with Eva Green giving an Oscar-worthy performance in the lead, this makes an intriguing companion piece to the recent, also excellent Ad Astra. While that film was a bold, big-budget account of one man's journey to the edge of the solar system to meet his long-lost father, Proxima is an intimately scaled, earthbound drama about a woman's trauma at the thought of leaving her young daughter behind her; Brad Pitt's trip was existential, Green's very recognisable in its family dynamics.
Green plays Sarah Loreau, a Frenchwoman who's about to realise her life-long dream of being an astronaut, as one of a three-person crew about to take off for a year-long stay on the International Space Station. Sarah really is the business: super-smart, supremely prepped, physically in top shape. She's also been carefully readying daughter Stella (Zélie Boulant-Lemesle) for their time apart. The film opens with a cute scene in which the pair share a countdown to bed time, where they have open conversations about what lies ahead; the child even asks questions like, "Will you die before me?" while seemingly embracing the adventure.
Sarah has also ensured that her initially reluctant, astrophysicist ex-husband, Thoma (Lars Eidinger), will take over his daughter's care. And the European Space Agency has assigned a guardian of sorts (Sandra Hüller) to guide the girl through the experience.
Winocour's final, breath-taking sequence is as wondrous as sci-fi gets
However, when the crew departs to Star City, the famed cosmonaut centre near Moscow, for the final stage of their training, pressure starts to heap up on Sarah. First, mission commander Mike Shannon (Matt Dillon) appears to be one of those granite-jawed, alpha male chauvinists, embarrassingly uncomfortable with having a woman (not least a strong woman) on his crew. She suddenly has to prove herself, all over again.
Worse than that, Stella starts to unravel at her mother's absence, even before Sarah has left the planet. Sexism and guilt make for quite a double-whammy. Sarah's hitherto calm and focus fall apart.
The protagonist of Winocour's last film, Disorder, was a soldier with PTSD; the director clearly has an interest in characters in extreme emotional states. What she's so smart about in this film is ensuring that the environment is entirely authentic. The training scenes, shot in the real Star City facilities and others, are very vivid, from the now familiar centrifugal machines, to fully-suited mock-emergency exercises performed underwater, to scary levels of gym training. There are also a number of Russians in the cast, including the third crew member, the gentle Anton (Aleksei Fateev), with Green impressively speaking Russian with them.
With this procedural, sometimes almost documentary skeleton in place, and Green's intense, flesh and blood performance – making Sarah at once formidable and vulnerable – the script believably teases the character's dilemma to the point whereby we wonder whether she will ever make it to lift-off.
Green's CV is already impressive, from her debut in Bertolucci's The Dreamers, to co-starring with Daniel Craig in the Bond reboot Casino Royale, regular collaborations with Tim Burton (pictured left in Miss Peregrine's Home for Peculiar Children, and a starring role in the terrific TV series Penny Dreadful. Ironic as it may sound given she's playing an astronaut, this is perhaps her most down-to-earth role, and she nails it.
Winocour avoids the temptation to make the men one-dimensional, with both Dillon and Eidinger having a surprise or two up their sleeves. And Hüller, who leapt to international fame in Toni Erdmann, again defeats stereotype in what could have been a rote company-appointed watchdog just getting in the way.
The end credits are accompanied by those real-life female astronauts who have broken through that particular glass ceiling. But Sarah's predicament isn't so dissimilar to that of all high-achieving women, who have to face questions of time and family responsibility that men usually manage to sidestep. As such, Proxima is a universal, deeply resonant film.
Whether Sarah makes it into orbit remains to be seen, but in so many respects the film itself does. And Winocour's final, breath-taking sequence is as wondrous as sci-fi gets.
The script believably teases the character's dilemma to the point whereby we wonder whether she will ever make it to lift-off
rating
Explore topics
Share this article