The King of Hell's Palace, Hampstead Theatre review - Chinese scandal freezes the blood |

reviews, news & interviews
The King of Hell's Palace, Hampstead Theatre review - Chinese scandal freezes the blood
The King of Hell's Palace, Hampstead Theatre review - Chinese scandal freezes the blood
New docu-drama about a distressing case of 1990s corruption and cover-up
Friday, 13 September 2019
Family tensions: Celeste Den and Christopher Goh in 'The King of Hell's Palace'.
New artistic directors are popping up all over British theatre. Every week seems to usher in a refreshingly versatile talent taking the reins of a major theatre. Tonight, veteran new writing advocate Roxana Silbert, the new head of Hampstead Theatre, opens her first season, as well as the celebration of the venue's 60-year anniversary, with American writer Frances Ya-Chu Cowhig's The King of Hell's Palace, a revelatory story about corruption in China in the 1990s, here given a tremendously vivid production by Michael Boyd. But while it is great to be able to witness theatre about this super-power, the evening ends on a very downbeat note.
The story, which is based on the whistleblowing interventions of Chinese public health officials such as Dr Wang Shuping, Geo Yaojie and Wan Yanhai, focuses on two families: one from the intellectual class and one from a farming community. Yin-Yin is a youthful infectious disease specialist who is married to Shen, an unambitious health ministry official, whose brother is the much more high-powered Wang Wei. As China becomes increasingly capitalist, Wang Wei - who is a big noodle in Henan Province in 1992 - makes a deal with an American company to export plasma. Gradually, this enterprise becomes big business. But where does the blood come from?
From the peasantry of course. Here they are represented by the Yang family, led by the brothers Kuan and Wen, and the latter's energetic wife Lili, plus their teen son Little Yi. Along with other extended family members, who have moved from potato farming into cultivating the more profitable peonies, they get swept up in the promise of easy money held out by the local blood clinics, selling their precious "family essence" or "chi" for cash. Gradually, however, it emerges that corners are being cut in the hectic pursuit of profit, and soon Henan is facing a hepatitis and AIDS epidemic from contaminated blood. Yin-Yin sees what's happening, and decides to blow the whistle.
It has to be said that the story of the Henan Ministry of Health's Plasma Collection Centers, in which government and corporations literally profited from buying and selling the blood of the poor, is rich in metaphor. The red stuff is the essence of life, and tainted blood seems like a potent symbol of suffering and social disaster. In the play, there are several strinking images of pain and oppression. Likewise, the peony flowers that are grown in the fields suggest a heritage and history at odds with rampant capitalism. On the ground, the arrival of consumer goods, such as blenders and karaoke kits, symbolizes economic advances and improvements in life chances. Yet, what's the good of a bright Western future if you are infected with an incurable disease?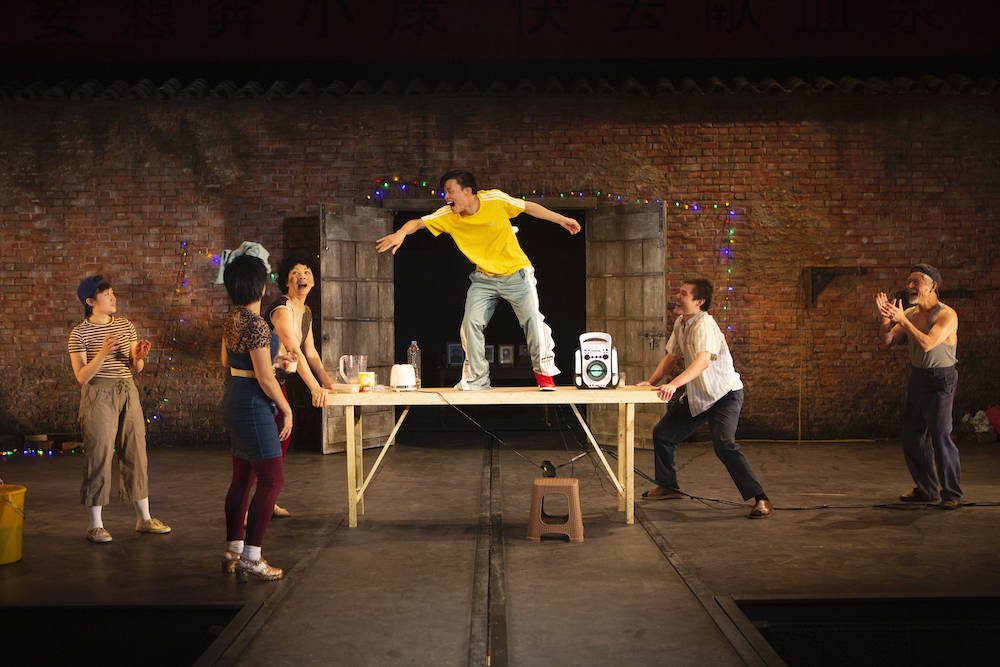 The play is not only a parable of China's pell-mell rush to global market dominance, but also a tale of two families. In Michael Boyd's energetic production, with its versatile conveyor belt and props, all brightly designed by Tom Piper, the first half is thoroughly entertaining: a sense of a different society is conveyed by the use of song, dance and karaoke, with many reminders of the bad old days of Mao Zedong, with the potato a metaphor of mass starvation. Later, as the Yangs fall sick with HIV, their efforts to disguise their lesions is a local version of the state cover-up of the whole scandal, where greed was more important than public safety.
At first, this sense of a different kind of theatre - big, bold and bright - lulls us into thinking that this serious issue might be a fun comedy. After all, the acting is often deliberately cartoonish and brash, with the stage extended into the auditorium and the primary colours of the costumes evoking pleasure and joy. In the second half, however, the colourful feel of the first half evaporates and in its place a much more somber atmosphere pervades the stage. Clearly, as Yin-Yin comes up against the fearsome power of the Chinese state it soon becomes clear that she will be victimized and ostracized. Worse, her whole family is punished. This is both inevitable and depressing. However realistic, this makes for a lapse in dramatic tension, as the King of Hell claims his human prey. Instead of conflict and plot we gets scenes of terrible suffering and dreadful anguish. At the end, the place is full of ghosts.
Amid the general realization that protest is futile, the cast perform very well: Celeste Den (Yin-Yin) and Christopher Goh (Shen) make a convincing couple, while Kok-Hwa Lie has a powerful stage presence as Wang Wei. In the countryside, the Yangs (pictured above) are led by the energetic Tuyen Do as Lili and Vincent Lai and Kok-Hwa Lie as the two brothers (all the cast also play multiple roles, which lends a panoramic scope to the story). Millicent Wong shines as the artful Jasmine, an ambitious health worker, while Aidan Cheng is the vigorous Yang offspring. If the piece's mix of different acting styles and atmopheres is not entirely successful, with some of the American accents a bit unsteady, at least its message is clear. At its best, as in the passages about the nightmare vision of the King of Hell, Cowhig's writing conveys its imagery with striking force. At its worst, it is repetitive. And although the first part is full of humour and energy, the second half, while deeper, is really much less fun.
Although the first part is full of humour and energy, the second half, while deeper, is really much less fun
rating
Explore topics
Share this article
Subscribe to theartsdesk.com
Thank you for continuing to read our work on theartsdesk.com. For unlimited access to every article in its entirety, including our archive of more than 10,000 pieces, we're asking for £3.95 per month or £30 per year. We feel it's a very good deal, and hope you do too.
To take an annual subscription now simply click here.
And if you're looking for that extra gift for a friend or family member, why not treat them to a theartsdesk.com gift subscription?