For Services Rendered, Jermyn Street Theatre review – uneven revival of 1930s drama |

reviews, news & interviews
For Services Rendered, Jermyn Street Theatre review – uneven revival of 1930s drama
For Services Rendered, Jermyn Street Theatre review – uneven revival of 1930s drama
A mixed bag of performances from a big cast in Somerset Maugham's anti-war play
Thursday, 12 September 2019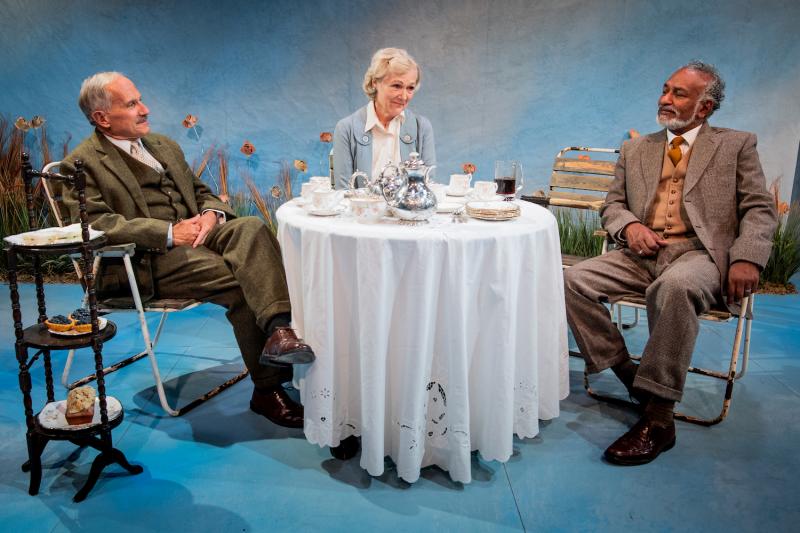 Tea for too many: Richard Derrington as Leonard Ardsley, Diane Fletcher as Charlotte Ardsley and Jim Findley as Charlie Prentice
"I don't think I have the right to influence her," says an older character of her daughter in For Services Rendered, W Somerset Maugham's 1932 anti-war drama. If only all elder statesmen and women felt the same about the youth.
Tom Littler's revival at the Jermyn Street Theatre makes great use of an intimate space, but the first half is a slog and only a few of the large cast make their mark.
The setting is appropriately idyllic: a garden in rural Kent (the village's name is Ramblestone, naturally), late summer 1932, the gentle thwocks of a game of tennis drifting over the fence. Eden complete with apples. Louie Whitemore's set and Ali Hunter's lighting work brilliantly together here to create this fragile softness. Both are Jermyn veterans, and it shows: at times the stage looks like a watercolour at dusk, at others it sharpens into striking backlit tableaux.
At first glance, the Ardsley family have it pretty good: mum Charlotte (Diane Fletcher, perhaps best known for the original House of Cards) is pouring tea on the lawn while dad Leonard (an appropriately blasé Richard Derrington) gets on with business in his study, to which he tends to retreat in a rather Mr Bennet-esque fashion when things get awkward. Only son Sydney (Richard Keightley, pictured right, excellent) has been blinded by his time in the trenches, but his sister Eva (Rachel Pickup) cares for him with all the dutifulness of an eldest daughter. In fact, as Sydney remarks snidely (maybe the snarky blind person trope wasn't quite so prevalent in the 1930s), she seems to actively enjoy sacrificing herself for her family.
Two more daughters complete the set: Ethel (Leah Whitaker), somewhat unhappily married to an alcoholic tenant farmer (Burt Caesar), and Lois (Sally Cheng, pitch-perfect), who is pursued by married businessman Wilfred Cedar (Michael Lumsden, pictured below with Cheng). Wilfred's wife Gwen (Viss Elliott Safavi) is there too, as is ex-naval officer Collie Stratton (Jothan Annan), in dire financial straits after setting up a garage in the village. Jim Findley completes the line-up as Charlie Prentice, Charlotte's brother and a doctor. Phew.
If you're thinking that's a lot of bodies for even a normal-sized theatre, you've hit upon a key problem. The play just has too many characters. Maugham does a good job of restricting scenes to two or three at a time, but it's still hard to keep track of them all, especially in the first act. (Praise due to costume designer Emily Stuart for doing her best to separate them in lovely period dresses, jumpsuits and waistcoats.) The rhythms are off, which is frustrating, as the second half is a good deal sharper. Fletcher especially comes into her own, displaying hidden fragility under a balm of reassuring well-meaning-ness.
The original run at the Globe (now Gielgud) Theatre in winter 1932 was only 78 performances – audiences weren't on-board with its anti-war message. There are other reasons to take issue with it, even if you're a staunch pacifist: Eva's breakdown is at once predictable and hardly prefigured at all, reminiscent of a certain female character's 'madness' in the final season of Game of Thrones. Sydney is so clearly the writer's favourite that it seems unfair to the other characters that he and his mother get all the best lines. And Gwen's picture of Wilfred as a charismatic seducer doesn't really ring true.
It's difficult to see why Littler chose to revive this piece. Sydney's furious monologue denouncing the politicians and generals who sent ordinary people to die holds some relevance for today, as does Maugham's depiction of how we treat veterans when they come home. But other than that, and some sorely needed diversity, there's little to link it to 2019.
Aoife Kennan is making her professional debut in the smallest role: Gertrude, the Ardsleys' long-suffering maid. I couldn't help but wish that the whole thing had been about her.
The first act's rhythms are off, which is frustrating, as the second half is a good deal sharper
rating
Explore topics
Share this article