Reissue CDs Weekly: Slade - Feel The Noize |

reviews, news & interviews
Reissue CDs Weekly: Slade - Feel The Noize
Reissue CDs Weekly: Slade - Feel The Noize
The great British popsters' singles in a box
Sunday, 08 September 2019
Slade sit pretty in January 1972
Original UK pressings of Slade's Seventies mega-hit singles like "Coz I Luv You", "Everyday", "Gudbuy T'Jane" and "Mama Weer all Crazee Now" sell for between £1 and £5 if they're in decent shape. If a copy is needed to listen to, there's little need to fork out more than £2.
On seven-inch, the real Slade rarities are their pre-hit singles and what they issued earlier as Ambrose Slade and The 'N Betweens.
Slade, though, weren't all about the UK. They were, for example, popular in the Netherlands where "Coz I Luv You", "Everyday", "Gudbuy T'Jane", "Merry X-mas Everybody" and "Take me Bak 'Ome" were their biggest hits. Over there, as it was elsewhere in continental Europe, their singles came in picture sleeves, a presentational treat they – and most popsters – did not enjoy in the UK. This is where the new box set Feel The Noize – The Singlez Box! comes in.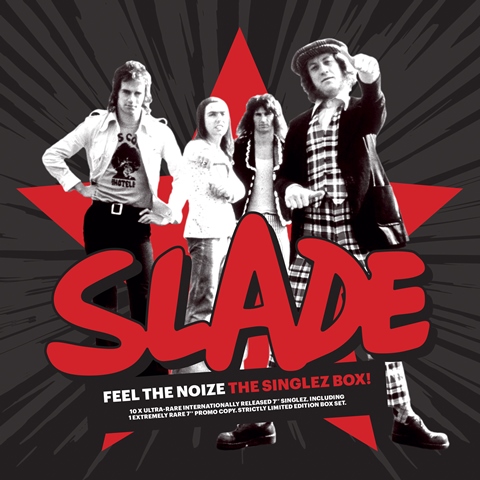 Feel The Noize collects repros of nine Slade singles as they were issued elsewhere in Europe. A 10th single in the lift-off-lid box is a facsimile of a 1980 promo 45. What's collected is: "Coz I Luv You" / "My Life is Natural" (France); "Take me Bak 'Ome" / "Wonderin' Y" (Germany); "Mama Weer all Crazee Now" / "Man Who Speeks Evil" (France); "Gudbuy T'Jane" / "I Won't Let it 'Appen Agen" (Germany); "Cum on Feel The Noize" / "I'm Mee I'm Now And That's Orl" (Italy); "Skweeze me, Pleeze me" / "Kill 'em at the Hot Club Tonite" (France) (pictured below left); "My Friend Stan" / "My Town" (Spain); "Everyday" / "Good Time Gals" (Belgium); "Far Far Away" / "O.K. Yesterday Was Yesterday" (France) and "Night Starvation" / "When I'm Dancin' I Ain't Fightin'" (UK: a promo 45 drawing two tracks from the six-track, 12-EP of the same name).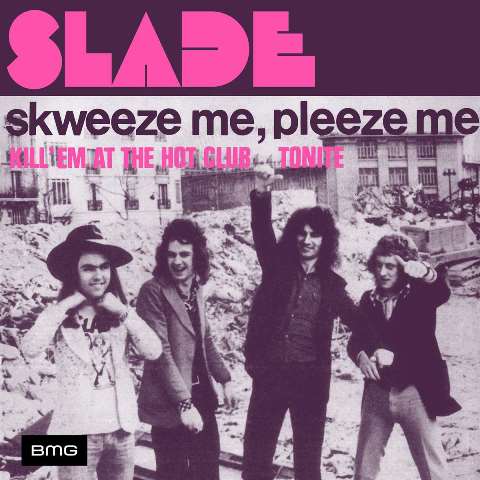 Comments about the music itself are largely superfluous as this is a package aimed at fans, and also as everything is so well known. Like this stuff, and you like it. If you never cared, you're not going to care now. And maybe no one is going to care about "Night Starvation's" sexism, which even in 1980 was past its sell-by date.
The core driver for Feel The Noize is re-marketing recordings which interested parties already have, probably in multiple forms. A package of repro seven-inch singles is not a new idea. This column last encountered it with A Kaleidoscope of Sounds, a box of reissued UK psych 45s. For such a release to be a success, it needs to tap into the collector mind-set associated with a particular band, genre or scene.
Here, the carrot is the picture sleeve singles. A quick scamper through the internet reveals that the French "Coz I Luv You" tops out at £10. Copies can be found for between £3 and £5 too. It's the same with the Italian "Cum on Feel The Noize". Aside from the "Night Starvation" promo, which has sold for £30/£35, none of these are pricey or rare items in their original form. Feel The Noize sells for £50, so is priced lower than the original singles if all were bought.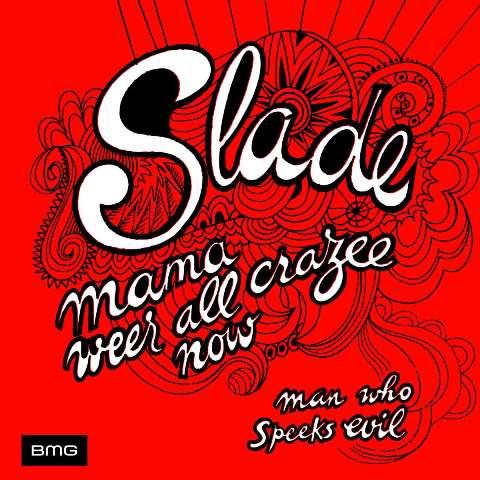 No reason is given for why these particular versions of the singles were chosen: the French "Mama Weer all Crazee Now" used here is pretty dull as it has no picture of the band (pictured right). Either the Italian configuration, which has a fine live shot of the band, or the Spanish, with its striking band portrait photo, might have been a nicer choice.
However, and this point was made covering A Kaleidoscope of Sounds, this is a new release not one which has had the collector's market define what it is worth. These are not original releases within the box – a point well made by the frequently intrusive addition of the BMG logo to each sleeve, as seen here. It is also evident from listening that these do not compete with the original releases as the sound is very clear: so wide-screen it's apparent the master source is digital. The wonderful compression which helped give Slade's singles much of their heft is mostly absent.
Feel The Noize – The Singlez Box! is promoted as a "strictly limited edition" but no numbers are given. The amount manufactured is unknown. While an attractive and imaginative release showcasing one of British pop's greatest bands, it is no substitute for the real thing. However, a collection of the Ambrose Slade and 'N Betweens singles and EPs would be a different matter.
Next week: the self-explanatory Caravan box set The Decca Deram Years (An Anthology) 1970-1975

'Feel The Noize – The Singlez Box!' is promoted as a 'strictly limited edition' but no numbers are given
Explore topics
Share this article