Making new waves: Royce Vavrek on forging a libretto from Lars von Trier |

reviews, news & interviews
Making new waves: Royce Vavrek on forging a libretto from Lars von Trier
Making new waves: Royce Vavrek on forging a libretto from Lars von Trier
Missy Mazzoli's collaborator on their new operatic version of 'Breaking the Waves'
Royce Vavrek on Skye during a research trip for 'Breaking the Waves'
It was during the 1997 Golden Globe Awards telecast that I first caught a glimpse of the film that would change my life completely. Midway through the ceremony was featured a short clip of a paralysed man telling a young woman, his wife, to go and find another man to make love to.
She was to come back to him and tell him about her sexual encounter. "It will feel like we are together," he says. "Love will keep me alive." My 13-year-old brain exploded.
They were Bess and Jan, the central characters in Lars von Trier's Breaking the Wave; the complexities of their narrative I would fully glean months later when I procured a rented video. I couldn't believe that this sort of story was being told in cinema. It was a window to the broader world, and certainly the sort of film that was seldom screened at the local movie theaters in my small hometown of Grande Prairie, Alberta, Canada. It heralded the true beginning of my love affair with movies. They became one of my primary sources of literature.
When my collaborator Missy Mazzoli was appointed composer-in-residence at Opera Philadelphia in 2012 she quickly decided that she wanted to pour her energy into a full-length chamber opera, and I proposed Breaking the Waves as the subject. I could hear Missy's music in the world of Bess and Jan and the extraordinary maritime landscape. We had recently premiered our first opera, Song from the Uproar: The Lives and Deaths of Isabelle Eberhardt, a monodrama for the singer Abigail Fisher, that similarly explored a story of a woman in an impossible situation, and I could see that Bess had a quest that built on this theme that ignited both our imaginations. Missy was reluctant at first, but after watching the film again, and a thorough chat at a bar called Shade in downtown New York City, she called and said, "I think we should just do this!" The wheels were in motion.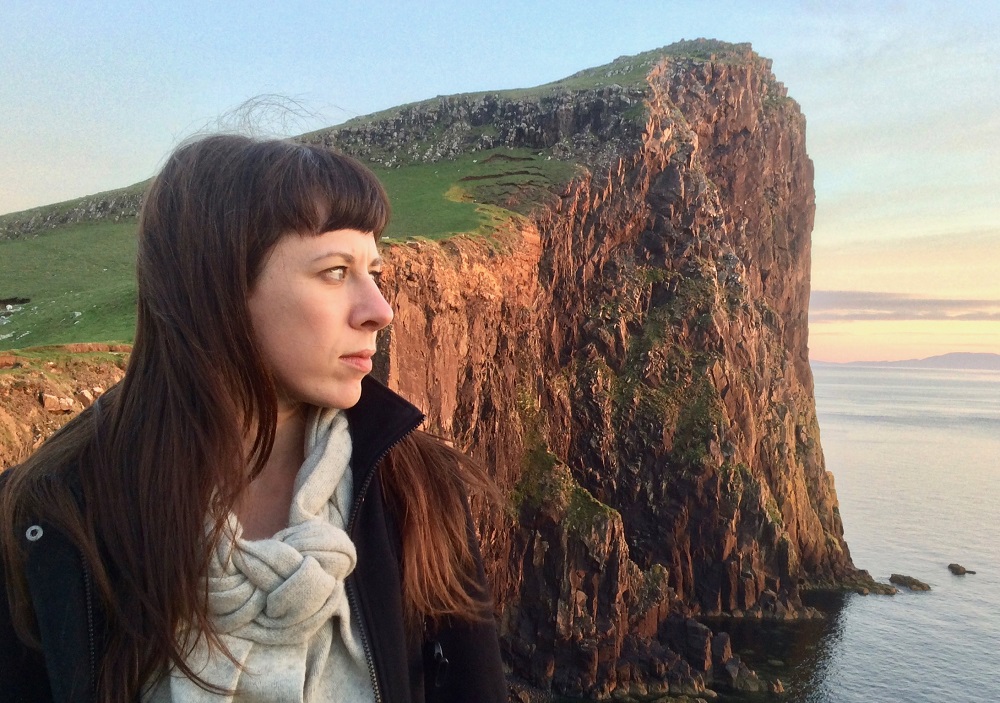 Fast forward to 2014, when Opera Philadelphia sent us on a research trip to Scotland - two days each in Edinburgh and Glasgow, and five days tramping around Skye (Missy Mazzoli pictured above) - to commune with the ghosts and engage with the Hebridean topography. It gave us additional context with which to create our opera: we heard the environmental sounds, the natural music of the island; we tasted the locally-sourced food prepared by Michael Smith, the former chef at the famed restaurant Three Chimneys; we visited Neist Point, featured in the film, and hiked various paths populated by sheep and Highland cows that Bess might have traced with her sister-in-law Dodo; we smelled the summer air, the vivid green grass and the sea water that crashed as we sat overlooking the northern-most tip of the Isle. Bess's world became tangible, allowing us to internalise and then interpret the world in our own dramatico-musical way.
What started as a project between two people, involving many moments of self-doubt, late nights at depressing diners in midtown Manhattan, worrying that it might be a doomed Sisyphean enterprise, quickly became an assembled family, complete with two dramaturgs, Mike Cohen and Cori Ellison, close collaboration with our cast, especially the soprano Kiera Duffy, baritone John Moore and mezzo-soprano Eve Gigliotti, and the iconoclasict young director James Darrah, carving and nuancing every element of this sung theatre. One of the first major opportunities facilitated by Opera Philadelphia was an experimental music workshop for Missy to create Bess's intimate dialogues with God, discovering that the bones of the piece would be built around three female singers who are enveloped by an oppressive men's chorus (pictured below by Julie Howden: Sydney Mancasola with the Chorus in rehearsal).
Two years later, we would have a long dramaturgical meeting while being trapped in Philly by a massive blizzard as we wrestled with the exact position of the interval, another meeting focused on the inclusion of a scene, filmed but not included in Lars's final cut, where Jan expresses feelings of guilt to his friend Terry about his demands of Bess, and an extended discussion focused on the reality of having a central character being paralysed and immobile for much of the second half of the show… was this theatrically or operatically interesting? While Missy and I might be listed as the authorial team of this opera, this work is the product of a massive support system of artists and administrators - everyone should be so blessed to have people like David Devan, David Levy and Sarah Williams, of Opera Philadelphia, and Beth Morrison, in their corner - who lifted us up and gave us every resource possible to make our work.
People often ask why I believe a particular story needs to be told as an opera (as opposed to a play, a movie, a novel, a sculpture, etc.), and for me it's when you get tangled in a yarn that just won't let go. I see, read, experience so many narratives that worm their way inside me, but only a small fraction become completely consuming. That can be said of my opera Silent Light, a recent adaptation of Carlos Reygadas's film that I presented at the Banff Centre for Arts and Creativity with collaborators Paola Prestini and Thaddeus Strassberger. The film cast its spell and I knew that I had to be in further dialogue with the story, the characters, and the captivating world of Mennonites living and working in northern Mexico.
The same is true of Proving Up, another project with Missy, this one based on the singular, vivid short story of the same title by Karen Russell that follows a young boy on an impossible journey across the bleak Nebraskan prairie in the 1870s to deliver a window on horseback to a neighbouring farm. Karen's prose, every sentence rich with poetry, sunk its teeth into my dreams, and made for an intoxicating ride. Another example can be seen in my first musical, Midwestern Gothic, a commission for Signature Theatre in Virginia that I created with Joshua Schmidt, directed by Matthew Gardiner, an original story of a murderous young woman stranded on a remote farm with designs on her mother's boyfriend, influenced by a number of works that have burrowed deep into my chemistry: Catherine Breillat's Une vraie jeune fille, Martin McDonagh's The Lieutenant of Inishmore and Andrea Arnold's Fish Tank.
I believe that our unique perspectives are constructed from everything that we encounter, which is what makes art so vitally important. It is a portal into the human experience that isn't our own (pictured right by Julie Howden: Sydney Mancasola and Duncan Rock in rehearsal). It is an opportunity to cultivate a deeper empathy for others, to walk a mile in somebody else's shoes, even when they might be a few sizes too big, or small. It is why in works like JFK, my opera with David T Little, we accompany Jackie as she grieves, mourning the loss of two children, her sadness a prelude to the collective global response of Jack's impending assassination, holding up a mirror to our own relationship with death; or in Angel's Bone, my opera with Du Yun, that seeks to locate the root of how a people might devolve into monstrous behavior, in this case participating in human trafficking; or how we unpack the psychology of Gertrude Stein and Alice B Toklas, lesbians in the early 20th century who survived two world wars through Vichy collaboration in 27, my opera with Ricky Ian Gordon. I am attracted to the beautiful, thorny, complicated, and intricate questions that call out to be answered on one of art's most dynamic canvases.
Breaking the Waves, our opera, and Lars's film, asks many such questions: what does it mean to be good? Is it possible that we offer ourselves in the most open, honest, and generous way to the world we are born into, and even with the best of intentions we are rewarded with less than we karmically deserve? Why is that true for some, and not for others? Is it possible to create a work that depicts violence and sexual sacrifice that doesn't condone or moralise? With Missy, we've done our best to investigate these questions in hopes that this opera might be the beginning, or a continuation, of a conversation that will hopefully outlive us through the power of operatic storytelling.
Is it possible to create a work that depicts violence and sexual sacrifice that doesn't condone or moralise?
Explore topics
Share this article