Matthew Bourne's Romeo and Juliet, Sadler's Wells review - heart-stopping drama |

reviews, news & interviews
Matthew Bourne's Romeo and Juliet, Sadler's Wells review - heart-stopping drama
Matthew Bourne's Romeo and Juliet, Sadler's Wells review - heart-stopping drama
The plot isn't perfect, but this bad romance still packs a punch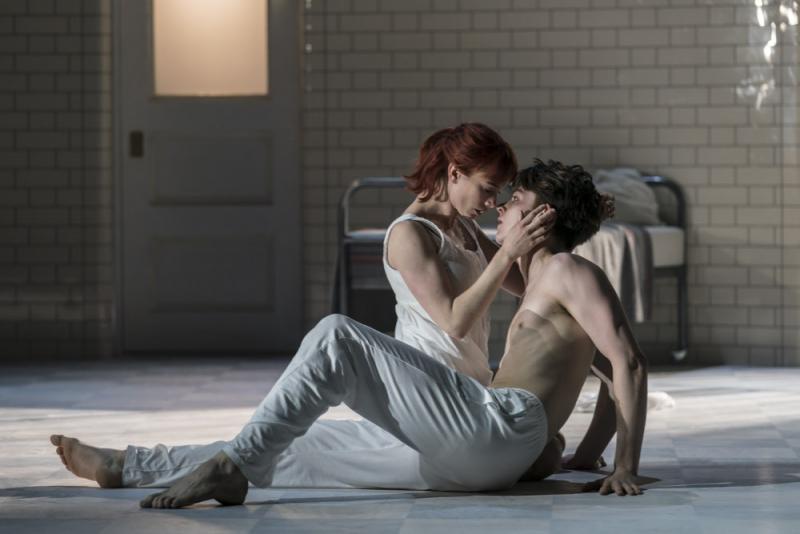 Star-crossed: Cordelia Braithwaite as Juliet and Paris Fitzpatrick as Romeo in Matthew Bourne's 'Romeo and Juliet'
Your first thought on hearing there's a new Matthew Bourne Romeo and Juliet might well be 'doesn't it exist already?' So obvious does this marriage of high drama, lush iconic score, and Britain's premier dance maker seem that you might well be forgiven for assuming it had happened years
ago. In fact, the show Bourne presented at Sadler's Wells this week is brand new this year. So is it a worthy addition to the choreographer's stable of reimagined ballets? Up to a point. It won't knock the immortal male
swans off the top spot, but it's still a hell of a night at the theatre.
The familiar Bourne ingredients are out in force. Repressive institution (here the Verona Institute for teenagers - whether criminal or mentally ill is not quite clear); an innocent, vulnerable outsider (Romeo is a gawky, preppy schoolboy committed to the Institute); ghastly parents (the Montagues are a senator and his wife with presidential ambitions); sex, simmering violence and the abuse of power (Tybalt, a guard, rapes Juliet, an inmate); and amidst it all, the transcendent power of love and tenderness.
As you would expect from Bourne and his dancers, it packs an emotional punch; no fear here of audience disengagement. The Mercutio-Tybalt duel/death scene that closes the first act is up there with the best work in Bourne's oeuvre; I was chewing my pen with fascinated horror as Dan Wright's thuggish, terrifying Tybalt took out his rage on Ben Brown's Mercutio (all the more impressive for stepping in mid-show to replace an injured Reece Causton).
The two central pas de deux - balcony and marriage - throb with the sweetness of new love, beautifully evoked by Cordelia Braithwaite as Juliet and Paris Fitzpatrick as Romeo (pictured above right). Fitzpatrick's Romeo (pictured below left), all dark eyes, delicate face and gangly limbs, is a particular pleasure: when I saw him a couple of years ago as the bullied child in Watch with Mother, Bourne's acute little vignette of playground manners, it was plain he was made to play Bourne's youthful, vulnerable heroes and on this evidence we'll be seeing him in more starring roles in the future.

The music treatment is, again as per usual for Bourne, intelligent and highly effective. Terry Davies has re-orchestrated the Prokofiev score for a pared-down band of 15 musicians and a pared-down running time of less than two hours. The transposition of the Montagues and Capulets march to the opening scene is a tad heavy-handed, but the rest is beautifully done: in places strategically defamiliarised through clever instrumentation (did I hear a banjo?) or tempo changes, the original still shines through in all its loveliness and power in key scenes like the bedroom, balcony and ballroom. A pared-back set by Lez Brotherston complements the slimmed down score: instead of the scene-changing fireworks of his other Bourne productions, there's a simple, unchanging backdrop of tiles, doors and fences that does everythind needed to evoke the Verona Institute while being — I presume — easy and cost-effective to tour with.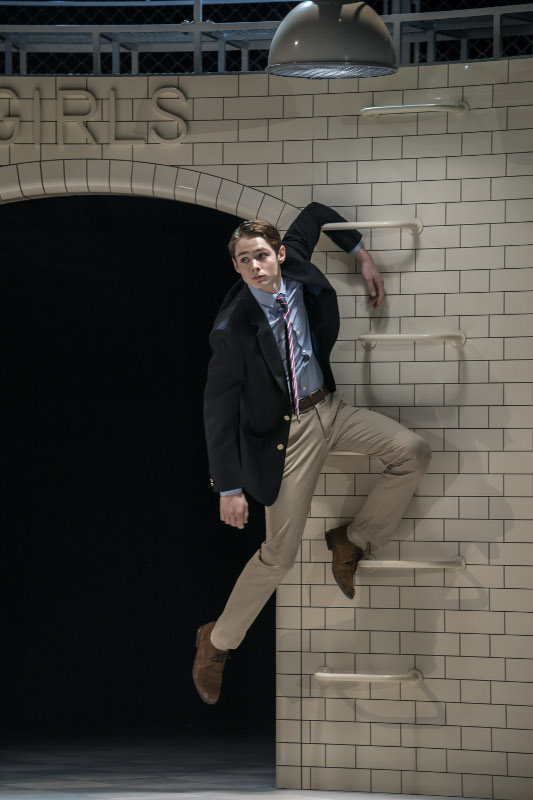 Bourne's storytelling is as clear as ever, but my big quibble with this production is that the story treatment itself just isn't quite right. A key element of the original play and all its successful reimaginings is the deadly enmity of 'two houses, both alike in dignity' and the danger this poses to society at large. Romeo and Juliet's love is doomed not just because it transgresses clan lines, but also because clan hatred breaks the civil code (Romeo is banished by the state authorities; he's not fleeing Capulet vengeance).
The first half sets up a promising tension between the Institute authorities (some bland, some brutal) and the teenage inmates trying to find love and redemption in their ghastly surroundings, but this is squandered in the second half: Romeo appears to suffer no consquences for his part in Tybalt's death, and the tragic ending is brought about by Juliet, who has a trauma-induced moment of madness. This is a result, yes, of her harsh treatment in the Institute, but it's not the same as having justice for the lovers in conflict with the iron dictates of the law. Really, Romeo should be tried for murder and faced with life imprisonment or Death Row — something that would add more jeopardy to the lovers' situation.

Bourne does rework his productions, and I'd strongly suggest he has another go at the plot treatment here. There is so much already excellent about this show that it's a shame for it to stop short of perfection. Even in its current state it's a superb night's entertainment, guaranteed to send you out with heart pumping and feelings running high.
Matthew Bourne's New Adventures perform Romeo and Juliet at Sadler's Wells until 31 August and on tour until 12 October.
Bourne's storytelling is as clear as ever, but the story treatment itself just isn't quite right
rating
Share this article