Vita and Virginia review - more Gloomsbury than Bloomsbury
Vita and Virginia review - more Gloomsbury than Bloomsbury
A new treatment of Virginia Woolf and Vita Sackville-West's 1920s love affair misses the mark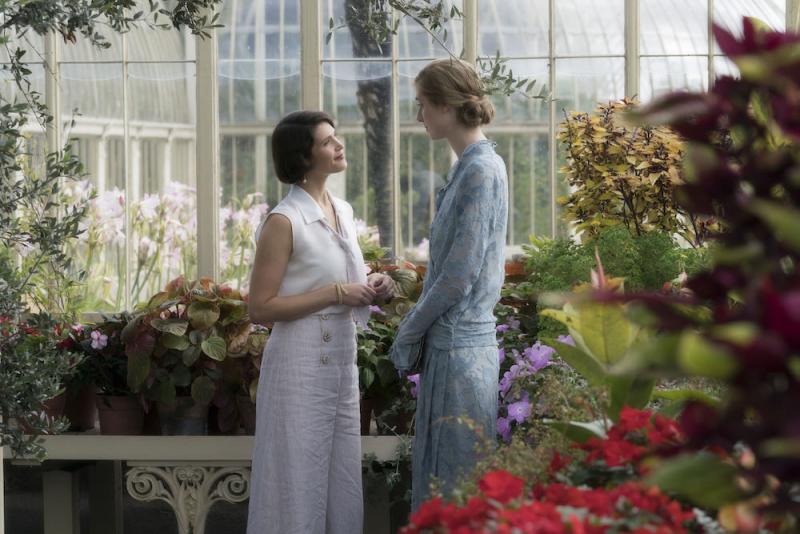 Two mismatched at Kew: Vita (Gemma Arterton) and Virginia (Elizabeth Debicki)
"You do like to have your cake and eat it, Vity. So many cakes, so many," laments Harold Nicholson (Rupert Penry-Jones) to his wife Vita Sackville-West (Gemma Arterton) as she embarks on an affair with Virginia Woolf (Elizabeth Debicki).
The Bloomsberries have been parodied so often – I kept thinking here that I was watching a version of Radio 4's Gloomsbury, with Miriam Margolyes as Vera Sackcloth-Vest – that it's hard to take director Chanya Button's interpretation seriously.
It constantly verges on pastiche, with everyone rolling their r's in a verry 1920s upper-class way and Virginia, when not wild-eyed, deranged and hallucinating CGI crows, making grave pronouncements on art, life and love at the kitchen table (pictured below). She is surrounded by the usual suspects: a kindly, concerned Leonard Woolf (Peter Ferdinando), Vanessa Bell (a Joanna Lumley-esque Emerald Fennell), Clive Bell (Gethin Anthony) and a camp, grotesque Duncan Grant (Adam Gillen, deeply miscast).
The script is partly based on Eileen Atkins's 1992 play, distilled from the two women's letters over their long friendship, which reached its passionate peak in the mid-1920s. In Button's film, the two meet after Vita's affair with Violet Trefusis is over ("I'm exhausted with this Sapphic pageant", sighs Harold – he can talk, as he's usually in bed with a man) at a Bloomsbury party that looks more like a rave, complete with electronic music by Isobel Waller-Bridge. Maybe Button's aim is to show Vita and Virginia through a modern LGBT prism, but it misses the mark. There are some beautiful interiors and vistas (and good to see the Hogarth Press at work) but that's not enough, and the reading of their (real) letters to camera – Vita, as an ambassador's wife, goes sulkily to Egypt or Persia with Harold and keeps Virginia up to date on their exotic travels – has a static, boring quality.
And the chemistry isn't there. Debicki towers over Arterton's sturdy Vita, who favours unflattering plum lipstick and Oxford bags or tweed plus-fours. She's faithless and superficial and her friends are giggly and stupid, especially Dotty Wellesley (Karla Crome), a flapper who calls Virginia the mad hatter. "Does anything actually happen to Mrs Dalloway?" Dotty asks Vita, the book falling from her fingers as they loll on a luxurious train in Egypt. "Not really. She just gives a party." "Golly. I'm hooked."
"I like you a fabulous lot," Vita tells Virginia, who is fragile, pale and languid in elegant frocks, and also terrribly serious and shy, which, apparently, she wasn't really. The sex scene fails to convince – lots of heaving under the brocade bedspread amidst the glories of Knole house, the Sackville-West family seat in Kent presided over by Vita's disapproving mother (Isabella Rossellini, pictured above with Elizabeth Debicki: you want more of her and her hats). "I wonder what they do with each other, these Sapphists. I really can't imagine," muses Vanessa Bell. "Of course you can," retorts Duncan Grant, sounding sensible for once.
Debicki's performance does have its moments. When Virginia breaks down at the kitchen table, felled by her overactive brain but still able to whisper politely "I'm sorry" as she runs out of the room, only to be met with the CGI crows, you feel something of the agony of her madness, now thought to be bipolar disorder. She conveys fragility combined with decisiveness and strength, as opposed to vacuous Vita who leaves her for another woman as soon as Virginia doesn't give her quite the boundless devotion she requires.
After Vita deserts her, Woolf plunges into writing Orlando: A Biography, inspired by Vita and her family history and perhaps the first British trans novel. Their relationship was significant – it needs a bolder vehicle than this to celebrate it.