We the Animals review - lyrical story of brotherly love and family trauma |

reviews, news & interviews
We the Animals review - lyrical story of brotherly love and family trauma
We the Animals review - lyrical story of brotherly love and family trauma
In his first feature film, Jeremiah Zagar adapts - and waters down - Justin Torres's autobiographical coming-out novel
We the animals: first-time actors Manny (Isaiah Kristian), Joel (Josiah Gabriel) and Jonah (Evan Rosado)
"When we were brothers we wanted more: more volume, more muscles, us three, us kings." So begins documentary-maker Jeremiah Zagar's faithful but watered-down adaptation of Justin Torres's autobiographical coming-out novel, set in the 1990s.
Zagar's first feature film, it stars sweet-faced Evan Rosado as Jonah, the 10-year-old narrator and youngest of the three brothers, all first-time actors giving stand-out performances. The movie lacks the book's ferocious impact (best not to read it before watching) but, shot on 16mm film, it has a dreamy, lyrical beauty. Zagar cites Ken Loach's early films as an influence, though there's little in the way of hard-hitting social realism and you wish he'd taken more risks.
Jonah's too-young parents, who were 16 and 14 when they met in Brooklyn, have moved their family upstate. Puerto Rican Paps (Raul Castillo) is an occasional security guard, Ma (a fragile Sheila Vand, pictured below with Evan Rosado as Jonah), who is white, works nights in a brewery. There's no emphasis on poverty or racism - this is a mainly white, working-class rural community where a mixed-race family might not feel accepted - and in fact their green clapboard house in the woods near Utica, an old mill town, has a run-down, idyllic charm. But chaos and violence are never far away, though there's plenty of love and fun as well.
Jonah, Manny (Isaiah Kristian) and Joel (Josiah Gabriel) cluster together protectively, watching their parents row, make love, disintegrate. Jonah's the observant, sensitive one, Ma's baby – troublingly, she wants him to stay hers forever - who chronicles his life by torchlight in his journal under the bed (his handwriting and scratchy line drawings, cleverly animated by Mark Samsonovich, are incredibly sophisticated for a 10-year-old).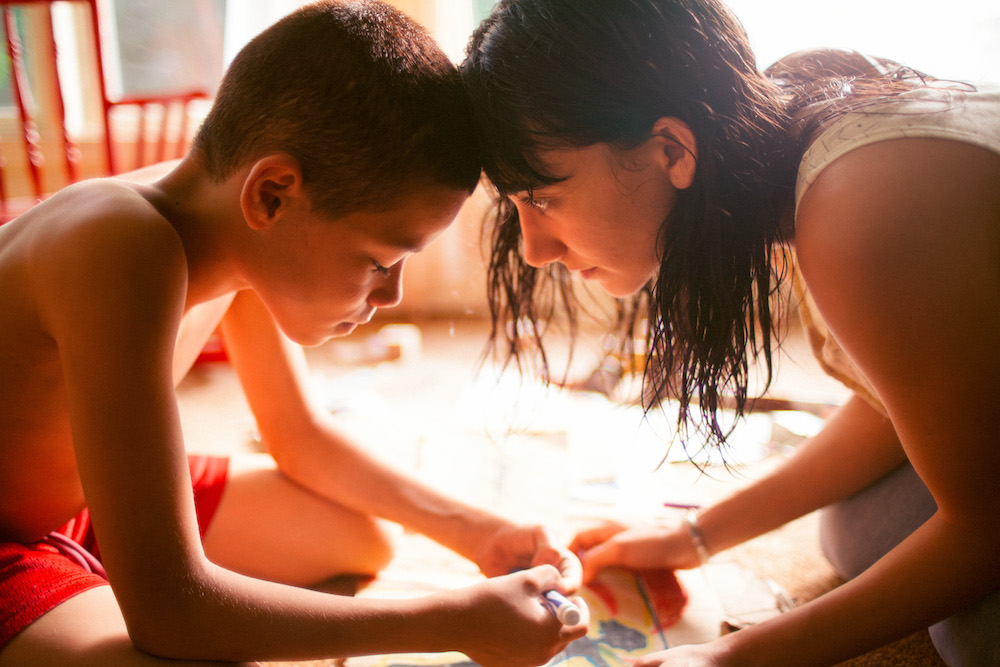 After volatile Paps tries to teach Ma and Jonah to swim in a huge lake (his method is to let Jonah almost drown), he and Ma have a fight and Paps leaves. It's Jonah's birthday. Some birthday present - Paps has beaten Ma up but tells the kids that the emergency dentist had to punch her in the face to loosen up her wisdom teeth for extraction. Ma takes to her bed for days, depressed and incapable of keeping the house together. The boys run wild, desperate for food, and steal tomatoes from an old man's garden. He feeds them and introduces them to his grandson Dustin (Giovanni Pacciarelli), an older kid who shows them porn videos. Jonah develops a fateful crush on him.
Apart from with Dustin, we rarely see them outside the family cocoon. It's a slow-moving, isolated world, with the drowning motif recurring as Jonah struggles to make sense of his feelings. There are no school scenes, just the brothers together, throwing stones at cars, shoplifting, balancing on high bridges, making a tent of their bedclothes in a body heat game, anxiously listening to their parents' fights.
When Paps comes back we see the passion between him and Ma and how limited their life choices are. After another row, she drives off with her sons as dawn breaks over the empty road. "We can leave him," she tells them, suggesting impractically that they drive to Spain. "But you have to tell me what to do. Jesus, you think this is easy? Say something." Their blank, tense faces provide the answer.
As the year passes, Jonah's brothers start to act out an inherited machismo, while Jonah takes a different path as his sexuality starts to emerge. In Torres's novel, the narrator becomes a teenager; in the film, he's still a child, which makes the discovery of his journal by his parents much less meaningful and devastating. The film's strength lies in its intimate atmosphere, in Jonah's beautifully expressive face, and in Zak Mulligan's cinematography. The magic of the night skies, the open road and the light shining through the trees stay with you. "We'll never escape this," says Paps, gesturing widely at the hopelessness of life after he gets fired from a job. But you know Jonah will.