Porgy and Bess, Grange Park Opera review - good versus evil in Catfish Row |

reviews, news & interviews
Porgy and Bess, Grange Park Opera review - good versus evil in Catfish Row
Porgy and Bess, Grange Park Opera review - good versus evil in Catfish Row
A fine new production of Gershwin's opera, if in the most incongruous of opera houses
Laquita Mitchell as Bess, with Musa Ngqungwana as Porgy
If you go to a British country house opera to see a work about an addict and a cripple in a poverty-stricken Deep South tenement, you know the contrast between stage and garden marquee will be extreme. Seeing Gershwin's Porgy and Bess at Grange Park Opera was never going to be a comfortable experience.
But "no use complainin' " – it is a splendid show in surroundings that are almost too pretty to be true.
Porgy and Bess is, at the best of times, an odd, hybrid drama with deep-seated problems of pacing and more. A heartbreaking story (by Edwin DuBose Heyward based on his 1925 novel), with some masterly touches and immortal songs, it never wholly escapes Gershwin's more usual habitat of Broadway. Jean-Pierre van der Spuy's production homes in on the conflict of good and evil in the religion-driven community of Catfish Row, virtually battling over the soul of poor Bess, who is equally addicted to both "happy dust" and her violent, controlling lover, Crown.
Here the director honours the world of the musical as well as the opera house; the Grange Park chorus is swelled by some music theatre specialists who give their all in big production numbers full of high-spirited dancing. This might not always be in character for the drama, but it certainly is for the music. At the other end of the spectrum, the hypnotic, multi-stranded prayer becomes a terrific climax to the hurricane scene.
Francis O'Connor's design for the tenement brings plenty of contrast in visual levels – if things look cramped in the round theatre's modest-sized stage, it's also true that it is meant to – and for the picnic scene a sizeable jetty reaches up into the sunset. David Plater's lighting is rich and atmospheric, deep golden for the September morning, darkness hewn by lightning for the hurricane. Occasionally the director relies perhaps a little too heavily on blue-lit slow mo for instants of reflection or holiness - here less could be more.
Nevertheless, some revelatory moments raise this staging into something rather special. The slimy drug-dealer Sportin' Life plays his cards carefully and lets rip, finally, to pull Bess in in "There's a boat that's leavin' soon for New York" - with a devastating coup-de-theatre when she capitulates. And when Bess sings "I loves you, Porgy", her man visibly reels: you realise that nobody has ever said this to him in all his life.
The opera world has a great deal to thank the Cape Town University Opera School for, and Cape Town Opera too. These South African institutions have launched some absolutely glorious singers into the world, and some of them are on stage here. Musa Ngqungwana's Porgy is the charismatic heart of the work, with a warm, all-embracing voice, striking stage presence and a dignity that never falters; broken by Bess's desertion, he struggles desperately not to give way. (Ngqungwana has written an autobiography and I'm ordering a copy forthwith.) Rheinhaldt Tshepo Moagi is convincing as the wide-boy Sportin' Life (pictured above with Chantale Nurse), full of superficial charm, but waiting beneath it for his chance to pounce. The American soprano Laquita Mitchell as Bess is a strong, shiny-voiced match for Ngqungwana; their duets are the highlights of the performance, and "Bess, You Is My Woman Now" is beautifully staged, one of their few moments of privacy.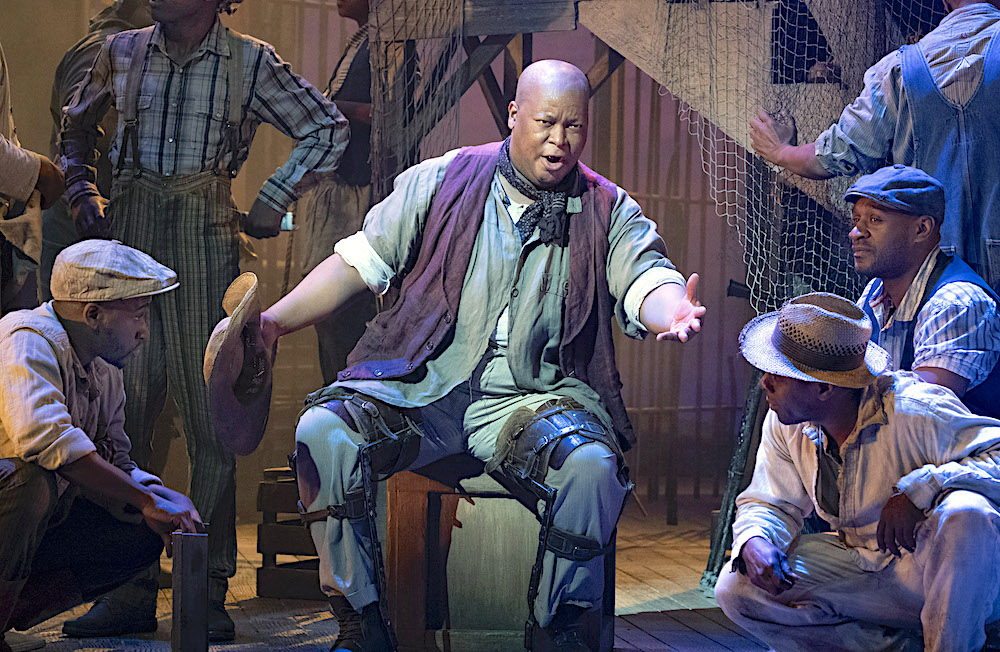 Some of the other characters are outstanding, in particular Sarah-Jane Lewis as Serena, giving a searing "My Man's Gone Now"; Francesca Chiejina (recently one of the Jette Parker Young Artists at the Royal Opera House) as a touching and tender Clara, soaring through "Summertime"; and Chantale Nurse, relishing the nobody-messes-with-me shopkeeper Maria, giving Sportin' Life the hiding he deserves.
All of this is handled with admirable aplomb by conductor Stephen Barlow and the BBC Concert Orchestra, bringing plenty of pizzazz to the chorus numbers and high colour to the contrasts of charismatic prayer versus violence and murder. And that score… Whatever the challenges of the work as a whole, and the sense on this opening night that maybe everything needs to settle down a little, I defy anyone to resist the glory that is George Gershwin.