Benjamin Grosvenor, Barbican review - virtuosity at its classiest |

reviews, news & interviews
Benjamin Grosvenor, Barbican review - virtuosity at its classiest
Benjamin Grosvenor, Barbican review - virtuosity at its classiest
The British pianist shines bright in subtle Schumann and old-school Liszt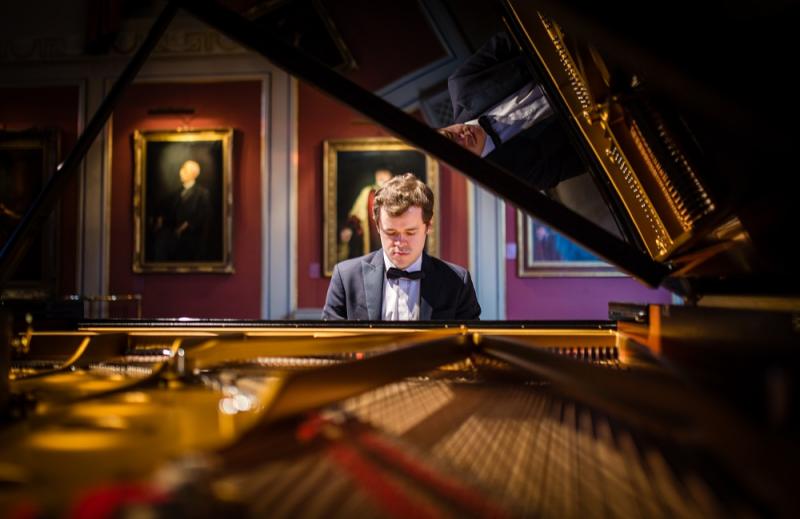 Grosvenor: a tremendous range of sound-colours and atmosphere
It's 15 years since Benjamin Grosvenor first strolled onto our TV screens as a prodigiously gifted child in the BBC Young Musician Competition. Today he is a self-possessed young man of 26, in his element on the concert platform, yet without a hint of affectation; and unlike certain musicians who play the same type of music all the time, he ventures constantly into new and sometimes surprising musical territory.
This recital was part of a Barbican series that also includes two chamber music concerts with the Doric String Quartet at Milton Court (the next is on 26 May). Grosvenor tackled an all-Schumann first half and a second that ranged from Janáček's devastating Piano Sonata 1.X.1905 through a selection of Prokofiev's Visions fugitives to Liszt's Réminiscences de Norma.
The touching, open-hearted directness of Schumann's Blumenstück is an unusual way to begin, yet seemed ideal here. Grosvenor is blessed with a tone that remains luminous even under the Barbican's frustrating acoustic, and a clarity of touch and texture that suggests an acute ear, able to manage and manipulate the complexities of music and hall alike. Kreisleriana is one of Schumann's most weird, wonderful and impassioned piano cycles, and here Grosvenor treated the music as the polyphonic masterpiece that it is, full of intertwining strands that he differentiated in tone as if they were a choir or orchestra. Hidden voices leapt out of the textures for their moment in the sun; the rapt atmosphere of No.2 contrasted with the impish and rhapsodic third piece; and several times Grosvenor pointed up the extraordinary transformation of colour and mood that Schumann can create with an upward shift of just a semitone: not point-proving, but pure musical logic and perception.
If Grosvenor grows into one of the greatest pianists Britain has ever produced, don't be surprisedJanáček's Sonata 1.X.1905 is a two-movement distillation of tragedy, the composer's response to the murder of a young demonstrator at a protest in his native Brno. He later attempted to destroy the work - he cast its pages into the river Vltava - but fortunately, someone else had a copy. The two movements are respectively headed "Foreboding" and "Death" and Grosvenor never stinted on emotional intensity, yet paced its progress wisely through the keening laments and shudders of the opening movement to the heights of despair at the climax of the second, at which point the piano's overtones seem to carry us inside a row of tolling funeral bells. Grosvenor here created sonorities that were massive and overwhelmingly tragic in atmosphere without being harsh, drawing them out of the piano rather than battering them in.
The quirky, abstract miniatures of Prokofiev's Visions fugitives proved an ideal foil to the Janáček, allowing Grosvenor to mix a tremendous range of sound-colours and atmospheres, perhaps most memorably of all in the smooth and languorous No.7. He chose 12, rather than playing all 20, but I think we could have happily listened to the whole lot.
After all this, Liszt's Réminiscences de Norma might have threatened to squander Grosvenor's magnificence on what was for a long time regarded as virtuoso-showman tat. Nothing could be further from the truth. Virtuosity, indeed; but this was the concept at its classiest, with colours worthy of a full orchestra soaring out of Liszt's transformation of Bellini's processional choruses and bel canto arias. Grosvenor filled the garlands of fioritura with subtle details of phrasing and touch - for instance, flickering nonchalantly from legato to delicate staccato halfway down a run. This is the epitome of a certain type of grand old-school delivery – and such is Grosvenor's utter command of the instrument, the sheer finesse of the motor control from brain to hand to soundwaves, that I wouldn't be too surprised to find him alternatively winning a Formula One race, flying a supersonic jet or - OK, maybe not the brain surgery, but you get my drift. If he grows into one of the greatest pianists Britain has ever produced, don't be surprised.
Two encores rounded off this pianistic feast: Grieg's lyrical 'Erotique' and Ginastera's Argentinian Dance No.3, which Grosvenor bounded through in such a thoroughly modern, jazzy way that I confidently mistook it for Kapustin.
Colours worthy of a full orchestra soared out of Liszt's Bellini transformation
rating
Explore topics
Share this article