Phaedra, Linbury Theatre review - from confusing passion to blazing afterlife |

reviews, news & interviews
Phaedra, Linbury Theatre review - from confusing passion to blazing afterlife
Phaedra, Linbury Theatre review - from confusing passion to blazing afterlife
Henze's near-death experience gives this skewed mythology extraordinary life
Phaedra (Hongni Wu) and Aphrodite (Jacquelyn Stucker) torment Hippolytus/Virbius (Filipe Manu)
Leaving a revival performance of Harrison Birtwistle's The Minotaur, a friend asked Hans Werner Henze, also in the audience, that dreaded question: "what did you think?" "Very competent and extremely well performed," came the answer.
What snap judgment can one form about
Phaedra
, his own late
mythological
fantasia, which also features a bass as the half-man, half-bull, but keeps its labyrinth – in this production, at any rate – to the
music
and the bizarre wraps around the story of Phaedra's passion for her stepson Hippolytus? Extremely well sung and played by superb young artists, jury out on the production, baffling in the musical and poetic setting but ultimately so intriguing that I wanted to see it all again.
A crucial premise makes sense of apparent obscurity. The 79-year-old Henze fell into a coma after completing Act 1, which ends with the deaths of Hippolytus and Phaedra, and recovered to electrify Act 2 with a completely new and different life as the young man is resurrected to become Artemis's King of the Forest. The metamorphosis is recounted by Ovid, but you won't find it in any other operatic treatment of the incestuous passion central to the Phaedra legend. At first, all's confusion; Christian Lehnert's poetry seems cliched, wilfully oblique and over-ornate for an opera libretto, and the only clarity is in the brief scene where Phaedra, accompanied by Aphrodite, visits Hippolytus to be rejected by him at Artemis's urging (Filipe Manu and Hongni Wu pictured below). .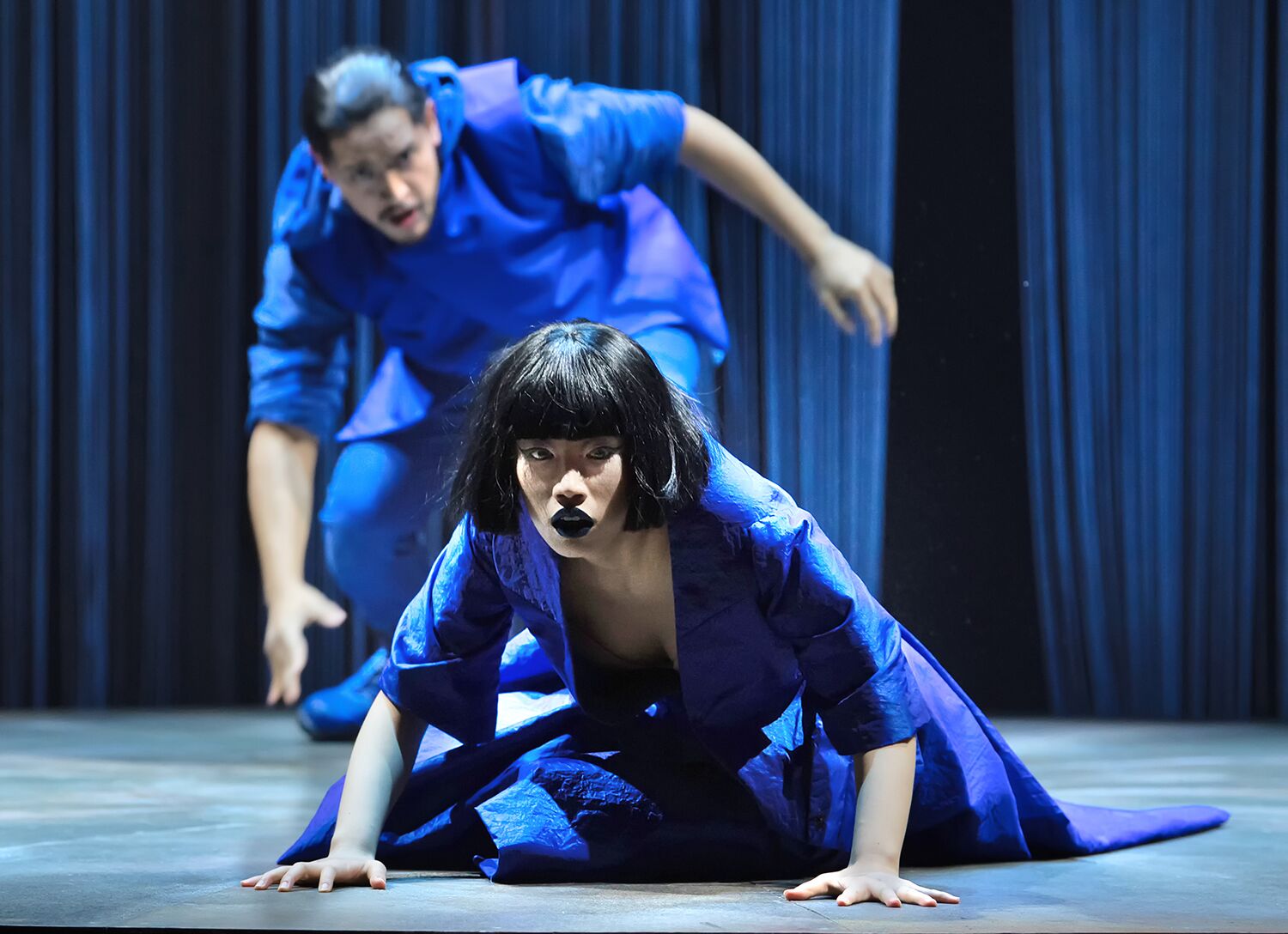 Henze did call the work a "concert opera," so maybe director Noa Naamat, who brought such clarity to the Jette Parker Young Artists showcase last summer, is not to blame. The chief absence is her banishing of the natural world in favour of clinical clarity – a circular revolve with hieratic surrounding steps and platform above. The two humans and their accompanying gods look good in Takis's stylish costuming and Lee Curran's lighting; blue yields to orange in the second act, making Hippolytus more suggestive of a Guantanamo prisoner than a reborn spirit.
So much is counterintuitive that in Act One, you can't help thinking of how much more concisely and dramatically Britten tells the Phaedra story in his 15-minute monologue for mezzo. Here the pleasures have to rest in some ravishing music for instrumental couples – the clarinets of the Southbank Sinfonia are especially impressive – and the stylish delivery from the remarkable latest acolytes of the Royal Opera's Jette Parker Young Artists Programme. The Phaedra, stage natural Hongni Wu, sounds more coloratura soprano than mezzo. The impression, as in the recent Linbury production of Handel's Berenice, is that Jacquelyn Stucker, dominatrix Aphrodite, is conversely more mezzo than soprano, though she hits the heights with stunning aplomb: further confirmation that a star is born. Tongan-New Zealander tenor Filipe Manu will be perfect in Britten, and has some of Henze's most text-conscious lyric lines. First counter-tenor of JPYAP Patrick Terry as pure Artemis has to battle against the punchiness of Henze's fleshy chamber-ensemble but offers some golden moments. A shame the mostly silent role of the Minotaur means we don't hear more from true bass Michael Mofidian (pictured below with Manu and Terry).
But does Henze reward their consummate hard work? Ultimately, yes; the exultant release into an afterlife which the composer must partly have experienced as he "died" and was reborn justifies the work. This is Henze's equivalent to Britten's Death in Venice, though it's not concerned so much with the human predicament as the supernatural one. The scoring, its febrile, chameleonic intensity perfectly mastered by Edmund Whitehead, shows a master's touch in every colour, down to celesta and Bergian piano. Stay with it, don't leave at an interval which might seem unnecessary were it not for the stylistic break between the two acts, and it may well haunt your dreams.
Does Henze reward the performers' consummate hard work? Ultimately, yes
rating
Explore topics
Share this article