Shetland, Series 5 Finale, BBC One review - Sicario-on-Sea? |

reviews, news & interviews
Shetland, Series 5 Finale, BBC One review - Sicario-on-Sea?
Shetland, Series 5 Finale, BBC One review - Sicario-on-Sea?
Unflappable Jimmy Perez solves murderous North Sea crime wave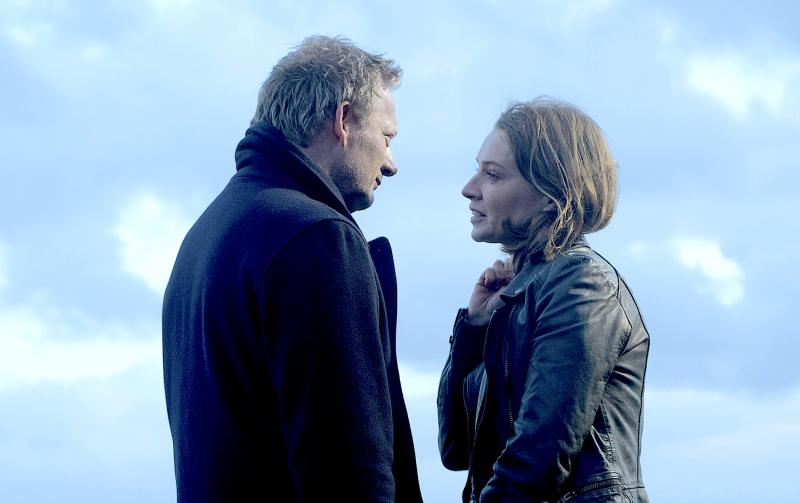 Love actually? DI Jimmy Perez (Douglas Henshall) and Alice Brooks (Catherine Walker)
Thing is, a lot of this unpleasantness could have been avoided if DI Jimmy Perez had just watched the second series of The Missing.
From this he could have deduced that there was every chance that Derek Riddell (who plays Chris Brooks in
Shetland
(
BBC One
), and was sinister kidnapper Adam Gettrick in
The Missing
) was a thoroughly bad egg, and cut to the chase a good deal sooner than he eventually did.
However, Perez's sleuthing instincts had been severely blunted by his growing entanglement with Brooks's wife Alice (Catherine Walker), and as a couple they seemed potentially to have quite a lot going for them. Alice had a pleasing knack of thawing the taciturn Perez, who actually began to behave in a sociable manner when in her company. But he baulked at the prospect of their relationship prompting Alice to leave her husband (pictured below, Derek Riddell and Mark Bonnar as Duncan Hunter).
Then, as the plot unravelled, he found himself having to ask her why there was a dodgy company registered in her name, and if she'd had any idea that her husband just happened to be at the centre of the people trafficking operation that has been the subject of this series. She wasn't best pleased, impaled on the double prongs of Jimmy's accusations and being played for a mug by her husband. As the final credits rolled, you felt inclined to assume Alice wouldn't be back for series 6.
Douglas Henshall's Perez is still the best thing about Shetland, though he'd be much better off getting a dog rather than keep trying to tread the slippery tightrope of interpersonal relationships. He's the classic existential gumshoe-loner, mostly solving cases inside his own head. His subordinates – the amusing but inconsequential Tosh (Alison O'Donnell), obedient Sandy Wilson (Steven Robertson), plus the odd anonymous downy-cheeked youth purporting to be a PC – do very little beyond making daft mistakes and turning up just too late to do anything useful. His daughter Cassie (Erin Armstrong) pops over occasionally from Glasgow to make his life more complicated by needing police protection.
The second best thing about Shetland is the scenery, which is frequently viewed in rain-drenched wide shots as the sea is whipped into a foam and the wind howls through bushes and long grass. Narrow roads wind dolefully into the distance between stunted shrubs, rocky outcrops and shivering sheep. Most of the buildings look like temporary shacks left behind by long-vanished explorers (pictured below, Sandy Wilson, Tosh and Perez).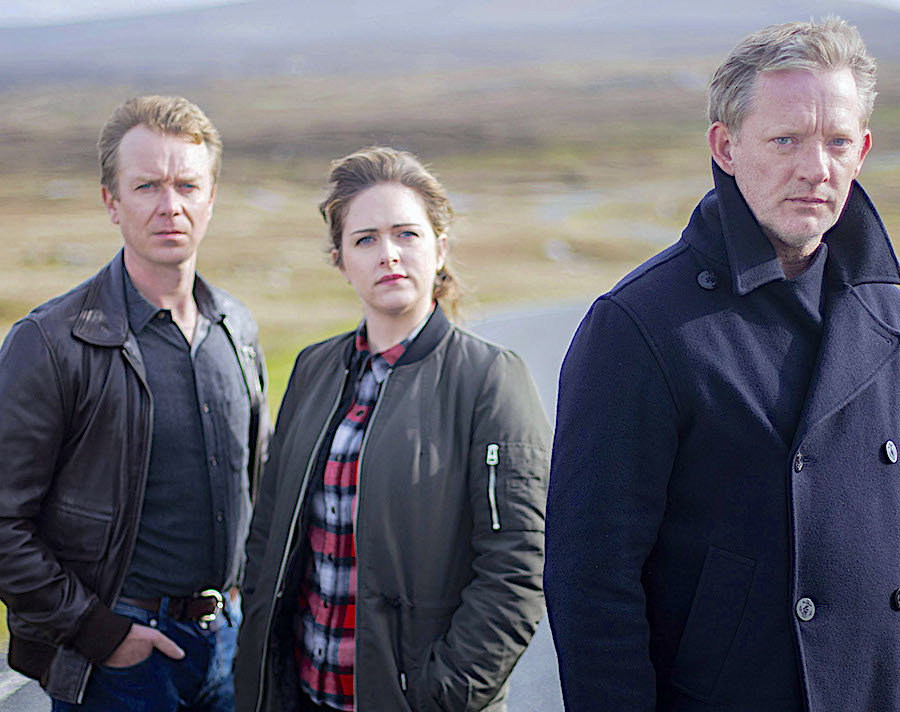 The loneliness of the geography made a suitably depressing backdrop for what has been an irredeemably ugly story, crammed with an inordinate amount of sadistic cruelty and an astonishing body count. In addition to the abused, imprisoned girls, we've had multiple murders in the Hayes family, the road-crash death of the despicable kidnapper and Guns'n Roses fan Paul Kiernan, the firebombing of Morag Dunwoody's house and flotillas of bodies washed ashore.
So, given that Shetland had apparently become the Colombia of the North Sea, why didn't Perez's tiny police contingent get some help from the mainland? A crime wave on this scale would have had the place crawling with helicopters, dogs and heavily-armed cops wearing body armour, with probably a bit of discreet SAS activity in the background. But no – they left it all up to Jimmy and Tosh. If I was a local taxpayer I'd be up in arms.