Curfew, Sky One, review - belt up for a budget-price Mad Max |

reviews, news & interviews
Curfew, Sky One, review - belt up for a budget-price Mad Max
Curfew, Sky One, review - belt up for a budget-price Mad Max
Sci-fi car race stars Sean Bean, Phoebe Fox and a nasty virus
Saturday, 23 February 2019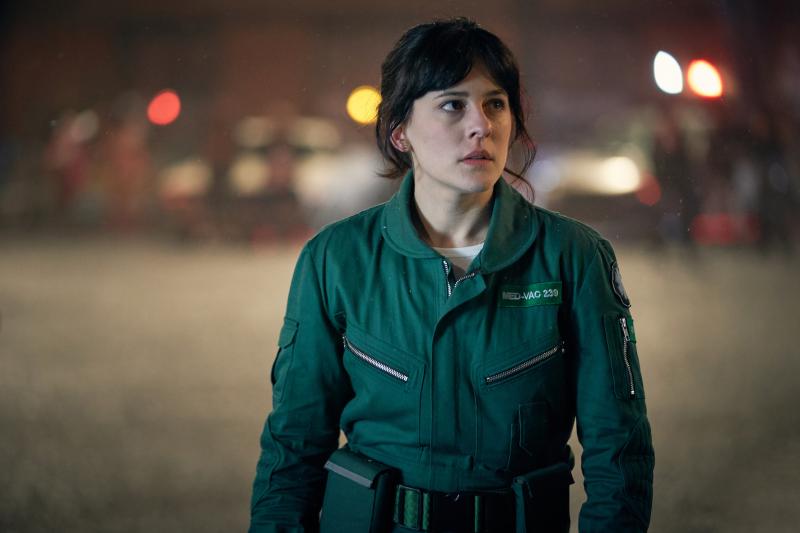 Phoebe Fox in Curfew
Curfew (Sky One) is a new drama that begins as it means to go on, roaring from nought to 60 with a wildly implausible car chase. An electric blue McLaren is haring and weaving through London, with the law in hot pursuit. Forget the computer-generated high-speed U-turn and the armour-plated panda cars.
We are clearly in the outer reaches of
sci-fi
alt reality because the arteries are miraculously unclogged of jams that snarl and belch with white vans and Priuses. Bet they don't even have the congestion charge.
This London, with its gleaming towers, would be paradise if only the eponymous curfew was not imposed at the end of the working day, with the shutters of shops and office blocks descending in unison. The reason for this restriction on Londoners' freedom of movement is not specified – so far as one can tell it's not Brexit – but there is a nasty bug going round that finds Harriet Walter being shot by police and at night zombie-esque creatures roam the streets, snacking on any humans they can catch. The one snared in this opening episode was Adrian Lester (pictured below), perhaps not liking his beard. It's clearly dangerous being a Shakespearean actor in this toxic environment.
Curfew is a sort of cheerful budget-price Mad Max. The various characters introduced here all mustered at the end of the episode for the start of a race. The prize for the winner of this contest is to be whisked to a possibly chimerical island where there is no virus. Among the jalopies revving up at the start are an armoured ambulance driven by Phoebe Fox's emergency medic Kaye, who joins her rebel sister Ruby (Aimee-Ffion Edwards, best known from Detectorists and Skins) and Ruby's hot boy racer boyfriend Michael (Malachi Kirby, Kunta Kinte in Roots). At the wheel of another motor is Sean Bean's gnarled garage mechanic known as The General and his pregnant rockchick girlfriend (Rose Williams), while Adrian Lester's family have to keep on keeping on without him.
Meanwhile, in the bad corner is the long arm of the state. "We need to close this whole thing down before it turns into a fucking shit storm," growls Robert Glenister's security chief, quoting at random from the genre's dog-eared dialogue Rolodex. Richard Riddell, who plays a copper in Endeavour, plays a copper. Curfew makes no pretence to be a deathless masterpiece. Structurally it clunks about in hobnailed boots with idiot-proof flashbacks flagged with captions. And there's not quite clear why a tech billionaire, like a dystopian Willy Wonka, is offering salvation to only one of the racers. Perhaps we will be told. But it has attracted a fine cast from all walks of Equity – Miranda Richarson and Billy Zane are promised in future episodes – who adeptly keep a straight face. Phoebe Fox, who doesn't normally do this sort of thing, tethers the action to a sort of reality. And Gary Numan, who doesn't perform "Cars" any more, is on the closing credits singing "Cars". No harm in belting up for more.