Cyprus Avenue, Royal Court Theatre review - Stephen Rea is utterly compelling |

reviews, news & interviews
Cyprus Avenue, Royal Court Theatre review - Stephen Rea is utterly compelling
Cyprus Avenue, Royal Court Theatre review - Stephen Rea is utterly compelling
David Ireland's dark, absurdist comedy about identity
Wednesday, 20 February 2019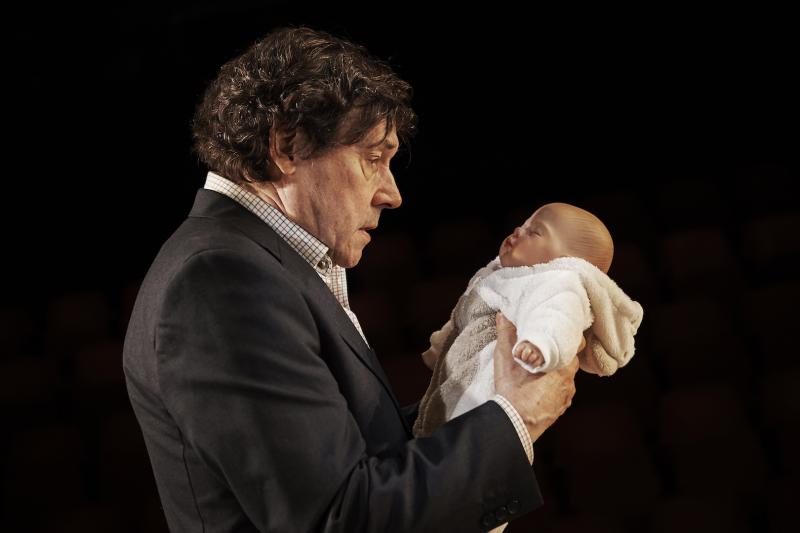 Stephen Rea as Eric, who believes his newborn granddaughter is Gerry Adams
David Ireland is a playwright who likes to jolt his audience and Cyprus Avenue, a dark absurdist comedy about an Ulster unionist afraid of losing his identity, does just that.
This co-production between Dublin's Abbey Theatre and the
Royal Court
was first seen in 2016, followed by runs in Belfast and New York. Now, with a slightly changed cast, it's being given a very welcome revival, again under the steady stewardship of director Vicky Featherstone.
Set among the festering sectarian bitterness in Northern Ireland, Cyprus Avenue tells the story of Eric (Stephen Rea) an Ulster Protestant in the midst of an existential crisis. It begins as an examination of his nationality – he's British, but the British, woefully and often wilfully ignorant of history, ancient and modern, regard him as an Irishman – and how he worries that his community is losing its identity.
When his daughter, Julie (Amy Molloy), has a baby those existential doubts turn into a full-blown psychosis; Eric starts to believe his five-week-old granddaughter is Sinn Féin leader Gerry Adams. She has "Fenian eyes" and, as he tells Bridget (Ronke Adekoluejo), the black English therapist he has been sent to, Protestant eyes don't smile "unless it's absolutely necessary".
Ireland injects a lot of humour, but there are some serious themes examined, not simply sectarianism and its pervasive, long-lasting effect on society (more people have taken their own lives in Northern Ireland since the Good Friday Agreement than were killed during the Troubles), but also sexism and racism. Eric, it becomes clear, was disappointed at the birth of a daughter and, while declaring himself more than once not to be a racist, asks Bridget in amazement: "You consider yourself British?"
Scenes are intercut between the room where Eric meets Bridget and home, where we see Eric's breakdown unfold. He tells his wife, Bernie (Andrea Irvine, pictured with Amy Molloy), that Julie, despite her denials, must have slept with Gerry Adams. Then Eric paints a beard on the baby and places a pair of glasses on her, just to make sure he isn't going mad and she really is "a Fenian bastard".
Later, sitting in a park and contemplating suicide, Eric is threatened by a loyalist gunman who believes him to be a Catholic. The men chat and talk at length about unionism, hating Fenians, how Slim regrets the bad timing of becoming a terrorist just as peace broke out, before moving on to a detailed critique of the film oeuvres of Tom Cruise and Ron Howard.
Slim has never killed a Fenian but wants to, so Eric proposes he kills his granddaughter. Not for the first time, Ireland undercuts the grimness of a scene with a well placed and very funny joke; Slim can't kill the baby tonight, he tells Eric, because he's due at an anger management class.
What follows is utterly shocking as Eric, alone on the stage, paces like a wild animal, his words and thoughts falling out in a jumble as he seeks to justify his heinous actions. His bizarre prejudices, so laughable to us, are entirely logical to him.
Rea is utterly compelling throughout, and Ireland, liberally throwing comedy into the mix, lulls the audience into a false sense of security about the tragedy we are moving towards.
Cyprus Avenue is at the Royal Court Theatre, London until 23 March
Slim regrets the bad timing of becoming a terrorist just as peace broke out
rating
Explore topics
Share this article