A Private War review - Rosamund Pike burns with passion in well-meaning biopic |

reviews, news & interviews
A Private War review - Rosamund Pike burns with passion in well-meaning biopic
A Private War review - Rosamund Pike burns with passion in well-meaning biopic
A risk-loving journalist is remembered via a safe-seeming film
Saturday, 16 February 2019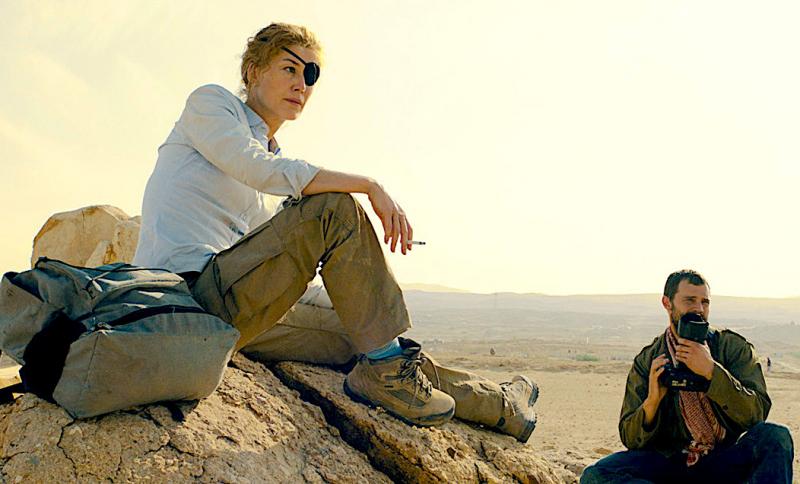 The front line: Rosamund Pike and Jamie Dornan in 'A Private War'
The Sunday Times war correspondent Marie Colvin lived such a fearless life that it's a shame this celluloid biopic isn't correspondingly brave.
Sincere to a fault and bolstered by a blazing performance from an impassioned Rosamund Pike,
Matthew Heineman's
film suffers from a script by Arash Amel that seems incomplete at best and often doesn't seem to exist at all, apart from some none-too-plausible platitudes and the hagiography that one might expect and that Colvin herself, one imagines, would instinctively mistrust.
Visually, it startles throughout, beginning at the site of Colvin's death in 2012, age 56, in Homs, Syria, and then rewinding the narrative to show how this gravelly-voiced New Yorker with an eyepatch ended up dicing with death on that particular February day (seven years ago next week), and losing. Possessed of a fondness for liquor and, more crucially, for telling a story at all costs, Yale grad Colvin is seen swearing off the model of suburban domesticity set by her mum and heading directly into one front line after another, whether that be Lebanon, Libya, Kosovo or Sri Lanka. (That last country is where Colvin lost the sight in her left eye during an ambush in 2001, hence the signature eyepatch.)
Her personal life is glimpsed here and there. Greg Wise pops up playing a kindly ex who recognises that he possibly represents less to Colvin than the ongoing urgency of the news, and Tom Hollander, playing the Sunday Times editor Sean Ryan who has Colvin's back, deserves credit for convincingly delivering one rather unlikely encomium after another: "If you lose your conviction, what hope is there for the rest of us?" (The film's source is a Vanity Fair article by Marie Brenner, though the Channel 4 journalist Lindsey Hilsum has authored a full biography.)
The film is on far more solid ground visually, starting with the often-thrilling camerawork of veteran cinematographer Robert Richardson (JFK, Inglourious Basterds), whose images assume a hellish shimmer that comes to seem both seductive and dangerous, in turn. That much is in keeping with a rationale for work that finds Colvin explaining of her questing bravado, "I see it so you don't have to." Such bite-sized explication at the same time feels insufficient to describe an adrenaline rush that resists convenient explication: the synoptic phrase "war junkie" doesn't quite do it, either.
Coming at this assignment with his own documentary background, Heineman is far better off letting Pike's unforced charisma and sense of purpose carry the day. That summary achievement holds true whether Colvin is seen in conversation with an admiring Gaddafi (here played by Raad Rawi), who lets it be known that he prefers her to Condi Rice, or happens to cough, at which point a tooth falls out. (There's a droll moment, too, where she admits to always wearing a nice bra because, well, you never know.) The film additionally does nicely by the relationship between Colvin and her photographer, Paul Conroy (a likeable Jamie Dornan), of whom the reporter feels comfortable enough both to crack jokes and to take into the line of fire. Conroy, thank heavens, is around still to tell his story whereas the full extent of Colvin's, inevitably, goes beyond the scope of any single film, whether this one in (albeit only relative) fiction, or Chris Martin's acclaimed documentary Under the Wire which preceded it.