John Ruskin: The Power of Seeing, Two Temple Place review - inside the mind of a visionary |

reviews, news & interviews
John Ruskin: The Power of Seeing, Two Temple Place review - inside the mind of a visionary
John Ruskin: The Power of Seeing, Two Temple Place review - inside the mind of a visionary
The Victorian critic's own collection reveals a man of many parts
Thursday, 14 February 2019
John Ruskin, Study of Spray of Dead Oak Leaves, 1879
The power of seeing was the bedrock of John Ruskin's philosophy. In the bicentenary of his birth, a revelatory exhibition at Two Temple Place in London opens out the idea and makes it manifest through both his own work and the treasures of his collection.
Born in 1819, Ruskin was one of the Victorian era's great polymaths. Almost 200 objects are displayed across two floors of a neo-Gothic mansion, a grand domestic setting in keeping with Ruskin's own childhood environment. Here a Burne-Jones design for stained glass, there a Dürer etching, Victorian copies of Verrocchio and Tintoretto, the hawk-eyed Ruskin himself and many of his drawings and watercolours. The setting makes some sense of a complex and difficult man (Pictured below right: Benjamin Creswick, Portrait Bust of Ruskin, 1887).
Ruskin's personality, even more a mass of contradictions and confusions than the rest of us, was nurtured within a suffocating environment created by parents who doted on their precocious and brilliant only child. A life-long inability to come to terms with his own sexuality and sensuality found release in the most intense appreciation of the world around him. On the walls of a demanding show, light relief is offered in the form of his violently expressed opinions: a loathing of all sorts from Palladio to bicycles (he wished his feet always to have contact with the earth).
Yet for all his prejudices, Ruskin collected art with no sense of hierarchy. Mineral specimens, Renaissance manuscripts and master painters all caught his eye equally (Pictured below left: J.W. Bunney, South West Corner of the Doge's Palace, Venice, 1871). The exhibition thus affords a glimpse of what Ruskin considered important for living a good life and for understanding the world. Like walking through an orderly attic, we see the objects that furnished his mind. They are largely drawn from the public museum he founded in Sheffield, the St George's Museum, and supplemented by holdings from museums and galleries across England: testimony to his abiding impact on public collections.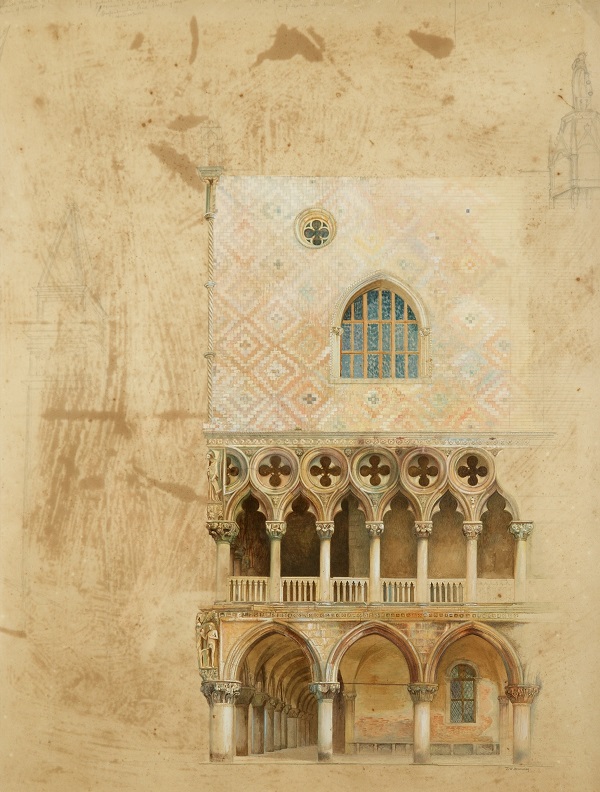 Ruskin's own drawings and watercolours reveal acute powers of observation in everything from a peacock's feather to common ragwort and Italian cathedrals. He acquired and copied Turner assiduously, on the principle that "all great art is praise". Praise of men, but first of nature: "You will never love art well until you love what she mirrors better." Ruskin's library of illustrated books of flora, Audubon's birds, cases of opal, quartz and amethyst find a place here.
Who is Ruskin to us now? We may at least recognise his influence on figures from William Morris to Mahatma Gandhi, not to mention the welfare state and the National Trust. His views continue to permeate society at all levels, his hopes and aspirations acknowledged and inspirational if still far short of reality. As he would have wished, there is much in this absorbing exhibition to both instruct and entertain. In keeping with his own grand designs for a universal appreciation of art and of beauty, it is open free.
Light relief is offered in the form of his violently expressed opinions
rating
Explore topics
Share this article