Classical CDs Weekly: Couperin, Dutilleux, Rossini
Classical CDs Weekly: Couperin, Dutilleux, Rossini
French orchestral music plus an Italian master, sinning in old age
Saturday, 26 January 2019
Petits pois and cornichons from pianist Stefan Irmer
Couperin: Les Nations Réunies & autres sonades La Simphonie du Marais/Hugo Reyne (Musiques à la Chabotterie)
François Couperin was one of the baroque era's greatest keyboard composers. Did he write any orchestral music? Er, no. Though listen to a few minutes of Hugo Reyne's version of his trio sonata "La Pucelle" and you'll be wondering where this music has been all your life. La Simphonie du Marais's director and flautist, Reyne gives us a discursive but entertaining booklet essay in the form of an imaginary interview with Couperin. Near the end he tells the composer that "we made a point of orchestrating your Sonades… in order to give them the colours which, we hope, you would have liked." Couperin's responses to Reyne's questions are fascinating, and actually taken verbatim from his letters and prefaces. These seven transcriptions are superbly idiomatic, and they're interspersed with three harpsichord pieces, nicely delivered by the group's continuo player Yannick Varlet. Couperin would have approved: La Steinkerque's "bruit de guerre gaiment" impossibly jaunty on a pair of baroque oboes and resonant, percussive strings. The effect is a little like watching tinted black and white film.
This is stunning playing, from a group little known in the UK: I'm thinking of La Visionnaire's divine introduction, or the exquisitely dissonant suspensions in the slow movement of L'Astrée. Everything's impeccably balanced too, the continuo just loud enough. There's a sweet bonus too, an actual Tombeau de Couperin, the composer's words solemnly intoned before we hear his Paix du Parnasse. Glorious.
Dutilleux: Symphony No 1, Métaboles, Les Citations Orchestre National de Lille/Jean-Claude Casadesus (Naxos)
Henri Dutilleux's inexplicably underperformed Symphony No 1 is one of the great post-war symphonies. Hearing it again after a few years, I'm struck by how the first movement's passacaglia theme recalls one heard in Britten's Peter Grimes, as well as anticipating the finale of Lutoslawski's Concerto for Orchestra. Written in 1951, it was this fastidious composer's first purely orchestral score. Not that you'd guess that; Dutilleux's shimmering, radiant textures are realised with utter confidence, and this feels very much like a mature masterpiece. This new recording is the best I've heard: Jean-Claude Casadesus's Orchestre National de Lille play superbly, and Naxos's engineering allows every detail to register. Begin with that passacaglia: those punchy brass chords 90 seconds are joyous rather than menacing, and the movement's rapturous fade out has never sounded so good. What follows doesn't disappoint. Casadesus takes the scherzo at a confident though alarming lick, revels in the slow movement's colours and nails the symphony's enigmatic soft close. If, like most sensible folk, you're a fan of Debussy's La Mer and Ravel's Daphnis, you really need to hear this.
There's more, in what's essentially a perfect Dutilleux sampler. Métaboles was written in the early 1960s for George Szell's virtuosic Cleveland Orchestra, each of its five short movements differently scored before the full orchestra assembles for the final "Flamboyant". Best of all is the central "Obsessionnel", cheekily exploiting a twelve-note row to jazzy effect. Dutilleux's Les Citations grew from a 1985 birthday tribute to Peter Pears, the composer later adding a second movement paying tribute to the French organist Jehan Alain. Exquisitely spiky, quirky music. A phenomenal anthology, well-annotated and at budget price.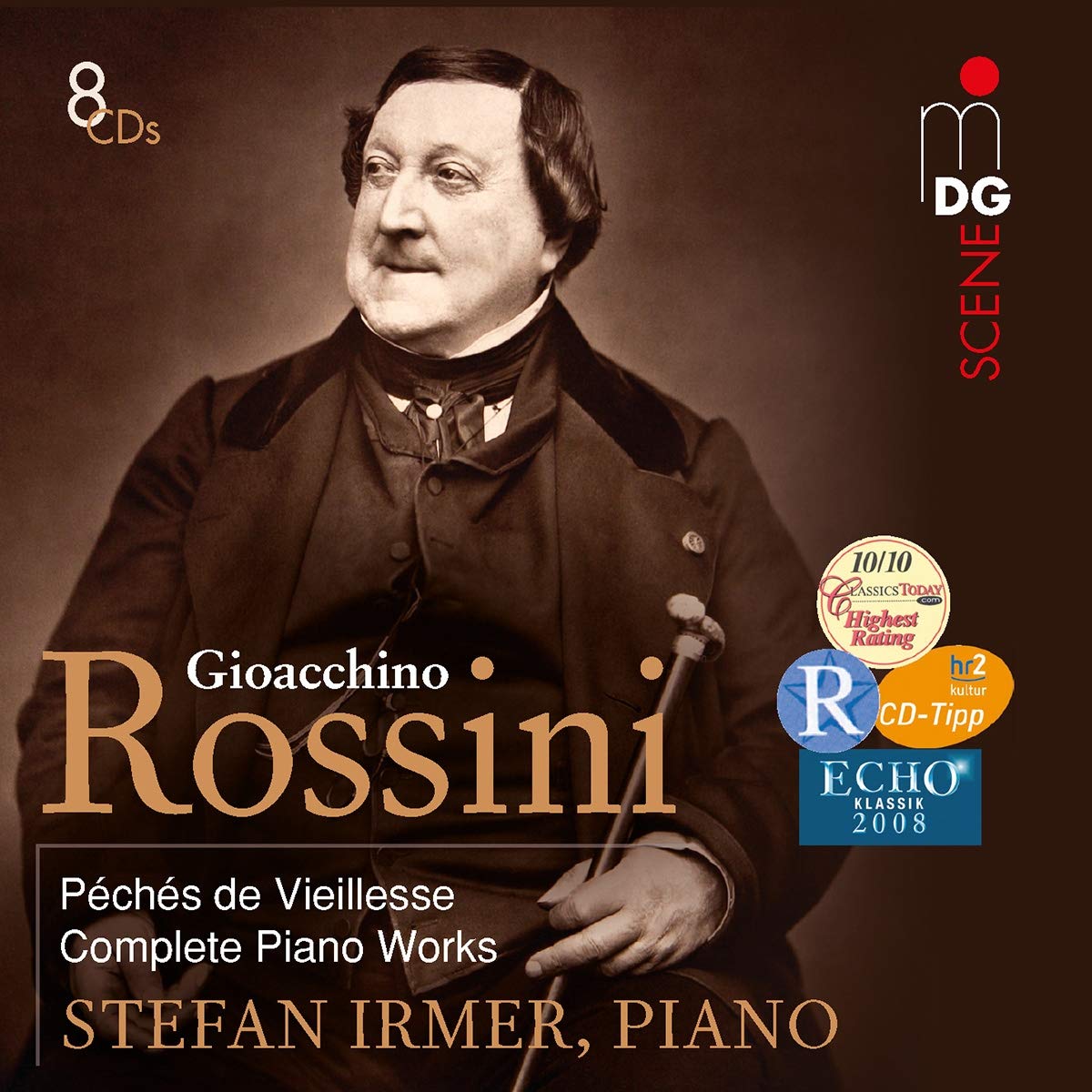 Rossini: Péchés de Viellesse Complete Piano Works Stefan Irmer (MDG)
Rossini wrote an incredible 39 operas in just 19 years, the last one (Guillaume Tell) in 1829. Ill-health, both physical and mental, probably lay behind his compositional silence for several decades, until a move to Paris in 1855 prompted him to resume work. The Petite messe solennelle remains Rossini's best-known later work, along with over 100 "sins of old age", his Péchés de Viellesse. These little piano pieces are intoxicatingly strange in places, their names and style looking forward to Satie and Poulenc. It's no surprise that an early French publisher substituted some of Rossini's more outré titles for sensible-sounding ones. "Ouf! Les Petits Pois", anyone? Or an "Etude Asthmatique"? Not that the names usually bear much relation to what we hear, apart from blatantly pictorial numbers like "Un Petit Train de Plaisir". Listen out for pianist Stefan Irmer's spoken interjections, telling us exactly what's happening on the titular train. Spoiler alert – things get a bit grim.
This highly desirable box set collects Irmer's nine volumes of the Péchés, taped between 1997 and 2007. Though most of the numbers hover around the 5-6 minute mark, dig deeply and you'll find several fascinating longer ones. Like "Un cauchemar" and "Specimen de l'ancien régime", both deceptively serious. Irmer's lightness of touch makes the frothier items fizz. And MDG's sound is unobtrusively wonderful. I can't recommend this package enough: dipping in and out of it has been cheering me up for months.
The effect is a little like watching tinted black and white film
Explore topics
Share this article