Reissue CDs Weekly: Marianne Faithfull
Reissue CDs Weekly: Marianne Faithfull
'Come and Stay with Me - The UK 45s 1964-1969' collects some of British pop's best singles
Marianne Faithfull in 1965: before the harrowing claustrophobia of 'Sister Morphine'
Marianne Faithfull's recent album Negative Capability featured a new version of "As Tears go by", the Jagger-Richard song which had been her first single. Also heard was an adaptation of Dylan's "It's All Over Now, Baby Blue". The A-side of her second single was a cover of his "Blowin' in the Wind".
While nodding back to
1964
raises the question of whether a circle has been closed, it also suggests Faithfull is saying that the intervening years have brought a fresh perspective on when she first hit the charts at age 17.
The new, descriptively titled compilation Come and Stay with Me - The UK 45s 1964-1969 collects the A- and B-sides of the 11 singles she issued on Decca in the Sixties and supplements them with the three non-single tracks from her 1965 Go Away From my World EP. In this period she also released four Decca albums with the last, Love In a Mist, going on sale in March 1967. A month earlier, her 10th single "Is This What I Get For Loving You?" had been released. Its follow-up, "Something Better"/ "Sister Morphine" came out in February 1969. In essence, her Decca era ran from the release of "As Tears go by" in June 1964 to March 1967. The final Decca single was an outlier.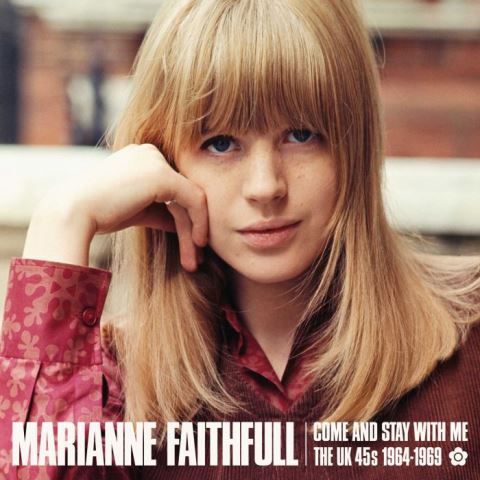 For Kris Needs though, who has written the collection's very personal liner notes, the "Something Better"/ "Sister Morphine" single is pivotal. As a Rolling Stones fan – and the editor of Zigzag magazine – he bought a copy of the rare 45 in 1979 for £15, a third of his weekly wage. He purchased it at Soho's Rock On stall, run by the people behind Chiswick Records the precursor of Ace, the label which has issued Come and Stay With me – circularity of another sort.
Needs was moved to dig deep by "Sister Morphine". He knew the Stones' version from Sticky Fingers but had not heard the original recording which was credited to Jagger-Faithfull-Richards. On their album, the Stones noted the songwriters as Jagger-Richard. Of her version, Needs now says it was "harrowingly claustrophobic but starkly direct, no song had ever gouged so deeply into the drug addict's tormented psyche." Then he asks the question "what on earth could have happened to the angelic-sounding popstrel whose exquisite sequence of singles after 'As Tears go by' seemed to embody the ephemeral era in which they were produced?"
As is now known, the short answer is that Faithfull had begun embodying the spirit of an ensuing era and that the 1969 recording was symptomatic of her own tormented psyche. However, despite her newly, huskily deep voice on February 1967's magnificent "Is This What I Get For Loving You?", it is hard to detect how she had reached this point by listening to the preceding sequence of singles. Instead, what is heard and is noticeable from the credits is a push and pull, and an allied burgeoning self-assertion.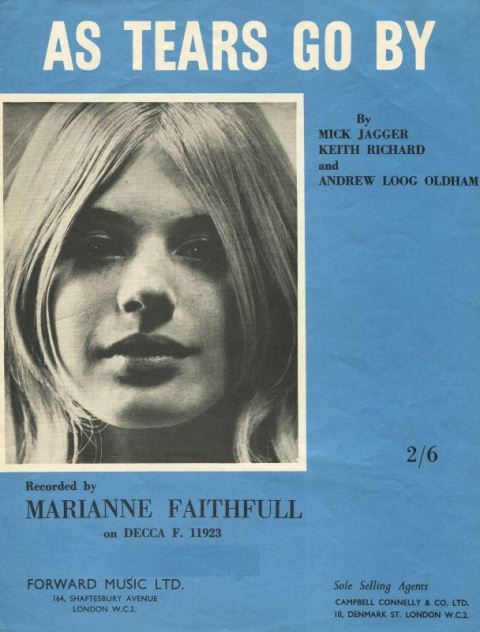 While "As Tears go by" was conceived as and became an Anglo analogue of Françoise Hardy "Blown' in the Wind", which she chose as its follow-up top side, was drab and weedy – an unworthy successor. Its B-side was a thin version of "House of the Rising Sun", also pulled from a Dylan album. Two singles in and inspiration from Faithfull and her producer, Rolling Stones' manager Andrew Loog Oldham, seemed lacking. It was – until "Is This What I Get For Loving You?" – the last single they made together. Depending on who is telling the story, the break came because she could no longer deal with his unpredictable speed-freak persona or that, from his perspective, he no longer wanted to work with her – his discovery – as she was too safe. In future, her records were mostly arranged and produced by Mike Leander and Oldham's business partner Tony Calder.
After the "Blown' in the Wind" hiccup, there was gem after gem. The 1965 A-side "This Little Bird" is a treat. So is the specially penned Jackie DeShannon song "Come and Stay With me". The 1966 version of Bob Lind's "Counting" is an atmospheric marvel. However, the immediately earlier single of The Beatles' "Yesterday" is prissy and another dud. The self-assertion becomes evident from 1965 when Faithfull's own songs began cropping on B-sides. Of these, 1966's "I'd Like to Dial Your Number" is a highlight. Faithfull was finding her own voice and her own path.
Come and Stay With me uses new re-masters and is all mono as per the original single masters. It is a diligent release. However, a question remains unaddressed – what has happened to the Lionel Bart song "I Don't Know How". Recorded as her debut single, it was shelved in favour of "As Tears go by". Also, it would have been great for the narrative to have been expanded by including Faithfull's contemporaneous French- and Italian-language 45s, which were not limited to re-recordings of the UK tracks for non-Anglophone markets. There are exclusive songs like Serge Gainsbourg's "Hier ou Demain". Perhaps this a story for another time.
Imponderables aside, the excellent, smartly packaged Come and Stay with Me - The UK 45s 1964-1969 shows how Marianne Faithfull got to where she is today. And, it should not be forgotten that she made some of British pop's best singles.
Next week: Kreaturen der Nacht - eye-opening collection of German post-punk
Explore topics
Share this article