theartsdesk at the Suoni dal Golfo Festival - romantics shine in the Bay of Poets |

reviews, news & interviews
theartsdesk at the Suoni dal Golfo Festival - romantics shine in the Bay of Poets
theartsdesk at the Suoni dal Golfo Festival - romantics shine in the Bay of Poets
A Liszt novelty proves worth revealing, while a fine pianist takes a castle by storm
Monday, 03 September 2018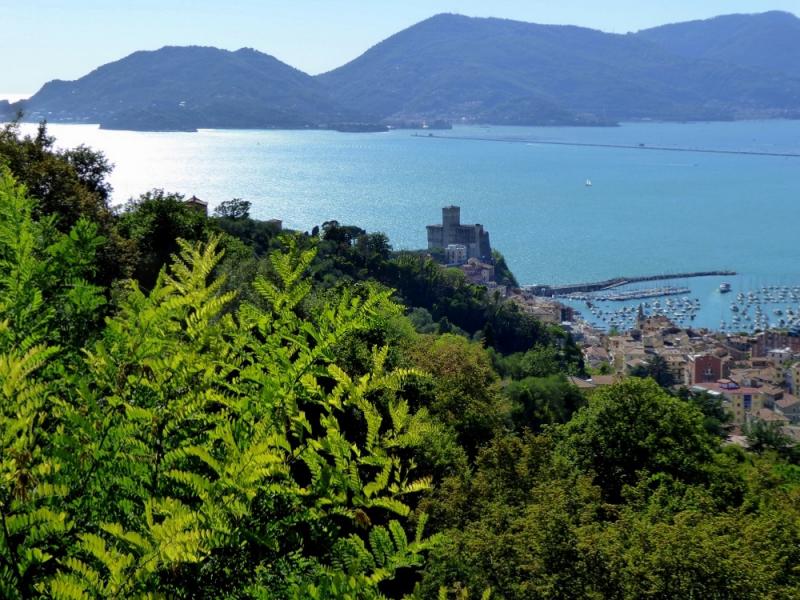 Lerici and the 'Bay of Poets' from the path to La Serra on the hilltop above
If only Liszt had started at the end of his Byron-inspired opera Sardanapalo. The mass immolation of Assyrian concubines might have been something to compare with the end of Wagner's Götterdämmerung. Instead he only sketched out the first act, complete until nearly the end, and the inevitable comparisons with the Wagner of the late 1840s are not unfavourable by any means. This is no for-the-hell-of-it resurrection, but a unique, high-octane fusion of Italian opera – the forms of cavatina and cabaletta still traceable – with the through-composed dream of Wagner's music-of-the-future, from the period when the composer's powers were shining brightest.
How appropriate that Sardanapalo's one-act torso, as completed and scored very effectively by Cambridge musicologist David Trippett, should gleam in the Italian gem of Lerici, a quarter of an hour's leisurely seaside walk along the bay of La Spezia from the villa Shelley rented not long before his untimely death. A by-then portly Byron was only one of many distinguished literary folk to visit. It's now a somewhat Eurotrashily decorated hotel, but Lerici itself is the perfect seaside town, sleepy during the summer daytime, all bright lights at night, beloved of ordinary Italians and without the pretensions of nearby Portovenere along the gulf (a starting point for the Cinque Terre trail, which I'm told is now nose-to-tail with walkers at this time of year). The idiomatic opera conductor Gianluca Marcianò grew up here and had the very ambitious aim of an international festival with an orchestra of young people from 18 nations as its centrepiece, the Orchestra Excellence, a healthy and risk-taking mix of Christians, Jews and Muslims.
It may be that this year ambition outran organisation, not quite equipped to serve its world-class artists and open to one serious abuse. You expect Italian events to start late, but not when the audience is small (as it was for some of the talks and recitals). I arrived to catch the end of a "Cultural Diplomacy Forum", only to find that it hadn't even begun. There was no castle door to shut on the simultaneous piano recital downstairs, so the panel and its small group of spectators had to wait until the last of Ludovico Troncanetti's encores.
I could barely believe my ears when the first of the speakers in a session ostensibly about film, photography and music in Syria launched into Assad-Putin propaganda about the "fiction" of the chlorine gas attacks and the terrorism for which the White Helmets are merely a cover. Let's not give betrayal of Marcianò's peaceful objectives air by naming either her or a South African photographer who showed us holiday snaps of what she described as "liberated" Aleppo, had a big exhibition in the castle and now reports back from Lerici for Russia Today. I'm assured it was entirely due to inadequate background checks that these two "useful idiots" slipped through a well-meaning net (though their "credentials" can be established by five minutes' checking on Google).
Missak Baghboudarian, conductor of the Syria National Symphony Orchestra, should have spoken first, and at least showed us that, dependent though he may be on the regime, music has to survive. His was the only "diplomacy" of the hour. Certainly there had been other voices, not least that of The Observer's amazing Ed Vulliamy, unfortunately only in the audience for the last gathering, but this was a very serious case of false equivalency.
Thereafter the stress, if not some of the chaos, fell away. Simultaneous slots made catching all the musical events later that evening tricky. First duty was to hear the Israeli coalition – Jews and Arabs – of the Polyphony Quartet in a town square, Piazza Mottino (pictured above) right outside one of the best of the reasonably-priced restaurants. This set-up is wondrous, as I witnessed at greater length during the Incontri in Terra di Siena Festival back in 2014 (when I also got to talk to the inspirational spirits behind the Polyphony Foundation, brothers Nabeel and Saleem Ashkar). It's true I'd missed a more focused event featuring the quartet in the castle. But this should maybe have been divertimenti; while Haydn's Op. 77 No. 1 was just about OK above loud conversation, Mendelssohn's early gem needed some of the concentration from the audience it was getting from the superb players.
in any case I felt, heretically, in the middle of that how I ought to walk along the seafront and witness pianist Marcelo Bratke, the world's top exponent of music by his fellow Brazilian Villa-Lobos, making an interesting experiment with Royal Ballet principal Thiago Soares (pictured below by Emanuele Serazio Tecnico Accordatore). I only caught the last 10 minutes, but from what I saw Soares' experimental steps with Italian ballerina Alessandra Tognoloni were indeed highly original. It was serendipity for me, and bad luck for them, that I caught them at all; their performance should have been in a church the previous evening, but that afternoon the priest declared no go for dance steps in his holy place. You'd have thought permission might have been established somewhat earlier.
Dissolving the nasty taste left in the castle lecture room was a superbly ordered lecture by Trippett about his work on Sardanpolo the following morning. The excerpts convinced me that we were indeed going to hear something out of the ordinary later. What enriched the performance was hearing about such details as the anonymity of the librettist, a political prisoner engaged by Liszt's associate the Princess Belgiojoso, and the fact that the orchestration, for which Liszt provided many cues in his piano sketch, would have been completed by his disciple Joachim Raff (a fine composer in his own right, as his Shakespeare fantasies reveal, and a figure who had more than just a passing hand in Liszt's symphonic poem Tasso. Orchestration was never the wizard of Weimar's strongest point).
Before the 9.30pm Sardanapalo, there was a recital, also in the castle, by an absolutely remarkable younger-generation pianist, Kazakhstan-born Samson Tsoy (pictured below). I knew something of his quality from his duet work with contemporary Pavel Kolesnikov, not least from their participation in mentor Elisabeth Leonskaja's 70th birthday concert. This, however, was my first chance to witness the lesser-known of the Leonskaja protégés solo in playing of which she would have been proud.
The first half comprised Schubert's sonata-like Four Impromptus, D899. As Llŷr Williams had proved at the East Neuk Festival, they are so much stronger together, the sudden turn to the minor of the energetic E flat major Impromptu absolved by the celebrated balm of its G flat major successor. Tsoy uses articulation and space with a master's instinct; after the applause following the long first movement, there was nothing but concentration from the audience to allow him to treat the rest as one. Schumann's Kreisleriana was equally fine; the exquisite main inspiration in No. 2 had just the right hesitation to make the heart leap. What follows can be an anti-climax, but not in Tsoy's hands; the extremes were dramatic but always in focus, the turns and flights of No. 4 profoundly philosophical.
Liszt has plenty of his own characteristic roulades in Sardanopalo Act 1. Perhaps they're more apparent in the piano original, though Trippett's orchestration does the drama proud – especially when relations between decadent Sardanapalus and his favourite concubine Mirra, a proto-Aida torn between love and duty, become complicated by the arrival of the ambiguous bass army general goading Sardanapolo to action (Vazgen Ghazaryan, just the right vocal timbre). Here Liszt seems to be evoking the Telramund-Ortrud scene in Act 2 of Wagner's Lohengrin, a work about which he wrote in detail. He also noted the delivery of a bass clarinet, which when doubled with cor anglais becomes such a distinctive sound in both operas. That was an inspired decision on Trippett's part.
Otherwise the link with mature Wagner is only apparent in Liszt's refusal to pause for applause which would be well deserved for the long and pretty opening harem chorus, the heroine's splendid aria and her ensuing duet with Sardanapalo. Following honourably on the heels of the Weimar premiere, the soloists in Lerici's San Francesco certainly merited the accolades which had to wait until the end of the act, where a grand march whips things up to an exciting curtain. Anush Hovhannisyan (pictured below with conductor Giuseppe Bruno and members of the Orchestra Excellence) is the real Italianate deal (reports of her Violetta, due at Welsh National Opera this coming season, have been ecstatic).
Hovhanissyan runs the gamut from dark lower colours to utterly secure and brilliant top, and makes sense of the text, too, even if Liszt doesn't always set it idiomatically. Sam Sakker is a serviceable tenor – though I'd love to hear her love-interest in the Chelsea Opera performance of Massenet's Le Roi de Lahore, Michael Spyres, go for more nuance. Not easy here, though, when the stalwart Orchestra Excellence was so incessantly loud. Church resonance didn't help, but conductor Giuseppe Bruno never tried to keep the players down for the singers' sake.
It would have been different with Marcianò, as originally advertised, but he'd been called away to conduct Rigoletto in Ljubljana. Hopefully next year he'll be on hand to keep a much closer eye on the festival as a whole, capitalise on the top artists and get a good administrator to deal with the practicalities. There is far too much of value both in the venues and in the concept of Suoni dal Golfo. It just needs to trim its sails to the wind – and make sure the Russians can't board.
Subscribe to theartsdesk.com
Thank you for continuing to read our work on theartsdesk.com. For unlimited access to every article in its entirety, including our archive of more than 10,000 pieces, we're asking for £3.95 per month or £30 per year. We feel it's a very good deal, and hope you do too.
To take an annual subscription now simply click here.
And if you're looking for that extra gift for a friend or family member, why not treat them to a theartsdesk.com gift subscription?